Trump's personal assistant John McEntee fired from White House and escorted out due to 'unspecified security issue'
'It's not going to be great for morale,' one White House official told the Wall Street Journal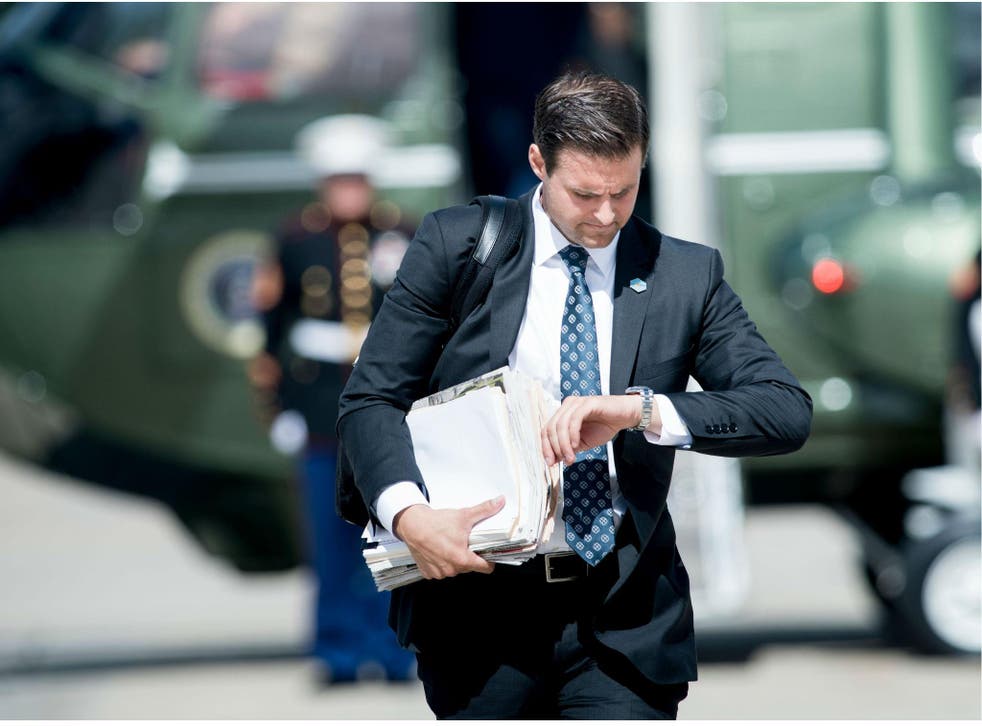 President Donald Trump's personal assistant John McEntee has been fired and escorted off of the White House grounds because of an "unspecified security issue", according to the Wall Street Journal.
Mr McEntee — who has been working with Mr Trump since the early days of his presidential campaign — is reportedly being investigated by the Department of Homeland Security for financial crimes, and reports indicate that he was not allowed to gather his personal belongings before leaving.
Still, although that swift departure suggests a potentially serious violation, reports indicate that Mr McEntee will now assume a new role in the President's 2020 campaign.
"It's not going to be great for morale," one White House official told the Journal.
In his role as Mr Trumps personal assistant, Mr McEntee was tasked with giving the President messages, and with ensuring that the clocks were running on time — and set correctly for daylight-saving time.
The firing came just minutes after the White House announced the sudden departure of now-former Secretary of State Rex Tillerson, who was reportedly not notified that his tenure as America's top diplomat would be coming to an end.
Mr Trump told reporters that he made the decision to get rid of Mr Tillerson "by myself", and that he believes Mr Tillerson will be "much happier now".
Donald Trump's first year: in pictures

Show all 29
The citation of Mr McEntee's departure as a "security issue" follows after weeks of questions about the White House's security clearance protocols, with several recent departures over the issue.
Just last week, reports indicated that several White House staffers had either been fired or were being considered for reassignment because of security clearance issues. That included the departure of one staffer in the office for the first lady, as well as several others who were being considered for reassignment or termination, according to a report from ABC News.
Those questions were first raised after the White House fired former aide Rob Porter, who was able to get a temporary security clearance even though he had a history of alleged domestic abuse. Those alleged abuses were detailed by his ex-wives to the media.
Those allegations against Mr Porter led to a crackdown on temporary security clearances by White House Chief of Staff John Kelly, who released a memo last month detailing changes to the security clearance process.
White House Senior Adviser Jared Kushner — who is also Mr Trump's son-in-law — was perhaps the highest profile victim of that crackdown, and saw a downgrade in his security clearance from top secret to secret even though the White House insisted that he would keep his White House responsibilities.
Mr Kushner has a wide berth of responsibilities, primarily focused on foreign affairs. That includes being tasked to take on peace negotiations in the Middle East.
All told, more than 30 staffers reportedly lost their security clearances last month, and many of those are now working with interim clearances while their background checks are being processed.
Join our new commenting forum
Join thought-provoking conversations, follow other Independent readers and see their replies