Trump says he has a 'very good relationship' with North Korea's Kim Jong-un, 'probably'
'I have relationships with people. I think you people are surprised,' Mr Trump says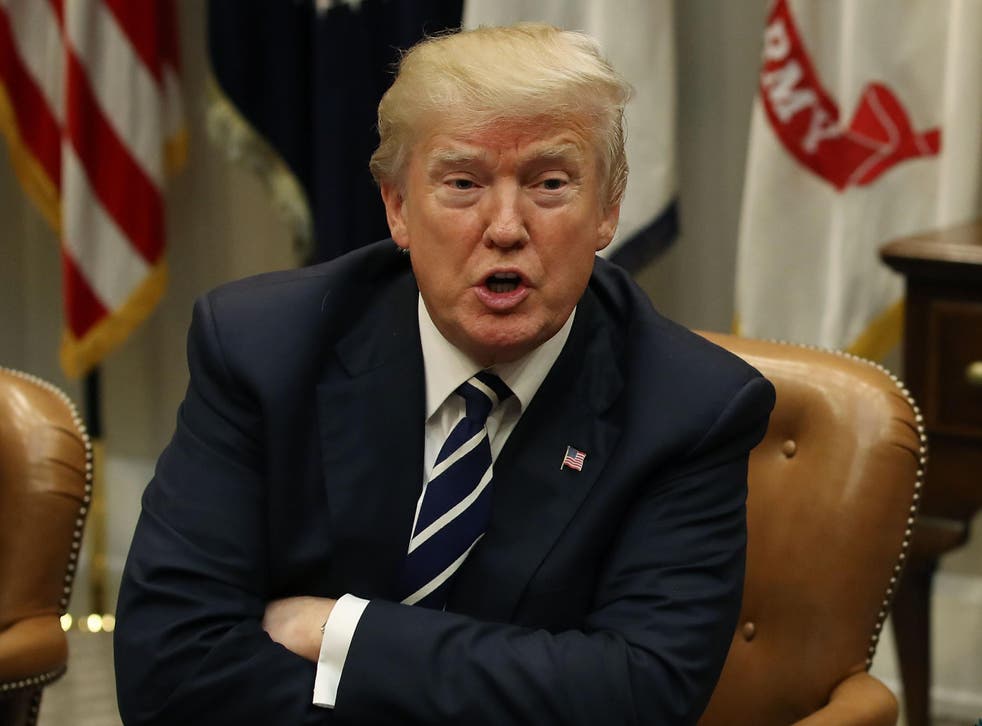 Donald Trump has suggested he has a "very good relationship" with Kim Jong-un, the North Korean leader he previously threatened to "totally destroy" over the country's increasingly serious nuclear threats.
"I probably have a very good relationship with Kim Jong Un," Mr Trump told the Wall Street Journal in an interview. "I have relationships with people. I think you people are surprised."
North Korea has repeatedly threatened to turn the US into "darkness and ashes" using the nuclear weapons they are developing at a surprisingly rapid rate. Though Mr Trump once said he would be "honoured" to meet Mr Kim, he has increasingly responded to Pyongyang's threats with bombastic statements of his own.
Last week, after Mr Kim spoke of having a "nuclear button" on his desk during a public address, Mr Trump responded by tweeting that he, too, had a nuclear button – and that was "much bigger and more powerful" than Mr Kim's.
Mr Trump attempted to explain the aggressive tweets on Thursday, telling the Journal: "You'll see that a lot with me, and then all of the sudden somebody's my best friend. I could give you 20 examples. You could give me 30. I'm a very flexible person."
North Korea announces intercontinental missile launch

Show all 13
Despite his previous, inflammatory rhetoric, Mr Trump's comments seem to suggest a newfound willingness to engage with the North Korean leader – something he has previously chided Secretary of State Rex Tillerson for suggesting.
Asked if he had spoken with Mr Kim, the President said cryptically: "I don't want to comment on it. I'm not saying I have or haven't. I just don't want to comment."
North Korea and South Korea open line of communication
North Korea recently sat down with South Korea for their first diplomatic talks since 2015. While they reached no consensus on Pyongyang's nuclear programme, the two countries did agree to have North Korea participate in the upcoming Winter Olympics in Pyeongchang.
On a phone call with South Korean President Moon Jae-in after the talks, Mr Trump suggested he was open to discussion between the US and North Korea as well. White House Press Secretary Sarah Huckabee Sanders said the President would consider the idea "at the appropriate time, under the right circumstances".
At the same time, US troops are reportedly training in the kind of tunnel warfare – and buying the specific kinds of gear – necessary to wage war in North Korea. Multiple outlets have also reported that the Trump administration is debating the possibility of pursuing a "bloody nose" strategy – a first, targeted strike to deter North Korea from proceeding with its weapons testing.
South Korea said Mr Trump denied perusing a "bloody nose" strategy in his call with Mr Moon this week.
Join our new commenting forum
Join thought-provoking conversations, follow other Independent readers and see their replies