Trump says North Koreans in gulags are among the 'winners' as he lavishes praise on Kim
Comments came after meeting that lasted more than four hours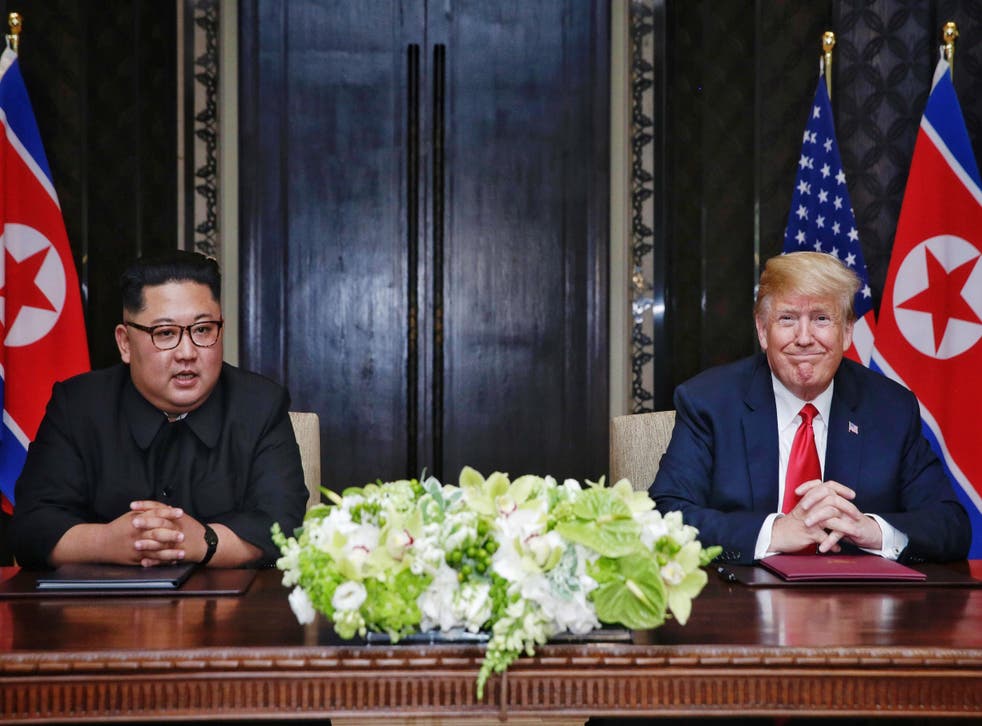 Donald Trump has claimed that North Koreans held in the regime's gulags were among today's "winners" as he heaped praise on Kim Jong-un.
In language that struck many as appearing close to gushing, the US president said the North Korean leader "is very talented". As apparent evidence of this, he pointed to Mr Kim's rise to power while he was still in his 20s.
Asked if was betraying the tens of thousands of prisoners held in the country's forced labour camps, he said: "Not much I can do right now. I think at a certain point he's going to do something about it."
'The world will see a major change' Kim Jong-un and Trump sign document
He added: I think they, I think they are one of the great winners today – that large group of people that you're talking about. I think ultimately they are going to be one of the great winners as a group."
Earlier, the US leader had said he wanted to "thank Chairman Kim for taking the first bold step towards a bright new future for his people".
On a day when human rights campaigners used the occasion of the summit to highlight North Korea's notoriously poor record on the treatment of its citizens, the US president was asked to explain why he believed the 34-year-old leader was "very talented".
He responded: "Well, he is very talented. Anybody that takes over a situation like he did at 26 years of age and is able to run it, and run it tough – I don't say it was nice, or I don't say anything about it – very few people at that age, you can take one out of 10,000, probably."
Singapore Summit: historic first meeting between Trump and Kim Jong-un

Show all 20
While the US leader appeared to be at best casual about the implications of celebrating an authoritarian leader suspected of ordering the public assassination of his half brother with a nerve agent, executing his uncle by firing squad and allowing US college student Otto Warmbier to fall into an irreversible coma, Mr Trump said without Mr Warmbier's death, his meeting with Mr Kim may not have happened.
He said: "Otto did not die in vain."
Mr Trump said the issue of human rights did come up during the talks, albeit briefly. "It was discussed relatively briefly compared to the denuclearisation, but they will be doing things. I think he wants to do things."
He said he believed that while they had touched on human rights, the issue would be raised again as the two countries continued their dialogue.
"I think he wants to get it done. I feel that very strongly," he added.
Phil Robertson, deputy director of Human Rights Watch's Asia division, said there was not a trace of human rights mentioned in the document signed by the two leaders. "If there is nothing in writing, it does not exist," he said. "Trump can say they discussed it, but we don't know."
He said there was a network of different prison camps in North Korea, including short-term and long-term labour camps. He said there was also a separate category for political prisoners – considered traitors – who were sent to the mountains. He said there believed to be between 100,000-120,000 such political prisoners.
"These are people who are sent there and worked to death," he said.
Register for free to continue reading
Registration is a free and easy way to support our truly independent journalism
By registering, you will also enjoy limited access to Premium articles, exclusive newsletters, commenting, and virtual events with our leading journalists
Already have an account? sign in
Register for free to continue reading
Registration is a free and easy way to support our truly independent journalism
By registering, you will also enjoy limited access to Premium articles, exclusive newsletters, commenting, and virtual events with our leading journalists
Already have an account? sign in
Join our new commenting forum
Join thought-provoking conversations, follow other Independent readers and see their replies