Trump answers question about possible Mueller interview by attacking Hillary Clinton
The President avoids saying whether he will sit down with the special counsel
Emily Shugerman
New York
Wednesday 10 January 2018 23:18 Comments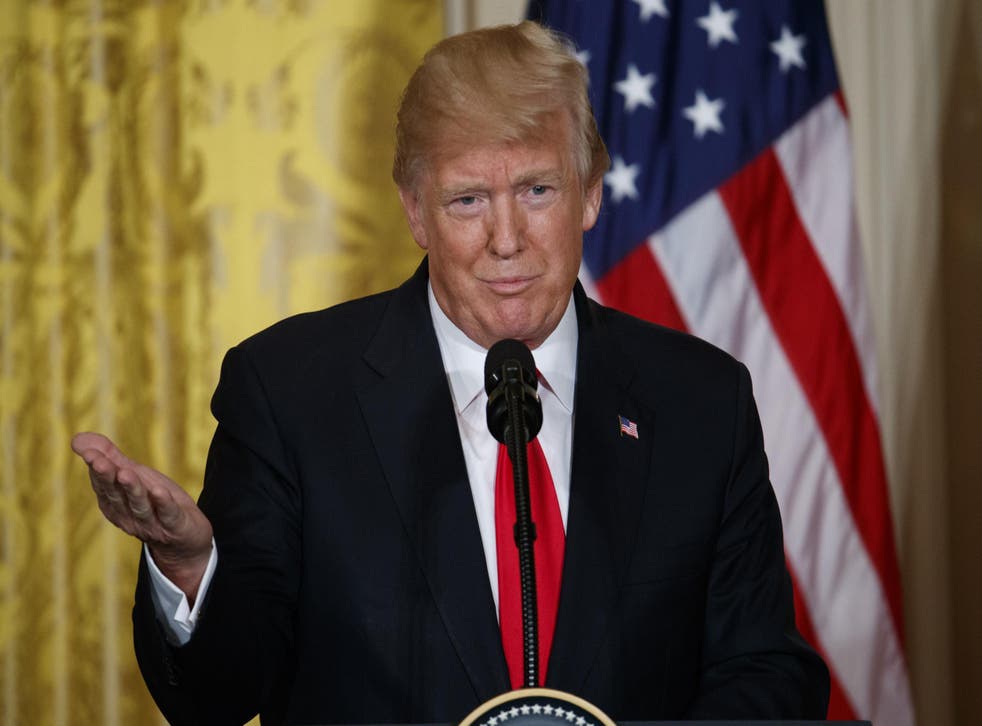 President Donald Trump has responded to questions about a possible interview with Special Counsel Robert Mueller by attacking his former campaign rival, Hillary Clinton and seemingly backing away from a pledge last year to speak under oath if asked.
Mr Mueller is said to have informed Mr Trump's lawyers that he is likely to seek to interview the President as part of his federal probe into Russian election meddling and the Trump campaign's possible ties to Russia. No formal request has been sent, and no date has been set, but Mr Trump's lawyers are reportedly debating how best to handle the request if it comes.
Mr Trump, meanwhile, has responded to questions about the possible interview by pivoting to one of his favourite foils: Ms Clinton. Asked during a press conference with Norweigian Prime Minister Erna Solberg whether he would commit to an interview with Mr Mueller, the President quickly switched topics.
"When you talk about interviews, Hillary Clinton had an interview where she wasn't sworn in, she wasn't given the oath, they didn't take notes, they didn't record, and it was done on the Fourth of July weekend," he said.
"A lot of people looked on that as being a very serious breach, and it really was," he added.
The biggest names involved in the Trump-Russia investigation

Show all 17
The president appeared to be referring to a 2016 interview the FBI conducted with Ms Clinton regarding her private email server. FBI policy does not require interviews to be recorded unless the subject is in federal custody, which Ms Clinton was not.
Pressed on the topic, Mr Trump said it "seems unlikely" that the interview would occur, given the lack of evidence to support claims of collusion.
"We'll see that happens. When they have no collusion – and nobody's found any collusion at any level – it seems unlikely that you'd even have an interview."
That stance is a marked change from June 2016, when Mr Trump said that he was "100 per cent" willing to testify under oath about his conversations with former FBI Director James Comey - who had headed up the federal probe into Russia prior to Mr Mueller, before being fired by Mr Trump in May 2016.
Fox News host fact checks Trump on Russia 'hoax' claim immediately following news conference
According to the New York Times, Mr Mueller appears most interested in asking the president about his former national security adviser, Michael Flynn, and the firing of Mr Comey, rather than a direct question of possible collusion. One of the lines Mr Mueller's investigative team is said to be looking at is whether there was any possible obstruction of justice over the firing of the former FBI director. Mr Comey testified to Congress last year that Mr Trump had asked him to end an investigation into Mr Flynn, accusations Mr Trump and the White House have denied.
Neither Mr Mueller, nor either of the Congressional committees investigating Russian interference, have concluded their investigations into the matter. Mr Flynn and three other former Trump campaign members have already been charged in connection with Mr Mueller's probe, though none of the charges specifically mentioned collusion.
Mr Flynn has pleaded guilty to one count of making false statements to the FBI over contact with former Russia Ambassador Sergei Kislyak, while former Trump campaign adviser has pleaded guilty to a similar charge over his contact with Russians. Former trump campaign chairman Paul Manafort and associate Rick Gates, have been charged in a 12-count indictment with conspiracy to launder money, making false statements and other charges in connection with their work advising a Russia-friendly political party in Ukraine. Both have denied all the charges against them.
Mr Trump has repeatedly dismissed the investigations of his campaign as a "witch hunt". His lawyers have suggested the special counsel's investigation will end early this year.
Register for free to continue reading
Registration is a free and easy way to support our truly independent journalism
By registering, you will also enjoy limited access to Premium articles, exclusive newsletters, commenting, and virtual events with our leading journalists
Already have an account? sign in
Join our new commenting forum
Join thought-provoking conversations, follow other Independent readers and see their replies