Trump's tweet on New York terror suspect 'the worst thing he could have done', says legal expert
'That's him putting his finger on that scale,' attorney Paul Dickinson tells The Independent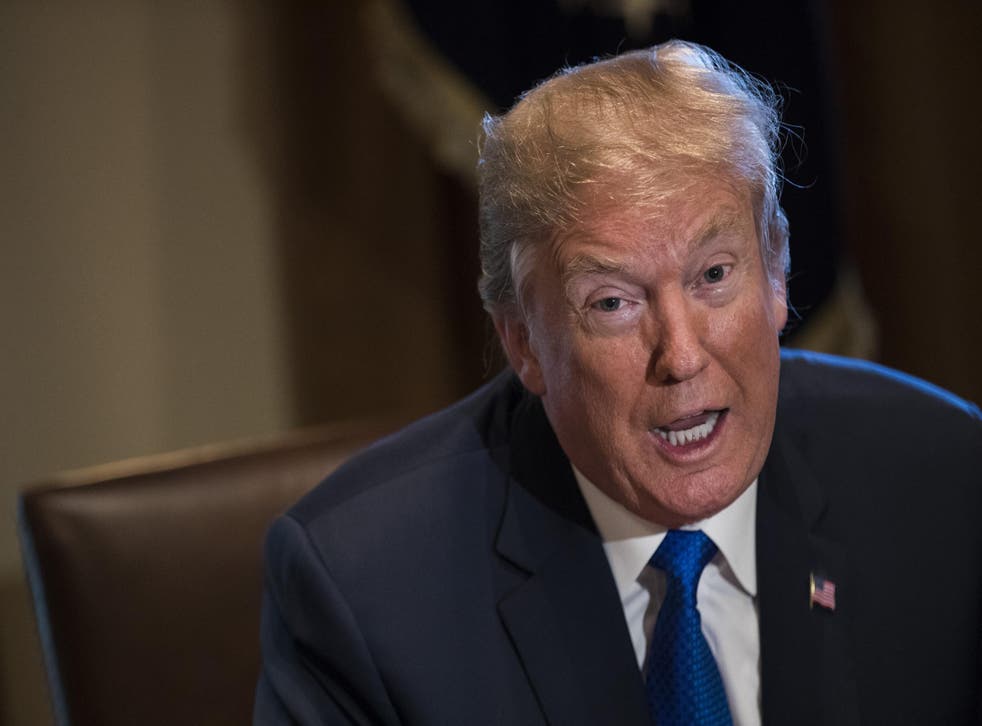 President Donald Trump has made it clear what he wants done with the suspect in the New York terrorist attack, tweeting to his 41m followers that the suspect "SHOULD GET DEATH PENALTY!"
But if that's the outcome the President truly desires, legal experts say, tweeting about it is the worst thing he could have done.
Twenty-nine-year-old Sayfullo Saipov is accused of driving a rented truck through a Manhattan bike path on 31 October, killing eight people and injuring 12. The suspect, who officials say was inspired by Isis, has been charged with providing material support to a terrorist group and violence and destruction of motor vehicles. He has yet to enter a plea.
The day the charges were announced, Mr Trump tweeted: "NYC terrorist was happy as he asked to hang ISIS flag in his hospital room. He killed 8 people, badly injured 12. SHOULD GET DEATH PENALTY!"
But Paul Dickinson, a wrongful death attorney who has practised for almost 30 years, says Mr Trump's comments could actually prevent the suspect from receiving the death penalty.
"If there's anything that the President could have done that would put that in jeopardy, it was tweeting out the words 'should get death penalty'," Mr Dickinson told The Independent. "Because that's him putting his finger on that scale, and putting his influence on everyone in the United States about what should happen."
Donald Trump's least presidential moments so far...

Show all 30
Other attorneys expressed similar opinions on Twitter. Andrew McCarthy, a former assistant US attorney for the Southern District of New York, tweeted: "Mr. President, we all know he should get the death penalty. But when *you* say it, it makes it harder for [the Department of Justice] to make that happen."
"Trump helped the terrorist with this tweet," added former prosecutor Renato Mariotti. "Now prosecutors will have to spend time dealing with motions that the jury pool is tainted."
Trump calls New York attack suspect an 'animal' and signals scrapping lottery visa scheme
The issue stems from Mr Saipov's right to a fair trial, with an impartial jury. Jurors in every trial are required to swear that their decision will be made based only on evidence provided in the courtroom. Exposure to pretrial publicity can influence a juror's initial opinion, making them prejudiced.
"That's why jurors are told not to read newspapers while they're in trial; that's why they're told not to watch TV, that's why they're sent to hotels at night," Mr Dickinson explained. "...It's to prevent people on the jury from being influenced."
While defence attorneys usually fear the influence of TV and newspapers on jurors, Mr Trump's Twitter account could have a greater impact than both.
"There's nobody on the planet that would have greater influence on public opinion than the President of the United States," Mr Dickinson said.
While Mr Trump's tweeting habit may be unprecedented, there are a few historical examples of similar situations.
In 1970, then-President Richard Nixon proclaimed cult leader Charles Manson "guilty" of eight murders in Los Angeles. Manson, however, had yet to go to trial, and Nixon was forced to walk back his comments that same day.
"The last thing I would do is prejudice the legal rights of any person, in any circumstances," he said at the time.
In a less extreme example, former President Barack Obama once commented that a police officer had "acted stupidly" by arresting a black man who was attempting to get into his own house. The National Republican Senate Committee declared Mr Obama's remarks inappropriate, and started a petition to that effect. Former Michigan congressman Thaddeus McCotter even introduced a resolution demanding that Mr Obama apologize. (He did not.)
Mr Trump's remarks, Mr Dickinson said, were "the same thing, just about 10,000 degrees [worse]".
Still, other legal experts told the Associated Press that Mr Trump's comments would not deter the trial from moving forward.
"Because this is in federal court, this will happen both speedily and without it interfering with the normal process of the trial," said Karen Greenberg, director of the Center on National Security at Fordham Law School.
"Nothing slows down the train," added Fordham professor James Cohen.
Join our new commenting forum
Join thought-provoking conversations, follow other Independent readers and see their replies