Special prosecutor 'investigating Trump for possible obstruction of justice' over Comey firing
Mr Trump has repeatedly denied any wrongdoing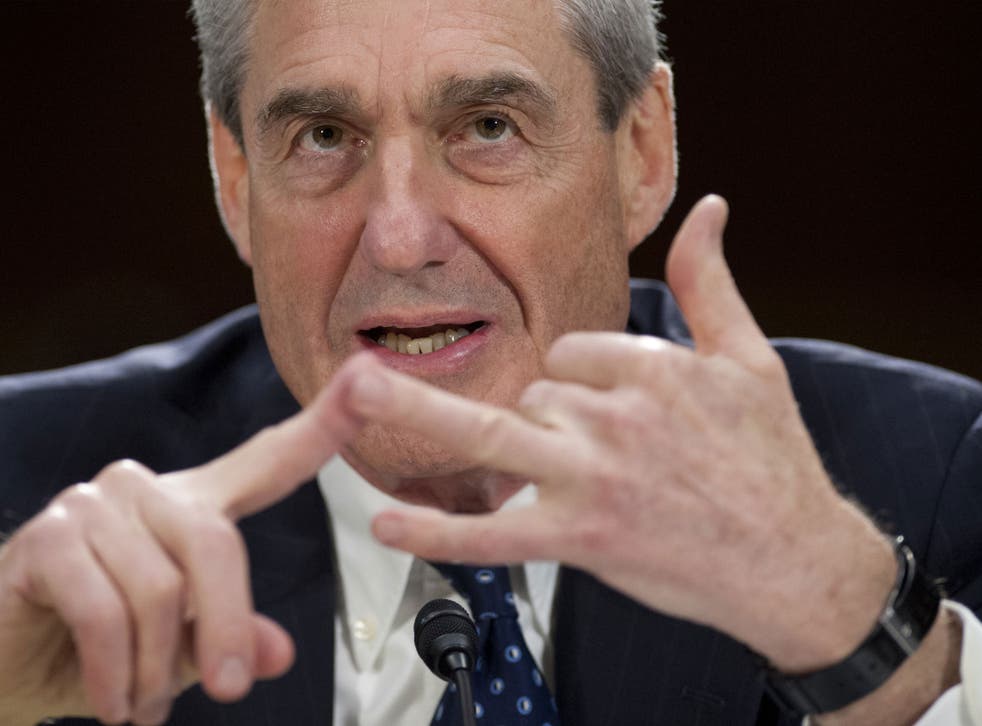 The Special Counsel overseeing the probe into possible collusion between Donald Trump's campaign and Moscow is said to now be investigating the President himself for possibly obstructing justice over the firing of former FBI Director James Comey.
When Mr Comey appeared before a Senate committee last week, he confirmed that he had told Mr Trump on several instances that he was personally not under investigation.
However, according to the Washington Post, since Mr Comey's firing, Mr Mueller, the special prosecutor, has started to look at Mr Trump's actions as part of the wider investigation into alleged Russia interference in the 2016 US presidential election.
If confirmed, the news would mark a dramatic shift in the course of the investigation, which Mr Trump has so far sought to dismiss and brush away.
The Post reported that five sources had said the possible obstruction-of-justice investigation of the New York tycoon began days after Mr Trump fired Mr Comey last month. Mr Trump told a television reporter that one of the reasons he had fired the 56-year-old was because of the ongoing probe into possible collusion with Russia, something the President said was nothing more than "fake news" being generated by those angry about his election victory.
"When I decided to just do it, I said to myself, I said 'You know, this Russia thing with Trump and Russia is a made up story, it's an excuse by the Democrats for having lost an election that they should've won'," Mr Trump told NBC.
The biggest names involved in the Trump-Russia investigation

Show all 17
When he appeared on Capitol Hill, Mr Comey told the Senate Intelligence Committee he too believed he had been fired by Mr Trump over Russia, because the President wanted to interfere with the FBI probe.
"I take the President's words. I know I was fired because of something about the way I was conducting the Russia investigation was in some way putting pressure on him, in some way irritating him, and he decided to fire me because of that," he said.
The Post said Mr Mueller believes the issue he is examining was more than just a "he said, he said" dispute between the President and Mr Comey. It said Mr Mueller, himself a former FBI Director, had now scheduled preliminary interviews with several intelligence officials on the issue.
Those officials - Daniel Coats, the director of national intelligence, Mike Rogers, head of the National Security Agency, and Mr Rogers's recently departed deputy, Richard Ledgett - had agreed to be interviewed by Mr Mueller's investigators as early as this week, it said.
Donald Trump is willing to testify under oath on Comey
It is unclear if the officials will describe in full their conversations with Mr Trump and other top officials or will be directed by the White House to invoke executive privilege.
The NSA said in statement that it would "fully cooperate with the special counsel" and declined to comment further. The office of the director of national intelligence and Mr Ledgett declined to comment, the Post said.
Mr Trump's legal team has denied the report. "The FBI leak of information regarding the President is outrageous, inexcusable and illegal," said Mark Corallo, a spokesman for the President's legal team. A spokesman for Mr Mueller's team declined to comment.
Reuters said that several legal experts said Mr Comey's testimony last week that Mr Trump expected loyalty and had told him he hoped he could drop an investigation of a former top aide could bolster obstruction of justice allegations against the President.
Mr Comey would not say in his testimony last week whether he thought the President sought to obstruct justice, but added it would be up to special counsel Mr Mueller "to sort that out".
While a sitting president is unlikely to face criminal prosecution, obstruction of justice could form the basis for impeachment. Any such step would face a steep hurdle as it would require approval by the US House of Representatives, which is controlled by Mr Trump's fellow Republicans.
Register for free to continue reading
Registration is a free and easy way to support our truly independent journalism
By registering, you will also enjoy limited access to Premium articles, exclusive newsletters, commenting, and virtual events with our leading journalists
Already have an account? sign in
Register for free to continue reading
Registration is a free and easy way to support our truly independent journalism
By registering, you will also enjoy limited access to Premium articles, exclusive newsletters, commenting, and virtual events with our leading journalists
Already have an account? sign in
Join our new commenting forum
Join thought-provoking conversations, follow other Independent readers and see their replies