Donald Trump has 'turned into a pressure cooker that frequently explodes', say White House staff
The President has been likened to a 'whistling tea pot'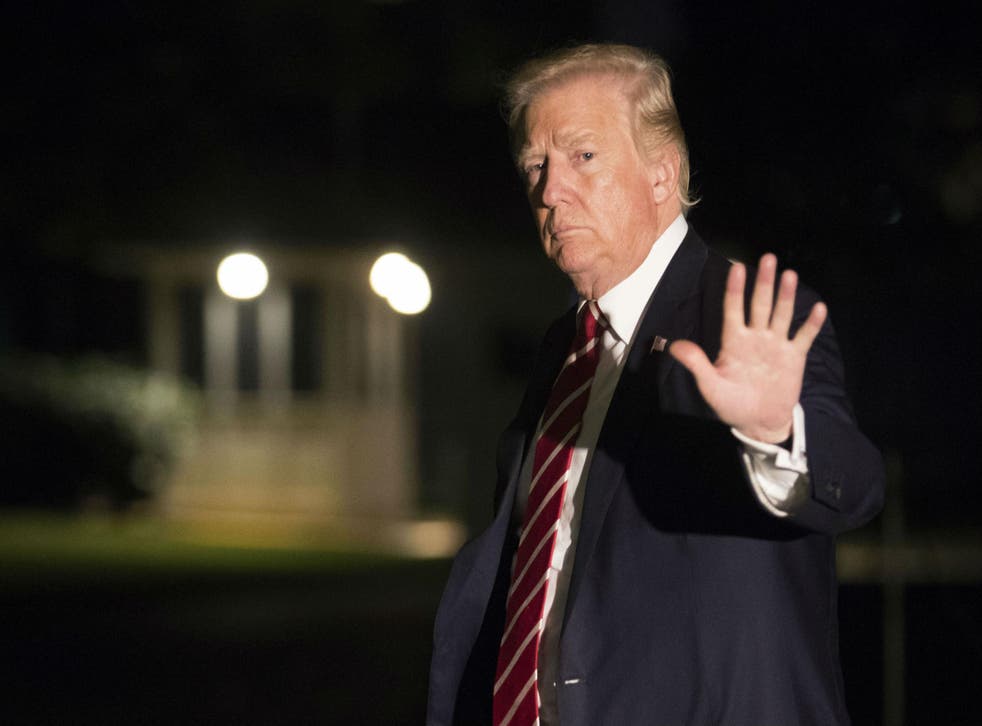 Donald Trump, angry with officials he appointed and frustrated with his failure to progress his legislative agenda, is said to have turned into a "pressure cooker" who frequently explodes at those around him.
Reports suggest that in recent days, Mr Trump, fed up with criticism of his handling of the crisis in Puerto Rico and furious over comments from a senior Republican who claimed he was setting the US on "the path to World War III", the President has been lashing out at those around him and burning political bridges.
Meanwhile, his relationship with Chief of Staff John Kelly, the former general appointed to try and bring order to the chaos of the White House, may have become "irreparable", according to one report.
"I'm not all all surprised by this," Christina Greer, associate professor of political science at Fordham University in New York, told The Independent. "He has never had to work together with people before, he has always been the king."
She added: "He doesn't not seem to understand that the President is a public servant and those people working for you are meant to help make you better."
The Washington Post said Mr Trump's fuse had been lit by several factors. He was perturbed when it was reported last that Secretary of State Rex Tillerson had called him "a moron". America' top diplomat held a press conference to deny reports that he had considered quitting, but Mr Trump was sufficiently thin-skinned to suggest the pair of them take IQ tests and compare the results.
Trump tells interviewer: "I think I'm much more humble than you would understand"
Over the weekend, Mr Trump hit out on Twitter at Republican Senator Bob Corker, who had said the White House had devolved into an "an adult day care centre".
Mr Trump said of Mr Corker, who has announced he will not seek reelection to his Tennessee seat: "Senator Bob Corker "begged" me to endorse him for re-election in Tennessee. I said "NO" and he dropped out".
The Post said the President had in recent days been displaying flashes of "fury". It said one confidant of Mr Trump had likened the President to a "whistling teapot", adding that when he did not blow off steam, "he can turn into a pressure cooker and explode".
Donald Trump's least presidential moments so far...

Show all 30
"I think we are in pressure cooker territory," the person added.
It has fallen to Mr Kelly to try and deal with this fall-out and smooth things over. Yet the atmosphere inside the White House may have already taken its took on the former military officer, who joined the administration in January as head of the Department of Homeland Security.
Last month it was reported that Mr Trump delivered an ear-bashing to Mr Kelly that the former officer said was unprecedented in his 35 years of military service. While Mr Trump, along with his daughter, Ivanka, and son-in-law, Jared Kushner, were said to be working though Mr Kelly's lines of authority, the President has become frustrated at the latest attempt to rein him in.
Mr Kelly has on several occasions been photographed looking exasperated at various events, most memorably at a press conference inside Trump Tower when the President clashed with reporters over the violence during a neo-Nazi led rally in Charlottesville.
Now Vanity Fair has said the relationship between Mr Trump and Mr kelly may have become "irreparable".
One person close to Mr Kelly, said: "He doesn't love this job. He's doing it as a duty for the country."
Join our new commenting forum
Join thought-provoking conversations, follow other Independent readers and see their replies