Trump press secretary complains that Americans are questioning US intelligence agencies president has routinely criticised
Stephanie Grisham calls criticism of the agencies her boss once said had 'run amok' was 'unfortunate'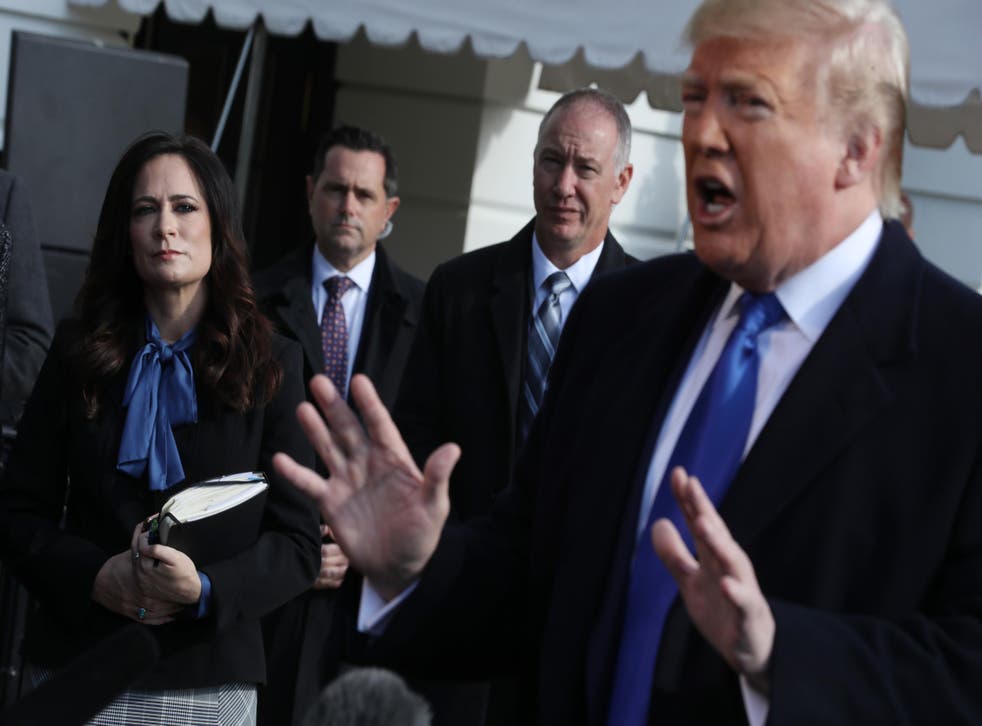 White House Press Secretary Stephanie Grisham says she wants Americans to stop questioning whether the US intelligence agencies Donald Trump has spent years attacking had sufficient information to justify his decision to order the killing of Iranian general Qassem Soleimani.
Speaking to Fox News, Ms Grisham – who has not delivered a single press briefing since replacing Sarah Huckabee Sanders last July – was asked about the information which Mr Trump and Secretary of State Mike Pompeo say proved Soleimani was planning major attacks against US forces.
Ms Grisham declined to go into details, but said it was "really unfortunate" that anyone would question the conclusions upon which Mr Trump based his decision.
"I know a lot of people are now questioning the intel, that's really unfortunate," she said. "A lot of people are saying 'to what benefit?' I would answer that question: The benefit is that we saved American lives. Saved members of the military, we saved diplomats, and a lot of families from having to welcome their loved ones home in coffins."
The Trump administration's sudden confidence in US intelligence agencies marks a stunning reversal for Ms Grisham, who has dismissed career government officials who testified during the impeachment inquiry against her boss as "radical unelected bureaucrats", as well as Mr Trump, who just days before being sworn in as president compared the intelligence apparatus he would soon command to the Third Reich.
US airstrike kills Iran's Qassem Soleimani: Fallout in pictures

Show all 35
"Intelligence agencies should never have allowed this fake news to 'leak' into the public. One last shot at me. Are we living in Nazi Germany?" Mr Trump tweeted on January 11, 2017, after it was reported that officials had briefed him on the existence of the infamous Steele Dossier, which alleged that Russian intelligence operatives had obtained compromising information on the soon-to-be president.
Since taking office, Mr Trump's relationship with the US intelligence community has been strained at best and contemptuous at worst.
During the two-year Justice Department investigation into Russia's interference in the 2016 election, Mr Trump routinely railed against so-called "deep state" operatives who he and his allies claimed were working to effect a "coup" against his administration, with much of his ire directed at Gen James Clapper, who led the CIA under the Obama administration, and Mr Obama's Director of National Intelligence, John Brennan.
His handpicked replacement for Gen Clapper, former Indiana senator Dan Coats, quit in July after reportedly drawing his boss's scorn for contradicting Mr Trump's claims on matters including whether Russia interfered in the 2016 election, his relationship with Vladimir Putin, and whether his multiple summits with North Korean dictator Kim Jong Un had been effective at slowing the pace of Pyongyang's nuclear programme.
When critics assailed his first choice to succeed Mr Coats, Republican congressman John Ratcliffe, for having little in the way of qualifications for the job, Mr Trump said someone like Mr Ratcliffe was needed to "rein in" the intelligence community.
"We need somebody strong that can rein it in. Because, as I think you've all learned, the intelligence agencies have run amok. They have run amok," he said.
Mr Ratcliffe withdrew himself from consideration after it was revealed that he'd embellished his record as a federal prosecutor. The position is currently being filled on an acting basis and Mr Trump has not expressed any interest in nominating a permanent replacement for Mr Coats.
More recently, he repeatedly attacked the intelligence analyst whose complaint to the Intelligence Community Inspector General touched off the inquiry which led to articles of impeachment being approved against him last month.
Shortly after the whistleblower complaint became public in September, Mr Trump said the author – thought to be a career CIA employee who'd been detailed to the National Security Council – was "crooked" and a "political hack", and called for the officials who provided information to the whistleblower to be executed for espionage.
Register for free to continue reading
Registration is a free and easy way to support our truly independent journalism
By registering, you will also enjoy limited access to Premium articles, exclusive newsletters, commenting, and virtual events with our leading journalists
Already have an account? sign in
Register for free to continue reading
Registration is a free and easy way to support our truly independent journalism
By registering, you will also enjoy limited access to Premium articles, exclusive newsletters, commenting, and virtual events with our leading journalists
Already have an account? sign in
Join our new commenting forum
Join thought-provoking conversations, follow other Independent readers and see their replies