Trump's undisclosed meeting with Putin called 'astonishing' as supporters jump to defend conversation
The White House says the President did nothing wrong
Clark Mindock
New York
Wednesday 19 July 2017 20:43 Comments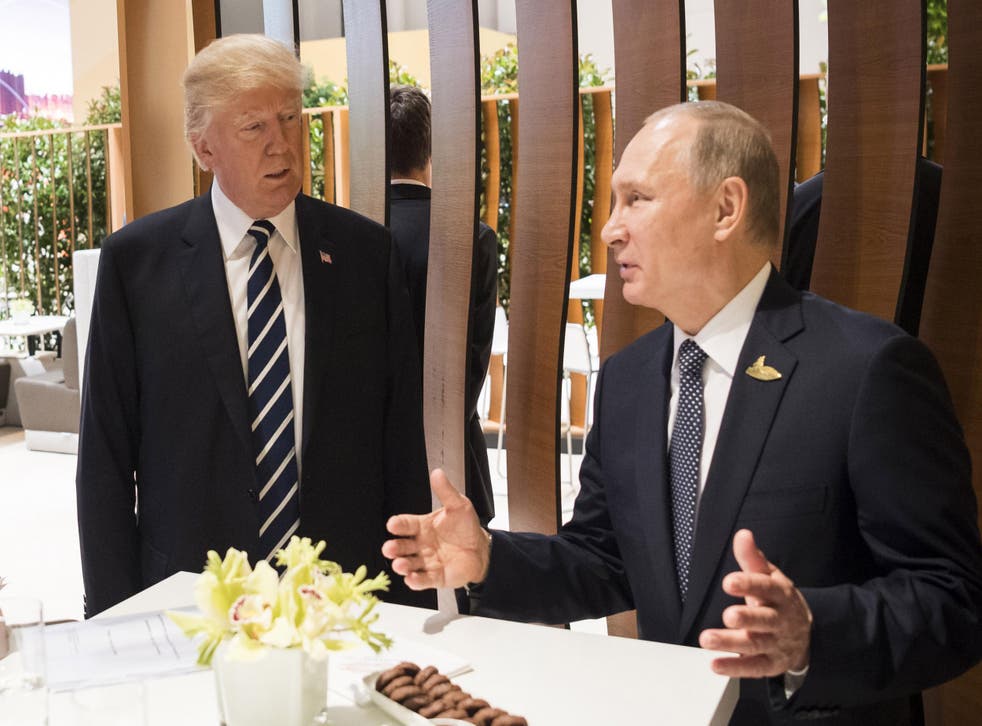 News that Donald Trump had a second, previously undisclosed meeting with Vladimir Putin at the G20 summit earlier this month has fueled concerns that the White House is up to no good, but others are scratching their heads at that assertion.
The impromptu meeting has been confirmed by the White House, which says that it wasn't inappropriate at all. The President reportedly left his seat during a dinner to go speak with Mr Putin, and the only record of their conversation is in Russian hands because the translator Mr Trump had brought along didn't speak Russian. No other American officials were present, and some sources have indicated it lasted for nearly an hour.
"That's unusual and disconcerting for American allies around the world and it certainly — despite the fact that Trump tweeted that it's fake news, it's a real story," Ian Bremmer, the political scientist who first noted the conversation between Mr Trump and Mr Putin in an interview with Charlie Rose, said. Mr Bremmer has also noted in interviews that he didn't think the meeting was nefarious, but show the inexperience of the administration.
The second meeting, which followed after an extended conversation between the two world leaders at the sidelines of the summit, is of particular interest because of ongoing media reports that have shown an ever-strengthening case that Mr Trump's 2016 political campaign may have colluded with Russian efforts to meddle in that year's election.
While it isn't uncommon for world leaders to have impromptu sit downs with their foreign counterparts at big events like the G20, critics say that the fact that the White House took so long to disclose it is cause for concern. Amid those potential concerns of Trump campaign ties to Russia, they say, it's strange that the White House hasn't been more up front.
"For a group of folks that have nothing to hide about their interactions with Russia, they certainly seem to have been hiding a lot," Delaware Senator Chris Coons said of the meeting and the recent revelations that members of Trump's inner circle met in 2016 with Russian sources who promised dirt on Hillary Clinton.
The biggest names involved in the Trump-Russia investigation

Show all 17
That meeting, in June of last year, was confirmed by Donald Trump Jr, who was a main player in facilitating the meet up. In emails tweeted by Mr Trump Jr himself, the President's eldest son discussed meeting with individuals connected with Russia, and seemed eager to receive the opposition research that his contact said was a part of the Russian government's effort and interest in helping to elect Mr Trump.
Outrage immediately followed the disclosure of those emails, which Mr Trump Jr posted online just before a report from the New York Times on the matter. While Mr Trump Jr said that he had released them to be transparent on the issue, many noted that he was pushed to do so by the imminent story from the New York Times.
The very nature of the meeting was also scrutinised, and many commentators said that the emails showed that Mr Trump Jr had attempted to collude with the Russian sources. Other individuals of Trump's inner circle, including the President's son-in-law Jared Kushner and former campaign manager Paul Manafort, have also come under harsh scrutiny.
There are at least three official organisations looking into the depth of connexion between the Trump campaign and Russia, including a special counsel appointed by the Justice Department after Mr Trump fired FBI Director James Comey. That investigation is headed up by former FBI Director Robert Mueller, who is well known as a diligent prosecutor who leaves no stone unturned.
Allies of Mr Trump say, though, that the scandal — and in particular the impromptu meeting between Mr Trump and Mr Putin at the G20 — is being overblown. Not enough is really publicly known about the depth of any potential connexions between the Trump campaign, Russia, and the President, they argue.
"As it stands, based on what we know, this is a case of a media hyperventilating over Russia, Russia, Russia," Ford O'Connell, a Republican political analyst and former campaign strategist for Senator John McCain's 2008 presidential campaign, told The Independent of the G20 meeting. "If they wanted to do something nefarious, I'm not sure you would do this in front of 18 other world leaders."
Register for free to continue reading
Registration is a free and easy way to support our truly independent journalism
By registering, you will also enjoy limited access to Premium articles, exclusive newsletters, commenting, and virtual events with our leading journalists
Already have an account? sign in
Join our new commenting forum
Join thought-provoking conversations, follow other Independent readers and see their replies