IQ experts say Trump would lose an IQ battle with Rex Tillerson
'I'd put my money on Tillerson any day'
Emily Shugerman
New York
Tuesday 10 October 2017 21:18 Comments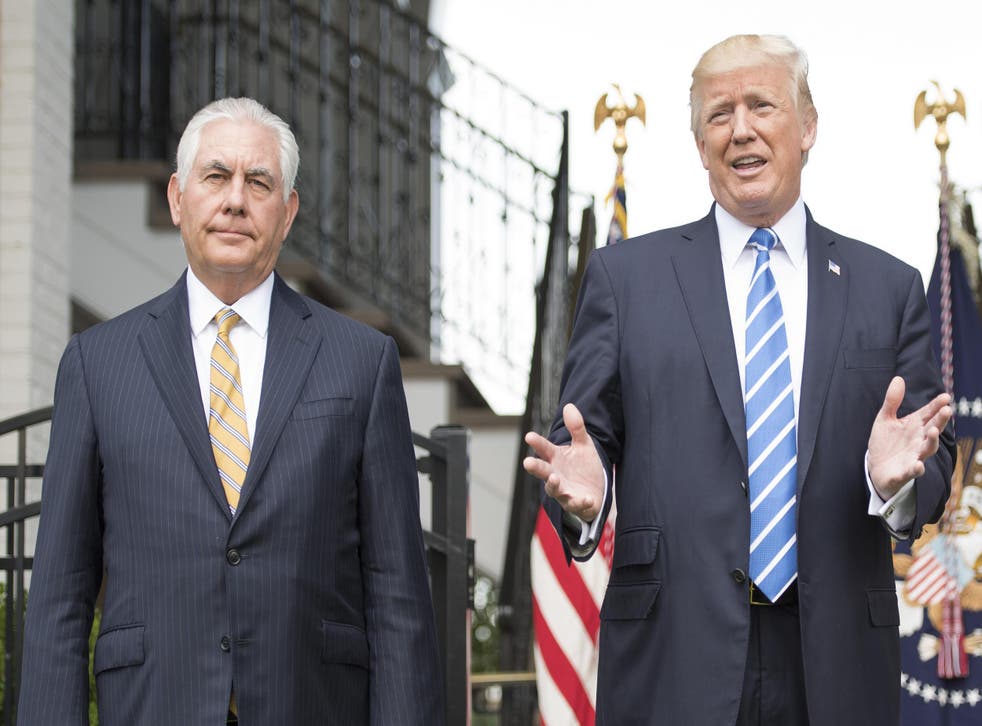 President Donald Trump has challenged his Secretary of State to a battle of the wits – but intelligence experts don't think that's such a good idea.
The President lashed out at Secretary of State Rex Tillerson in a recent interview with Forbes, responding to reports that Mr Tillerson had called him a "moron" during a Pentagon meeting. (The State Department denies this occurred.) Tensions between the two men have simmered in recent weeks, and some say the Secretary of State is planning his departure.
"I think it's fake news, but if he did that, I guess we'll have to compare IQ tests," Mr Trump said of the "moron" comments. "And I can tell you who is going to win."
Joel Schneider, a Temple University professor who studies the assessment of intelligence, says he can tell, too.
"My money's on Tillerson," he told The Independent, pointing to the Secretary's previous experience as CEO of Exxon Mobil.
"Large companies like that generally aren't run by unintelligent people," he said.
Donald Trump's least presidential moments so far...

Show all 30
Stephen Ceci, a Professor of Developmental Psychology at Cornell University, declined to comment on the match-up, but said Mr Trump would likely come in somewhere in the "mid-range" of IQ scores, based on his word usage and lack of inhibition.
Mr Schneider, however, thinks the former businessman would actually be considered "bright" compared to the general population (though not, he stimulated, compared to past presidents).
"People criticise his vocabulary, which is extremely narrow, but every once in awhile he'll let a $20 word out, [so] you can tell that he actually does know these words," Mr Schneider said.
He added that the President's winding, wordy sentence structure actually indicates a good short-term memory.
"His mind wanders as he talks a lot, but what's striking to me is that he usually finishes his sentences, no matter how long they are," Mr Schneider said. "He doesn't lose track."
Mr Trump's more obvious public gaffes – mispronouncing the Turkish President's name, or telling an audience in Israel he "just got back from the Middle East" – don't stem from a low intelligence, Mr Schneider said. Instead, they come his "lack of intellectual curiosity".
"His bad moves generally come from his narcissism, and his arrogance, and his extreme centeredness," he said. "He doesn't seem to know very much, because all he cares about is himself. And he knows a great deal about himself."
Trump tells interviewer: "I think I'm much more humble than you would understand"
Jack Naglieri, a psychological research professor who also develops intelligence tests, has a different theory. He believes Mr Trump is lacking in "executive function" – the process of strategising, evaluating, decision making, and impulse control.
According to Mr Naglieri, strong executive function is a "hallmark of intelligence," and makes for a more modern, reliable indicator than notoriously imprecise IQ tests.
"It's very, very clear that Trump lacks this critical executive function," Mr Naglieri said, pointing to the President's outbursts, impulsivity, and apparent lack of empathy and insight.
"The tweeting is an obvious impulse control problem," Mr Naglieri said.
As for who would win in a battle of the wits, the researcher is "absolutely" on team Tillerson.
"Tillerson is clearly a person who has impulse control, who thinks things through," he said. "...He's not blurting out, he's not impulsive, he's not flying off the handle. He's not telegraphing his anger like Trump does."
"I'd put my money on Tillerson any day," he added.
Register for free to continue reading
Registration is a free and easy way to support our truly independent journalism
By registering, you will also enjoy limited access to Premium articles, exclusive newsletters, commenting, and virtual events with our leading journalists
Already have an account? sign in
Join our new commenting forum
Join thought-provoking conversations, follow other Independent readers and see their replies