Donald Trump seems to endorse alleged child sex abuser Roy Moore for Senate: 'We don't need a liberal democrat'
The Alabama Republican has been accused of harassing and abusing teenage girls when he was in his 30s - allegations he denies
Mythili Sampathkumar
New York
Tuesday 21 November 2017 21:42 Comments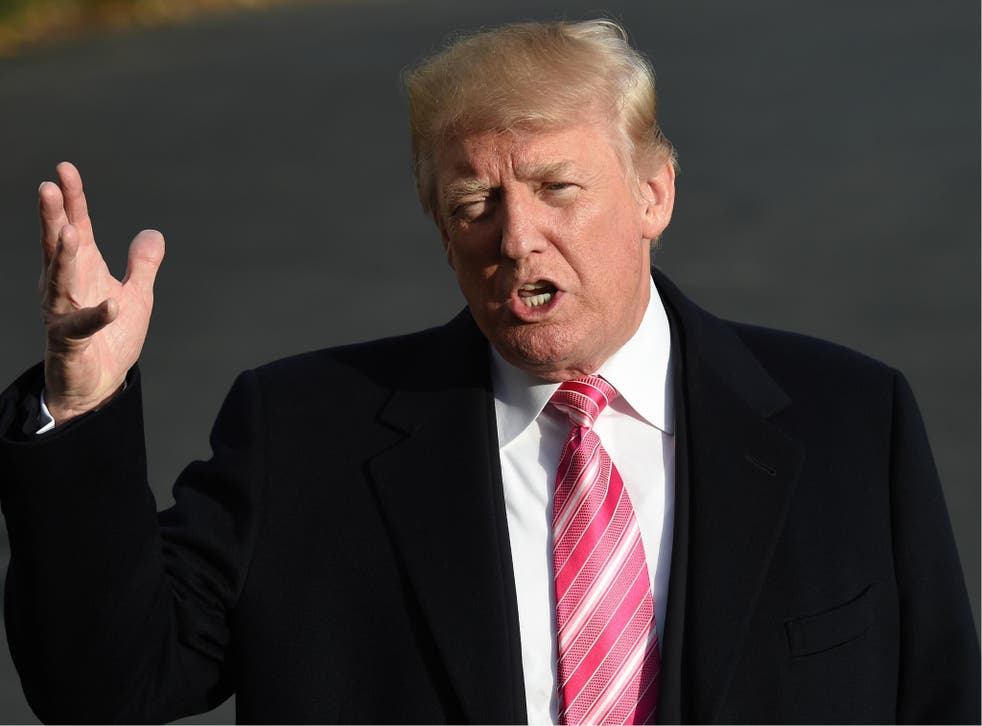 US President Donald Trump appears to have endorsed accused child sex abuser Roy Moore for a seat in the US Senate.
Speaking to reporters before boarding Air Force One with his family, Mr Trump said "we don't need a liberal Democrat" in the Alabama seat left vacant by the appointment of Attorney General Jeff Sessions.
Mr Moore, 70, has been accused by several women of sexual misconduct when he was in his 30s and working as a District Attorney in Alabama and they were just teenagers.
He is running for Senate against Democrat Doug Jones.
Mr Trump also pointed to Mr Moore's denials. "[He] denies it," the president said. "If you look at what is really going on and you look at all the things that have happened the last 48 hours, he totally denies it. He says it didn't happen. You know, you have to listen to him also. You're talking about...40 years ago."
The conservative Christian values candidate has repeatedly denied all accusations and any wrongdoing.
He also said on Sean Hannity's Fox News programme that he never dated any women without their mother's permission.
White House adviser Kellyanne Conway also came out in support for Mr Moore on the Fox & Friends programme, saying that Republicans in Washington "want the votes in the – in the Senate to get...this tax bill through," referring to the tax reform bill being crafted.
Roy Moore says he doesn't 'generally' remember dating teenage girls while in his 30s
However, just a week before she had said "that there is no Senate seat worth more than a child".
Ms Conway also said: "if the media were really concerned about all these allegations and that's what this is truly about and the Democrats, Al Franken would be on the ash heap of bygone, half-funny comedians. [Mr Franken] wouldn't be here in Capitol Hill."
Mr Franken, the Democratic Senator from Minnesota and erstwhile cast member of Saturday Night Live, has also been accused by several women of sexual harassment and misconduct. Including one photograph which newscaster Leeann Tweeden alleged showed Mr Franken groping her.
In response to that allegation, Mr Franken said: "I respect women. I don't respect men who don't. And the fact that my own actions have given people a good reason to doubt that makes me feel ashamed.
Though the President had not addressed the allegations against Mr Moore until today, he did respond immediately to those against Mr Franken via Twitter, writing: "The Al Frankenstien (sic) picture is really bad, speaks a thousand words. Where do his hands go in pictures 2, 3, 4, 5 & 6 while she sleeps?"
Several prominent state Republicans have come forward defending the Mr Moore and called into question the timing and motivation of the several women who told their stories.
Mr Moore called famed attorney Gloria Allred - representing accuser Beverly Young Nelson - of being "a sensationalist leading a witch hunt, and she is only around to create a spectacle."
Ms Nelson produced a high school yearbook which Mr Moore had written in, using the signoff "Love, Roy Moore, D.A." His attorney has said a handwriting analysis should be performed on the yearbook to prove if it is indeed Mr Moore's signature.
His wife of 32 years, Kayla Moore, has been one of his most ardent supporters. She also said during a campaign rally the campaign and Republican supporters "are gathering evidence of money being paid to people who would come forward. Which is part of why we are filing suit!"
World news in pictures

Show all 50
In its original report the Washington Post spoke to 30 sources, four of whom agreed to go on the record, about Mr Moore's alleged child sex abuse.
The paper wrote: "While reporting a story in Alabama about supporters of Moore's Senate campaign, a Post reporter heard that Moore allegedly had sought relationships with teenage girls. Over the ensuing three weeks, two Post reporters contacted and interviewed the four women. All were initially reluctant to speak publicly but chose to do so after multiple interviews, saying they thought it was important for people to know about their interactions with Moore. The women say they don't know one another."
The legal age of consent is 16 in the state of Alabama, so one particular accuser - Leigh Corfman - has caught the attention of the public since she said she was 14 when Mr Moore allegedly forced her to touch his genitals and kiss him.
Supporters of Mr Moore have attacked Ms Corfman for declaring bankruptcy, being married multiple times, and her problems with drug use - all of which she herself disclosed to the newspaper.
Mr Jones has been leading Mr Moore in polls ahead of the 12 December special election, however some on-the-ground reporting shows Mr Moore is still strongly supported in the Evangelical community and among many white Republican voters.
Register for free to continue reading
Registration is a free and easy way to support our truly independent journalism
By registering, you will also enjoy limited access to Premium articles, exclusive newsletters, commenting, and virtual events with our leading journalists
Already have an account? sign in
Join our new commenting forum
Join thought-provoking conversations, follow other Independent readers and see their replies