Republicans could kill House's Trump-Russia investigation, warns top Democrat
Donald Trump continues to smear the investigations 
Alexandra Wilts
Washington DC
Friday 15 December 2017 22:11 Comments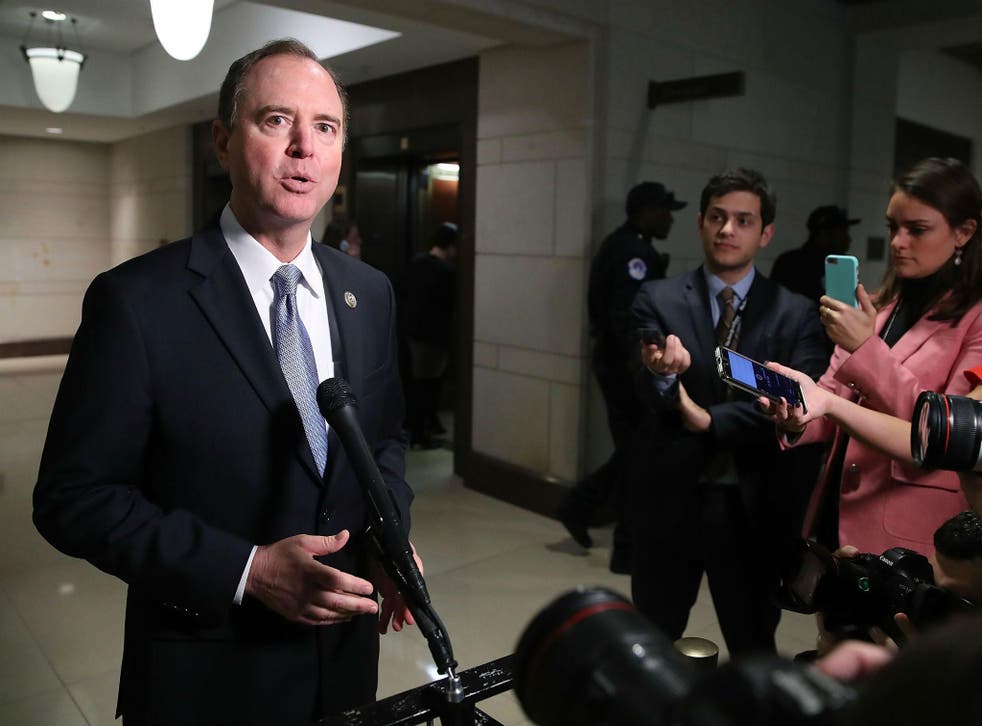 The top Democrat on the House Intelligence Committee has said he is worried Republicans are trying to kill his committee's probe into Russian meddling in the 2016 election.
Representative Adam Schiff's comments came as President Donald Trump continues to smear the investigations into whether his campaign team colluded with the Russian government to influence last year's presidential race.
"Since March, our investigation has made important progress," Mr Schiff wrote on Twitter. "We've interviewed numerous key witnesses behind closed doors, held public hearings, reviewed thousands of documents, identified new leads - all to understand and expose Russia's meddling and protect our democracy."
He continued: "Yet, Republicans have scheduled no witnesses after next Friday and none in 2017. We have dozens of outstanding witnesses on key aspects of our investigation that they refuse to contact and many document requests they continue to sit on."
The House Intelligence Committee is just one of several looking into the alleged ties between the Trump campaign and the Kremlin.
Mr Schiff said it appears as if his Republican colleagues "want to conduct just enough interviews to give the impression of a serious investigation."
The New York Times reported earlier that the committee is scheduling its final witnesses of the year to testify in New York - at the same time the House will be holding key votes on tax legislation and government funding bills. Government funding is scheduled to run out at the end of December 22.
The biggest names involved in the Trump-Russia investigation

Show all 17
Mr Schiff said this schedule means no members will be able to ask them questions.
"These witnesses are willing to come to DC," Mr Schiff.
The congressman said the responsibility to conduct a thorough investigation ultimately falls on House Speaker Paul Ryan, adding that he's concerned the top Republican is heeding the calls of President Donald Trump to shut down the Russia investigations.
Mr Trump has insisted there was "no collusion".
"When you look at the committees, whether it's the Senate or the House, everybody - my worst enemies, they walk out, they say, 'There is no collusion but we'll continue to look.' They're spending millions and millions of dollars," Mr Trump told reporters on Friday.
Register for free to continue reading
Registration is a free and easy way to support our truly independent journalism
By registering, you will also enjoy limited access to Premium articles, exclusive newsletters, commenting, and virtual events with our leading journalists
Already have an account? sign in
Register for free to continue reading
Registration is a free and easy way to support our truly independent journalism
By registering, you will also enjoy limited access to Premium articles, exclusive newsletters, commenting, and virtual events with our leading journalists
Already have an account? sign in
Join our new commenting forum
Join thought-provoking conversations, follow other Independent readers and see their replies