Trump attacks several countries in UN speech but fails to mention Russian election hacking
Speech comes on the same day US ambassador to Russia nominee says 'no question' Moscow interfered in election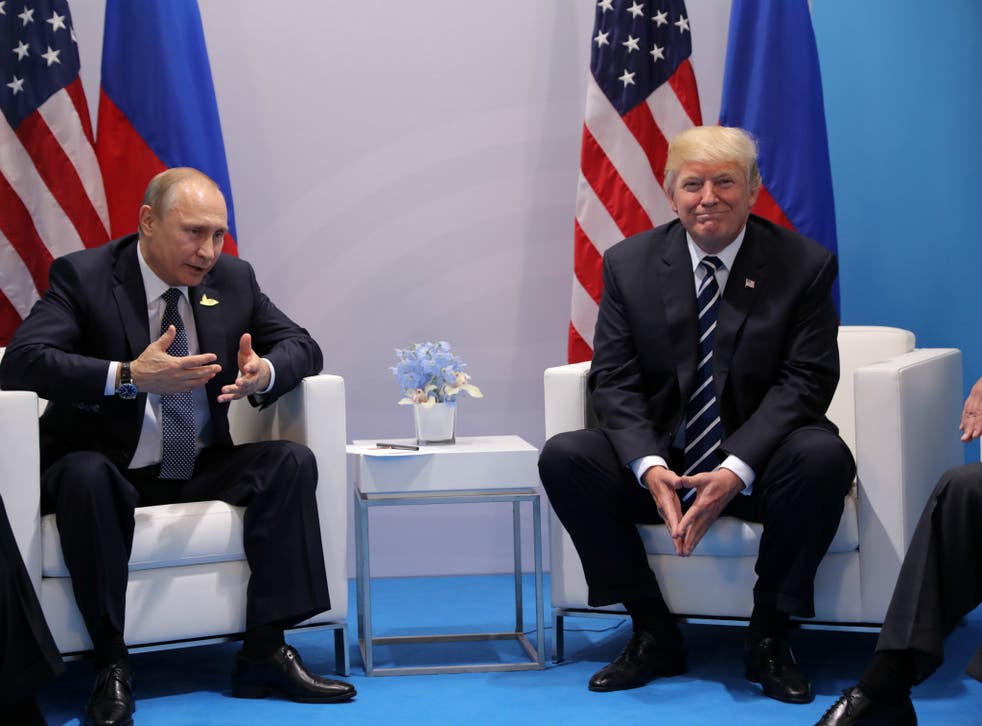 In Donald Trump's first speech before the United Nations General Assembly, the president excoriated a list of American antagonists that included Iran, Venezuela and North Korea.
Conspicuously absent from Mr Trump's speech was the country that, perhaps more than any other, has become associated with his young presidency: Russia.
American intelligence agencies have concluded that Russian President Vladimir Putin ordered a sweeping influence campaign intended to disrupt the 2016 election and undermine faith in democracy, leading Congress to level a new round of sanctions on Russia. European officials have warned of similar Russian efforts to sow electoral chaos.
In a speech heavy on criticism for anti-democratic regimes, Russian meddling in other countries' elections didn't draw a mention. Mr Trump did make a passing reference to a Russian-backed separatist conflict in the Ukraine, saying "we must reject threats to sovereignty from the Ukraine to the south China sea".
As Mr Trump spoke in New York, the man he nominated to be the US Ambassador to Russia, former Utah Governor Jon Huntsman, was more direct about Russian election meddling during a Senate confirmation hearing in Washington. Mr Huntsman said "there was no question" that "the Russian government interfered in the US election last year" and warned that Russia still aimed to intrude on other countries' politics.
"Moscow continues to meddle in the democratic processes of our friends and allies," Huntsman said.
The biggest names involved in the Trump-Russia investigation

Show all 17
Even as relations between America and Russia have deteriorated, with each country shuttering the others' diplomatic facilities in the aftermath of new sanctions, Mr Trump has continued to urge cooperation as an ultimate goal. He has repeatedly expressed his admiration for Mr Putin.
Investigations of potential ties between Russia and Mr Trump's orbit have dogged the young administration, with both Congress and a probe led by special counsel Robert Mueller seeking evidence that campaign officials conspired with Russia to swing the election.
Putin watches Russia's military might on display in war games
Mr Trump has consistently denied any collusion between his campaign and Russian actors.
Register for free to continue reading
Registration is a free and easy way to support our truly independent journalism
By registering, you will also enjoy limited access to Premium articles, exclusive newsletters, commenting, and virtual events with our leading journalists
Already have an account? sign in
Register for free to continue reading
Registration is a free and easy way to support our truly independent journalism
By registering, you will also enjoy limited access to Premium articles, exclusive newsletters, commenting, and virtual events with our leading journalists
Already have an account? sign in
Join our new commenting forum
Join thought-provoking conversations, follow other Independent readers and see their replies