Trump accuses Spike Lee of making a 'racist hit on your president' in early morning Twitter tirade
President lashes out after 'BlacKkKlansman' director uses Oscars speech to tell voters to 'do the right thing' in 2020 election
Oscar 2019: 'Make the moral choice between love versus hate', says Spike Lee
Donald Trump has launched an attack on filmmaker Spike Lee, accusing him of a "racist hit on your president" during his Oscars speech.
The president was seemingly responding to comments made by the director while accepting the Best Adapted Screenplay award for the movie BlacKkKlansman.
Lee said during Sunday night's ceremony: "The 2020 presidential election is around the corner. Let's all mobilise. Let's all be on the right side of history. Make the moral choice between love versus hate. Let's do the right thing."
Mr Trump, who is on his way to a summit with North Korean leader Kim Jong-un in Vietnam, responded with a personal jab on Twitter on Monday: "Be nice if Spike Lee could read his notes, or better yet not have to use notes at all, when doing his racist hit on your president, who has done more for African Americans (Criminal Justice Reform, Lowest Unemployment numbers in History, Tax Cuts,etc.) than almost any other pres!"
BlacKkKlansman, which earned Lee his first non-honorary Oscar, is adapted from a memoir by Ron Stallworth, a black detective who infiltrated the white supremacist Ku Klux Klan. Although set in the 1970s, the film also explores the resurgence of racism and the far right in the US under Mr Trump.
Oscars 2019: Best behind-the-scenes photos of celebrity guests

Show all 15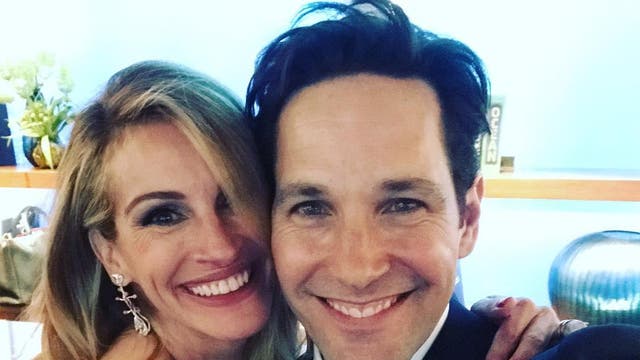 During his impassioned acceptance speech, which he read from a page of notes, Lee implored Americans to "connect with our ancestors ... have love and wisdom, and regain our humanity".
He said: "Four hundred years. Our ancestors were stolen from Mother Africa and bought to Jamestown, Virginia, enslaved. Our ancestors worked the land from can't see in the morning to can't see at night.
"Before the world tonight, I give praise to our ancestors who have built this country into what it is today along with the genocide of its native people."
The director did not refer to Mr Trump by name during the speech, but in a subsequent press conference he addressed the president's failure to condemn far-right violence.
Lee included footage of an August 2017 white nationalist rally at which a counter-protester was killed in in Charlottesville, Virginia, at the end of BlacKkKlansman. Mr Trump infamously refused to condemn the far right, saying "both sides" were to blame for the violence.
Lee said: "That car drove down that one street in Virginia, and the president of the United States did not reject, refute, did not denounce the Klan, alt-right and neo-Nazis. This film, whether we won best picture or not, this film will stand the test of time being on the right side of history."
During the Oscars ceremony, Lee also stormed off in disgust as Green Book was announced as surprise winner of Best Picture. Peter Farrelly's comedy-drama, about a black jazz pianist and his rough-around-the-edges driver, has been accused of advancing the "white saviour" trope.
Join our new commenting forum
Join thought-provoking conversations, follow other Independent readers and see their replies