Trump administration backs sweeping surveillance laws to track non-US citizens' calls and emails
The law has been used to fight terrorism around the world 
Alexandra Wilts
Washington DC
Wednesday 07 June 2017 22:48 Comments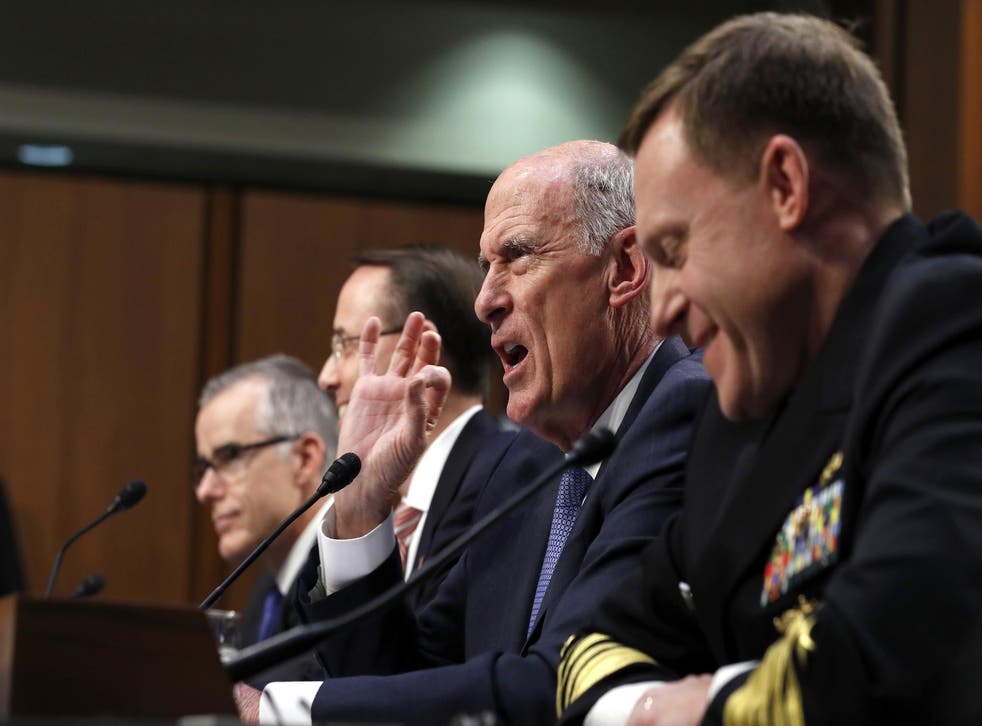 Donald Trump's administration is pushing for the permanent reauthorisation of a law that allows the government to track emails and phone calls of non-US citizens outside the country, despite some concerns by Congress about protecting Americans' privacy and civil liberties.
Dan Coats, Mr Trump's national intelligence director, testified before the Senate Intelligence Committee that Section 702 of the Foreign Intelligence Surveillance Act has helped fight terrorism around the world.
He described the thwarted NYC subway bombing plot by al-Qaeda's Najibullah Zazi as a testament to the importance of Section 702, adding that permanent authorisation of the law without further amendment – proposed in a bill introduced by Republican Senator Tom Cotton – is a "top legislative priority" for the intelligence community.
Deputy Attorney General Rod Rosenstein, acting FBI director Andrew McCabe, and National Security Agency director Michael Rogers also testified before the committee. They all said that they fully backed permanent reauthorisation of the law, which is set to expire at the end of this year.
Both Democrats and Republicans have expressed support for Section 702, but asked the intelligence chiefs questions to understand how the privacy of US citizens may be affected or how it has been harmed in the past.
"It's a programme that I support," said Senator Diane Feinstein, the ranking member of the Senate Judiciary Committee. "I believe it has worked well".
The biggest names involved in the Trump-Russia investigation

Show all 17
Mr Coats emphasised that the law may only be used to target foreign persons abroad for foreign intelligence; cannot be used to target Americans anywhere in world; and cannot be used for surveillance inside the US.
Mr Rogers added that Section 702 "cannot be used as a vehicle to bypass other laws and target US persons", whose communications with foreign persons can be incidentally captured.
If intelligence is incidentally collected on a US citizen when the NSA is targeting foreign individuals "there is a set of processes that we have to follow", Mr Rogers said.
The NSA will inform the FBI and Justice Department, the US's law enforcement agencies, if it has gathered information regarding potential criminal activity or behaviour that could harm others. If the intelligence does not show evidence of either, the incidental information collected on the US citizen is "purged".
Democratic Senator Ron Wyden, who has been wary of increasing the government's surveillance powers, criticised Mr Coats for not providing "a relative metric for the number of law-abiding Americans" whose information was incidentally collected under Section 702.
Mr Coats had said that putting together that statistical estimate would jeopardise national security. But Mr Wyden countered that the intelligence chiefs' inability to provide that kind of information could be "detrimental to the cause of ensuring that we have security and liberty".
Register for free to continue reading
Registration is a free and easy way to support our truly independent journalism
By registering, you will also enjoy limited access to Premium articles, exclusive newsletters, commenting, and virtual events with our leading journalists
Already have an account? sign in
Join our new commenting forum
Join thought-provoking conversations, follow other Independent readers and see their replies