Trump tees off with Tiger Woods after taking on 'inherited mess' in Syria in latest working holiday
'I will get it all done, but what a mistake'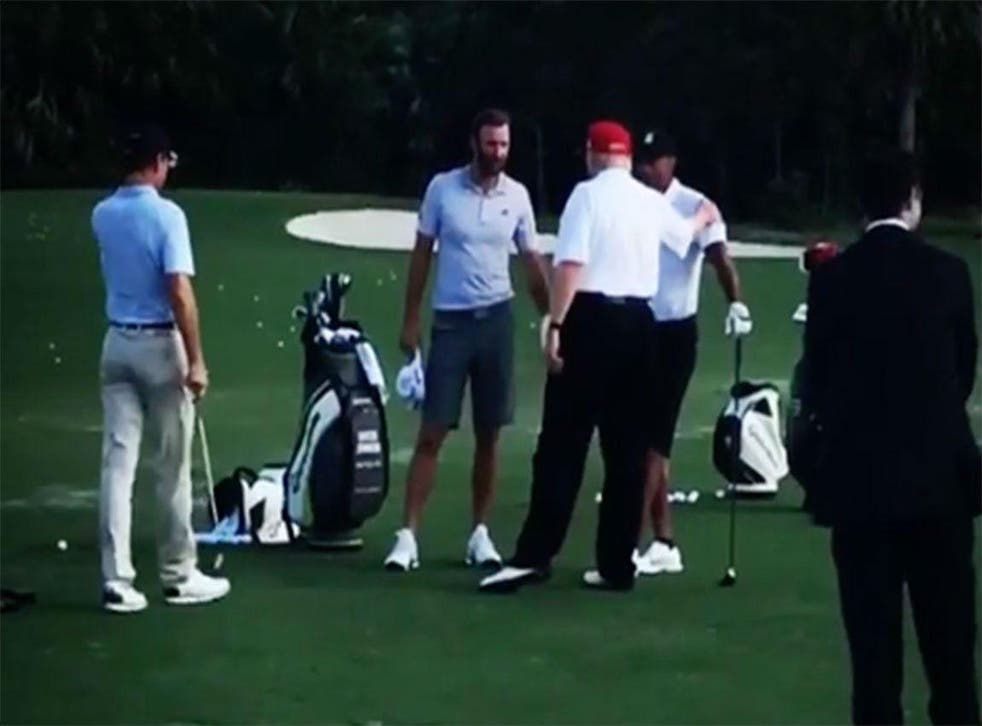 Donald Trump juggled golf alongside Tiger Woods and Dustin Johnson with an effort to secure peace in the Middle East, as he spoke by phone with Turkish President Recep Tayyip Erdogan before hitting the fairways with the world's former number one and the current top player.
Turkish officials claimed during the call with Mr Erdogan that Mr Trump said he would no longer supply arms to Syrian Kurdish fighters, though there was no immediate confirmation of that from the White House.
The conversation came several days after Mr Erdogan attended a meeting with Russian and Iranian leaders in Sochi, Russia, to promote a peaceful settlement in Syria. Relations between Nato allies and the US have become increasingly tense over several issues, including Washington's support to Syrian Kurdish fighters, known as the YPG.
Before the conversation, Mr Trump had said he was working to tackle a problem in the Middle East that he had "inherited".
"I will get it all done, but what a mistake, in lives and dollars (6 trillion), to be there in the first place," he said.
"After Turkey call I will be heading over to Trump National Golf Club, Jupiter, to play golf (quickly) with Tiger Woods and Dustin Johnson. Then back to Mar-a-Lago for talks on bringing even more jobs and companies back to the USA."
Trump on the planes the Air Force is ordering: "You know, in a fight, like I watch on the movies"
Mr Trump's revelation that he was playing with Woods and Johnson, who is currently ranked as the best player in the world, marked something of a departure for the President and the White House. While he frequently spends time away from the White House at one of his numerous golf courses, there is sensitivity over claims the President takes up too much time playing, rather than working.
Before he became the Republican candidate, Mr Trump frequently criticised Barack Obama if he was ever spotted playing golf, even though his predecessor played much less frequently than he did, or does.
Before the three men played their game, Mr Trump spoke with the Turkish leader about the situation in neighbouring Syria. It was reported that Turkish foreign minister Mevlut Cavusoglu, who was in Mr Erdogan's office during the conversation, said Mr Trump told them the US would halt its supply of arms to Syrian Kurdish fighters. Ankara considers them terrorists because of their affiliation with outlawed Kurdish rebels in Turkey.
Donald Trump's least presidential moments so far...

Show all 30
"Mr Trump clearly stated that he had given clear instructions and that the YPG won't be given arms and that this nonsense should have ended a long time ago," Mr Cavusoglu said.
During the election campaign, Mr Trump frequently condemned the US's involvement in the ongoing conflicts in Afghanistan and Iraq. Since assuming the presidency, he has said US forces are now making progress and had claimed this is because of a change in military tactics that he has ordered.
On Thanksgiving Day, Mr Trump addressed troops stationed overseas and said they had now been allowed to win.
"Everybody's talking about the progress you've made in the last few months since I opened it up," he said.
"They weren't letting you win before; they were letting you break even. They weren't letting you win."
Woods plans to return to competitive play next week after his most recent back surgery sidelined him for seven months.
Register for free to continue reading
Registration is a free and easy way to support our truly independent journalism
By registering, you will also enjoy limited access to Premium articles, exclusive newsletters, commenting, and virtual events with our leading journalists
Already have an account? sign in
Register for free to continue reading
Registration is a free and easy way to support our truly independent journalism
By registering, you will also enjoy limited access to Premium articles, exclusive newsletters, commenting, and virtual events with our leading journalists
Already have an account? sign in
Join our new commenting forum
Join thought-provoking conversations, follow other Independent readers and see their replies