Donald Trump hints at firing cabinet member who spent at least $400,000 of taxpayer money on government jets
The President distances himself from his Cabinet member's scandal
Emily Shugerman
New York
Wednesday 27 September 2017 18:59 Comments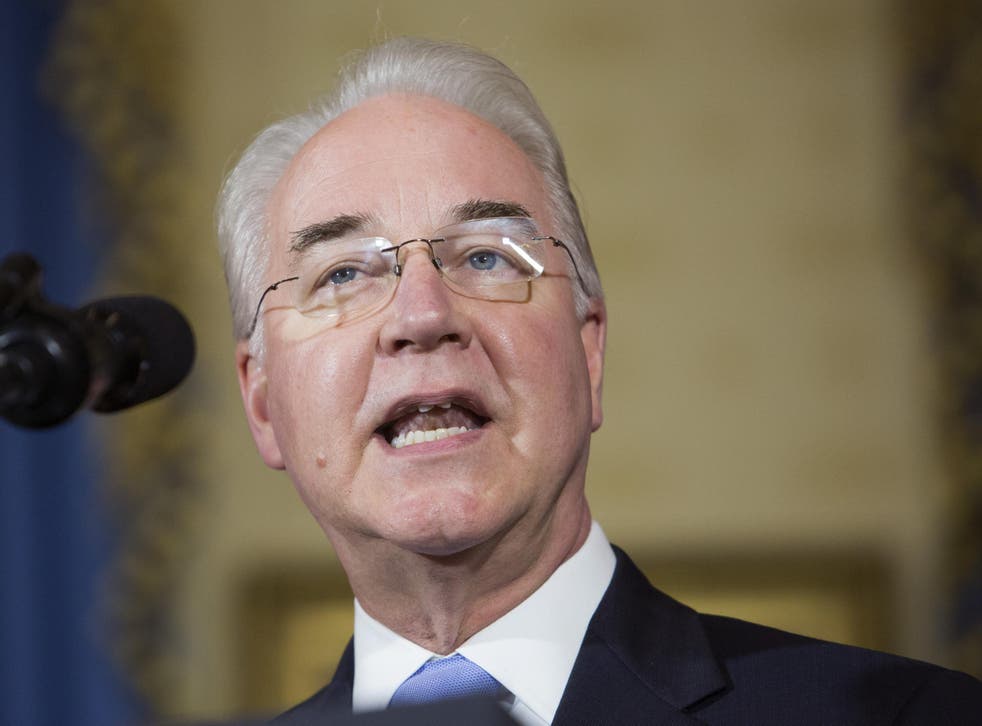 Donald Trump is considering firing Health and Human Services Secretary Tom Price, the administration official who spent hundreds of thousands of taxpayer dollars on private flights.
"I'm not happy with Tom," Mr Trump recently told reporters of his Cabinet pick. "I'm not happy and I let him know it."
Asked if he would fire Mr Price, the President responded: "We'll see."
The White House has distanced itself from Mr Price in recent days, after Politico reported that the Secretary had taken five separate private jet flights in a single week.
"We're looking into it," Mr Trump assured reporters last week. Press Secretary Sarah Huckabee Sanders added that the flights were "not White House-approved travel".
Senior administration officials have separately complained that Mr Price was "nowhere to be found" during the Obamacare repeal effort.
Donald Trump's international Presidential trips

Show all 22
Mr Price has taken 26 private flights since early May, totaling at least $400,000, according to Politico. The flights cost taxpayers hundreds of thousands more than the commercial flights that government officials usually take.
On Wednesday, Politico reported that Mr Price's taxpayer-funded jet trips were not solely used for government business. On one occasion, Mr Price took a private plane to a medical conference, and arrived a day and a half early. He and his wife own property in the area, and Mr Price has long attended the conference – even outside his White House role.
In another instance, Mr Price left a medical conference in Nashville to have lunch with his son, a musician who lives in the city. The conference itself was organised by a long-term friend.
Mr Price spent less than six hours in Nashville that day, but his flight cost more than $17,000. Multiple commercial flights to the location appear to have been available.
Bernie Sanders grills Tom Price on Trump's health care plans
A Health and Human Services spokesperson said Mr Price uses private planes "when commercial aircraft cannot reasonably accommodate travel requirements".
Mr Price, however, has promised to suspend his private flights until the Department of Health and Human Services' inspector general completes his review.
"We've heard the criticism. We've heard the concerns. We take that very seriously and have taken it to heart," Mr Price told Fox News.
He added: "We welcome this review. We want to make certain that we have the full confidence of not just this administration, but the American people."
Register for free to continue reading
Registration is a free and easy way to support our truly independent journalism
By registering, you will also enjoy limited access to Premium articles, exclusive newsletters, commenting, and virtual events with our leading journalists
Already have an account? sign in
Join our new commenting forum
Join thought-provoking conversations, follow other Independent readers and see their replies