John McCain backs new bill blocking Trump's transgender troop ban
Meanwhile, the military is putting together a panel to determine how to implement the President's plans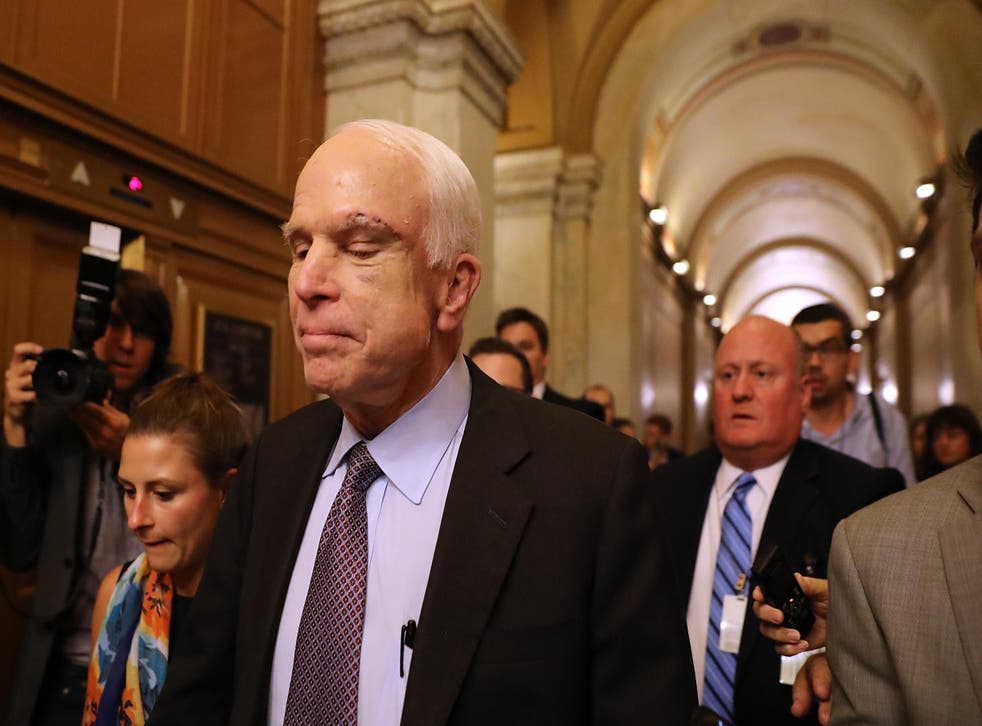 John McCain is joining a bipartisan push to block President Donald Trump from banning transgender people from serving in the military.
Mr Trump issued a moratorium last month instructing the military to stop providing gender reassignment surgeries for transgender troops, and to stop plans to recruit those troops. That decision came following an order from his predecessor that instructed the military to begin considering programmes to allow transgender people to serve openly and without worry in the military.
The moratorium quickly drew anger from people who questioned the necessity of blocking transgender people from serving.
"Any member of the military who meets the medical and readiness standards should be allowed to serve — including those who are transgender," Mr McCain said in a statement.
Mr McCain joins several other senators in the effort to push through the legislation that would thwart Mr Trump's plans to keep the transgender community out of the armed services. Senator Kirsten Gillibrand, a Democrat, and Senator Susan Collins, a Republican, are also behind the effort.
"Thousands of brave transgender Americans love our country enough to risk their lives for it, fight for it, and even die for it, and Congress should honour them and let them serve," Ms Gillibrand said in a statement. "Doing otherwise would only harm our readiness at a time when our military is deployed around the world in defence of our country."
Transgender in Pakistan

Show all 16
Mr Trump's order has also created several lawsuits in the country, including a suit involving nine transgender people in Washington, who recently asked that the court impose an injunction on the order to bar transgender service until their case is heard.
But, as things stand, the transgender ban is not in full effect, and the Pentagon is still reviewing what it will do moving forward. The Pentagon announced Friday that it was putting together a panel of experts to study how implementing the President's ban might proceed, and how to do so while maintaining military readiness. The military has until February to provide the White House with their implementation plan, and until then transgender service members will be allowed to openly serve.
Register for free to continue reading
Registration is a free and easy way to support our truly independent journalism
By registering, you will also enjoy limited access to Premium articles, exclusive newsletters, commenting, and virtual events with our leading journalists
Already have an account? sign in
Register for free to continue reading
Registration is a free and easy way to support our truly independent journalism
By registering, you will also enjoy limited access to Premium articles, exclusive newsletters, commenting, and virtual events with our leading journalists
Already have an account? sign in
Join our new commenting forum
Join thought-provoking conversations, follow other Independent readers and see their replies