Trump supporters chant 'send her back' after president attacks Ilhan Omar
Trump calls victims of his racist tweets 'racist' in wild and unfounded attack while on way to judge's memorial
'The 'Squad' is a very Racist group of troublemakers who are young, inexperienced, and not very smart'
Donald Trump has once again attacked the four Democratic congresswomen of colour he hurled racist insults at last week, claiming in a tweet on Monday the freshmen politicians are "a very Racist group of troublemakers."
"The 'Squad' is a very Racist group of troublemakers who are young, inexperienced, and not very smart," the president wrote, referring to Alexandria Ocasio-Cortez, Ayanna Pressley, Ilhan Omar and Rashida Tlaib. "They are pulling the once great Democrat Party far left, and were against humanitarian aid at the Border...And are now against ICE and Homeland Security."
He added, "So bad for our Country!"
The president's unfounded claims seemed to be an attempt to deflect from his own accusations of racism after the US House of Representatives voted in a historic move last week to rebuke the "racist comments" he aimed at the four congresswomen.
Mr Trump demanded they "go back" to their countries, despite all four congresswomen being US citizens and only one having been born outside of the country. The comments, which echoed an old racist trope alleging people of colour are not truly American, sparked his supporters to then chant at a rally last week, "Send her back!" as the president stopped and listened to the crowd from behind his podium for 13 seconds.
Trump 2020 launch: Fascist Proud Boys, baby blimps and Uncle Sam

Show all 30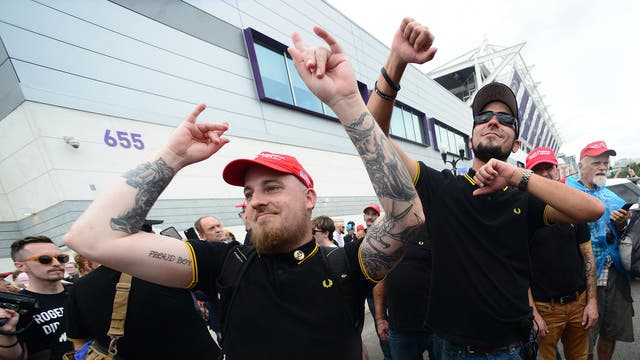 Nancy Pelosi, the US Speaker of the House of Representatives, described the president's remarks as "disgusting" and "denigrating" to the nation's core values in a statement during the vote.
"The president knows the arguments that are being made against him and therefore he wants to distract from them … Let's not waste time on that," she said. "We're talking about what we're going to do to help the American people."
The president's latest incendiary tweets arrived as he was travelling with Melania Trump to pay their respects to the late Supreme Court Justice John Paul Stevens.
The former justice was lying in repose at the Supreme Court on Monday. He was reportedly accompanied by nearly 80 of his former clerks, who were "standing vigil" over his casket as others paid their respects.
Just before escalating his racism row with the congresswomen, Mr Trump tweeted, "Going with First Lady to pay our respects to Justice Stevens. Leaving now!"
Support free-thinking journalism and attend Independent events
The four congresswomen responded to Mr Trump's repeat attacks in a press conference they held after the House vote last week, in which they said the president was attempting to "vilify" people of colour — including immigrants — while creating a "distraction" from his alleged corruption.
"America has always been about the triumph of people who fight for everyone versus those who want to preserve rights for just a select few," Ms Ocasio-Cortez said.
Join our new commenting forum
Join thought-provoking conversations, follow other Independent readers and see their replies