Emmanuel Macron says he thinks Donald Trump will withdraw from Iran nuclear deal
French president says he expects Mr Trump to withdraw for 'domestic reasons'
Emily Shugerman
New York
Thursday 26 April 2018 04:24 Comments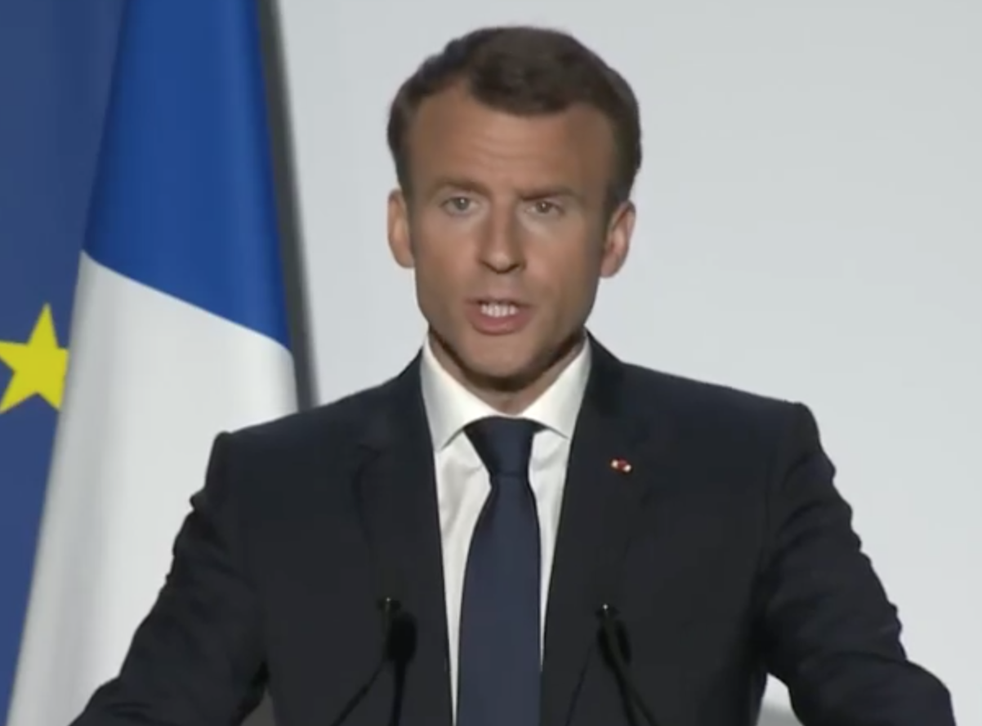 French President Emmanuel Macron has said he believes US President Donald Trump will pull out of the Iran nuclear deal – something the French leader had hoped to dissuade Mr Trump from doing during his three-day trip across the Atlantic.
"My view – I don't know what your president will decide – is that he will get rid of this deal on his own, for domestic reasons," Mr Macron told a group of reporters in Washington.
He reiterated as much at a press conference that night, saying he had come to the conclusion based not on inside information, but on what his American counterpart said publicly during their visit. Mr Trump called the deal "insane" and "ridiculous " in a joint press conference with the French president the day before.
"It seems to me that he will not do that much to preserve the [deal]," Mr Macron said on Wednesday. "I don't think this is big news, I think it's just an analysis."
He added: "If you listen to him I think you can reach the same conclusions as me."
Mr Trump has a 12 May deadline to certify Iran's compliance with the deal, which limits the country's nuclear energy programme in exchange for the lifting of economic sanctions. International watchdog groups say Iran is currently in compliance with the deal's terms.
Macron: 'We wish to work on a new deal with Iran'
But Mr Trump is a longtime foe of the plan, having once referred to it as the "worst deal ever". Among other things, he has complained that the deal does not prevent Iran from testing ballistic missiles and limits the power of international inspectors.
Mr Macron said on Wednesday that he would not be personally offended if Mr Trump pulled out of the deal, which the US and France brokered along with Germany, China, Russia, and the UK in 2015. He acknowledged that pulling out of the deal was a campaign promise of Mr Trump's – and not one he could ask the president to forgo.
"My commitment is not to convince President Trump to walk away from his campaign commitments or change his mind," Mr Macron said. "...I believe what we should be doing is finding an efficient way to build multilateralism."
Iran's 'Trumpism' contest

Show all 10
The day before, he had signalled interest in creating a new deal – one that encompassed the pillars of the original agreement, but took Mr Trump's concerns into account. He said the new deal would impose permanent restrictions on Iran's nuclear programme, address their ballistic missile activities, and limit their military operations across the region.
On Wednesday, he added that he planned to call Iranian president Hassan Rouhani to discuss the next steps. Mr Rouhani had rejected the idea of a new deal earlier that day, saying the US and France had no right to renegotiate the terms.
"You don't have any background in politics," he said of Mr Trump in a televised speech, according to Reuters. "You don't have any background in law. You don't have any background on international treaties."
He added: "Together with a leader of a European country they say: 'We want to decide on an agreement reached by seven parties.' What for? With what right?"
Register for free to continue reading
Registration is a free and easy way to support our truly independent journalism
By registering, you will also enjoy limited access to Premium articles, exclusive newsletters, commenting, and virtual events with our leading journalists
Already have an account? sign in
Join our new commenting forum
Join thought-provoking conversations, follow other Independent readers and see their replies