2,470 tweets and 0 major legislative achievements: A year of Trump in numbers
There have been a number of trips to golf courses while trying to tackle some major issues facing the nation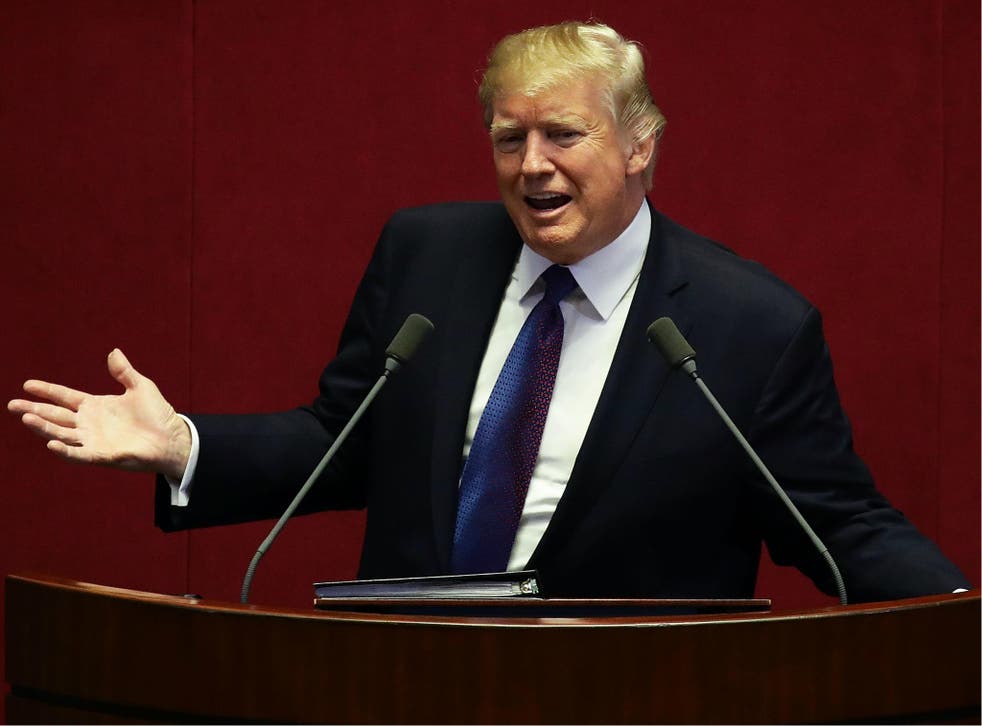 It has been 365 days since Donald Trump was elected in a shocking upset against Hillary Clinton, and for some of Mr Trump's critics the year may have seemed like an eternity.
For his supporters, many have seen what they voted for - Mr Trump acting a number of campaign promises. However, not all of his major pledges have come to pass yet.
A lot has happened, and a lot has changed. So, in light of the unprecedented past year, we have put together a list to put the events of the past year.
Departing Twitter employee deactivates Donald Trump's account
Opioid deaths
Mr Trump inherited a startling and deadly epidemic that has been decades in the making. Opioid abuse led to between 59,000 and 65,000 deaths in 2016, and the number is expected to rise this year.
Mr Trump, in an attempt to combat those deaths, brought together a task force after inauguration day to consider the problem, and announced recently that his administration would move on some of its suggestions.
Legislative failures
So far, Mr Trump has been unable to capitalise on the legislative majorities his party hold in both chambers of Congress, and the first nine months of his presidency have been marred with legislative defeats.
Most notably, Mr Trump and Republicans have failed on at least four attempts to pass repeal and replacement plans for Obamacare. The push now is for tax reform, which is also proving difficult.
Donald Trump's least presidential moments so far...

Show all 30
Nominations made
Mr Trump has so far made 459 nominations during his presidency. That is compared to 550 made by former President Barack Obama at the same point in his presidency, and the 663 made by former President George Bush.
Appointments confirmed
Mr Trump has so far has had just 207 of those nominations confirmed. That's compared to 387 Mr Obama had, and the 428 Mr Bush had. A number of potential nominees have withdrawn their nomination during that year before being confirmed - with the latest being Mr Trump's pick for chief scientists at the Department of Agriculture, Sam Clovis. Mr Clovis, a former member of Mr Trump's campaign team, withdrew his nomination in the wake of his name appearing in documents relating to the Robert Mueller Russia investigation.
White House staffer resignations
Mr Trump's presidency so far has been particularly volatile, and there may be no greater representation of that than the sheer number of high-level resignations that the Trump administration has seen.
So far, the Trump administration has seen nine high-profile resignations and firings from key government posts. That includes Mr Trump's former chief strategist Steven Bannon, his first Chief of Staff Reince Priebus, his first Press Secretary Sean Spicer. Mr Trump has also fired or seen resignations from his first two communications directors, including Anthony Scaramucci, who had a 10-day run in the post.
Foreign trips
Mr Trump has left on four foreign trips during his presidency, including one that began this past week end.
During that time he has visited 13 countries (counting Vatican City as a country). He is scheduled to visit two more countries during his current trip, his first to Asia as president.
Campaign-style rallies
Soon after the election, Mr Trump embarked on a thank you tour in December that included nine rallies. Since then, the President has held at least nine more rallies, bringing the total to 18 in the past year.
Solo press conferences
While Mr Trump often answers questions from the press as he passes, or alongside heads of state, the number of solo press conferences he's conducted is quite low. According to a tally by the American Presidency Project, Mr Trump has conducted just one solo press conference as president.
Bills signed into law
Mr Trump has signed into law 82 bills since becoming president, and Congress has passed 321 resolutions during that same time, according to GovTrack.
Landmark legislation passed
An analysis conducted by CNN of the bills Mr Trump has signed since coming into office has found that as little as two have actually created new policy. One of those bills imposed new sanctions on Russia, while another limited the President's ability to ease or alter sanctions without Congressional approval.
As far as major, landmark legislation with major impacts for US policy: Zero.
Executive orders
Mr Trump has signed 50 executive orders so far in his presidency, according to the American Presidency Project. The orders have tackled a range of policy issues, and many have been aimed at repealing orders signed by his predecessor on things like the environment and immigration.
International agreements left
Mr Trump has led the US out of at least three significant international agreements. Soon after assuming office he announced that America's involvement in the Trans Pacific Partnership was over. He followed that up with announcements that the US would withdraw from the Paris Climate Accord (the US is now the only country who isn't on-board), and withdrew America from UNESCO. He's also reversed many aspects of America's opening toward Cuba.
The Trump administration has also refused to rectify the nuclear agreement with Iran.
Some agreements he promised to target have remain intact, though. That includes Nato, and the North American Free Trade Agreement (which he says the US is negotiating).
Tweets
Including retweets, Mr Trump has tweeted 2,470 times since election day 2016.
Tweets discussing "fake news"
The President's Twitter account has mentioned "fake news" in 127 tweets in the past year.
Tweets mentioning Hillary Clinton
Mr Trump's account has mentioned "Hillary" in 54 tweets in the past year.
Known golf trips
While the White House does not disclose exact figures on Mr Trump's golf outings, the President appears to have golfed during at least 34 trips to golf courses in the last year, totaling 73 total days golfing, according to trumpgolfcount.com.
States visited
The President has visited at least at least 24 states since becoming President. Those trips have included visits to Nevada, where he consoled people after the Las Vegas shooting, as well as Texas, where he visited after Hurricane Harvey devastated the state's southeast.
Other estimates, which include trips just for fundraisers, put the tally at 28.
Walls built with Mexico's money
Zero. Mr Trump's claims that Mexico will build his promised border wall are contentious to say the least. Mexican officials have repeatedly said that they would not fork over the dough for the wall, while Mr Trump has said he'll find a way to squeeze the money out of Mexico.
Whatever the case, construction hasn't begun on the wall yet anyway. Right now, the US government is preparing to consider several prototypes made by private companies and set up alongside the US border near San Diego.
Fired FBI directors
One. Mr Trump created a whirlwind of controversy earlier this year when he fired former FBI Director James Comey, who later said that Mr Trump had tried to pressure him into dropping an investigation into Russian meddling in the 2016 election.
That number is significant, simply because sitting presidents rarely fire the head of the FBI.
Special counsels appointed
One. Robert Mueller was assigned to investigate Russia's meddling in the 2016 election after Mr Trump fired Mr Comey.
Join our new commenting forum
Join thought-provoking conversations, follow other Independent readers and see their replies