Donald Trump has lost 10 key officials in his first 9 months as President
Speculation continues over whether there will be more staff shake-ups to come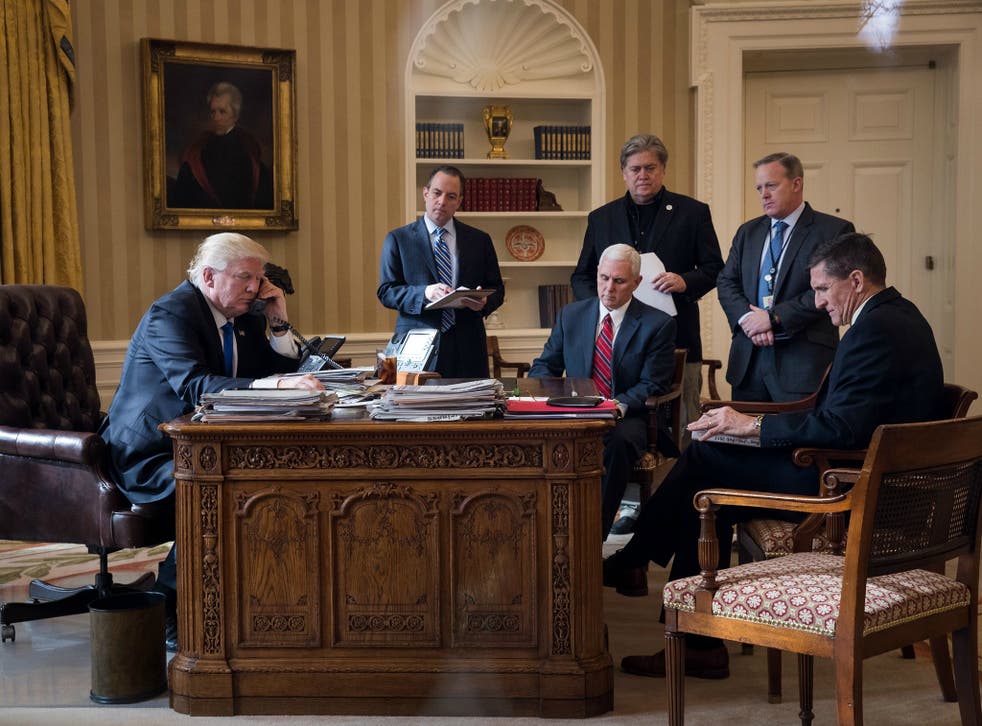 The first nine months of Donald Trump's administration has been marked by several high-profile resignations and firings of people in key government posts.
Here is a list of the biggest departures to rock Washington, starting with the most recent.
Tom Price, Secretary of Health and Human Services
Started: February 10, 2017
Resigned: September 29, 2017
Length of tenure: 232 days
Mr Price resigned after being caught up in a controversy over his use of private jets for government travel. The former congressman and orthopedic surgeon took as many as 26 chartered planes during his brief tenure as head of HHS. He is reported to have spent an estimated $1m of taxpayers' money on both domestic trips and military flights to Africa, Asia and Europe. The HHS Office of Inspector General had launched an investigation into the matter a week before Mr Price's resignation.
Sebastian Gorka, Deputy assistant to the President
Hired: January 30, 2017
Resigned: August 25, 2017
Length of tenure: 208 days
Mr Gorka focused on national security and counterterrorism during his time at the White House. Before that, he had worked as a paid policy consultant for Mr Trump's campaign. A White House official disputed a report saying Mr Gorka resigned, but confirmed that the ex-aide "no longer works at the White House".
The Federalist, an online magazine,obtained and posted what it says is Mr Gorka's resignation letter. "[G]iven recent events, it is clear to me that forces that do not support the MAGA promise are – for now – ascendant within the White House," the Federalist quotes Mr Gorka as saying. "As a result, the best and most effective way I can support you, Mr President, is from outside the People's House."
Mr Gorka said he would return to Breitbart, a right-wing media outlet, where he had previously worked as national security editor and often warned of Islamist terrorism.
Steve Bannon, White House Chief Strategist
Started: January 20, 2017
Fired: August 18, 2017
Length of tenure: 211 days
The dismissal of Mr Bannon is said to have been the result of Mr Trump's growing frustration with his chief strategist. Mr Bannon joined the Trump campaign in August 2016, after serving as an executive at Breitbart. His time at the White House has been characterised as highly contentious, and he disagreed with Mr Trump on several issues including on the President's decision to send more troops to Afghanistan. His tenure was also marked by infighting with his colleagues in the West Wing, including Mr Trump's son-in-law and senior adviser Jared Kushner. Mr Bannon returned to Breitbart after leaving the White House.
Anthony Scaramucci, White House communications director
Hired: July 21, 2017
Fired: July 31, 2017
Length of tenure: 10 days
Mr Scaramucci's resignation came after he told a New Yorker reporter that Reince Priebus, the White House chief of staff at the time, was a "paranoid schizophrenic, a paranoiac" and accused him of leaking information to journalists. Mr Scaramucci, a former Wall Street financier and longtime supporter of Mr Trump, turned the White House upside down during his short tenure. His hiring was quickly followed by the departures of both Mr Priebus and Press Secretary Sean Spicer.
Reince Priebus, White House Chief of Staff
Started: January 20, 2017
Fired: July 28, 2017
Length of tenure: 190 days
Mr Trump announced on Twitter that he was replacing Mr Priebus as his right-hand man with John Kelly, the secretary of Homeland Security. After he left the White House, Mr Priebus told Fox News he is going to be "Team Trump all the time."
"I'll always be out there trying to help the president, advance his goals, support him as a friend too," Mr Priebus said.
Sean Spicer, White House press secretary
Started: January 20, 2017
Resigned: July 21, 2017
Length of tenure: 183 days
After months of speculation that Mr Spicer was poised to leave the White House, it was announced in July that deputy press secretary Sarah Huckabee Sanders had been promoted to fill his position. Mr Trump had asked Mr Spicer to stay on, according to The New York Times, but the ex-aide told the President that the appointment of Mr Scaramucci was a big mistake.
In an interview with ABC News, Mr Spicer said he felt "relieved" and that "organisationally" the White House communications team needed a "fresh start."
Mike Dubke, White House communications director
Hired: March 6, 2017
Resigned: May 18, 2017
Length of tenure: 74 days
Donald Trump's least presidential moments so far...

Show all 30
Mr Dubke is reported to have left the White House on good terms. But according to Axios, he had difficulty gelling with those who had been with Mr Trump since the campaign. After he resigned, Mr Dubke offered to stay on until the end of Mr Trump's first trip abroad as president and "until a transition is concluded."
James Comey, FBI director
Started: September 4, 2013
Fired: May 9, 2017
Length of tenure: 1,344 days
When Mr Trump fired Mr Comey, the White House said it was acting on the recommendation of Attorney General Jeff Sessions and Deputy Attorney General Rod Rosenstein, who criticised Mr Comey's handling of an investigation into Hillary Clinton's emails. But Mr Trump has said he was thinking of "this Russia thing" when he decided to dismiss his FBI chief, referring to the investigation into alleged ties between the Kremlin and Trump campaign advisers. Mr Comey was in charge of the bureau's inquiry at the time.
Trump later portrayed the decision as his alone and said that he was thinking about the FBI's Russian election interference probe when he resolved to fire Comey.
Michael Flynn, National security adviser
Started: January 20, 2017
Resigned: February 13, 2017
Length of tenure: 25 days
Mr Flynn, who had supported Mr Trump on the campaign trail, was forced to resign after it was revealed that he misled Vice President Mike Pence about the nature of multiple meetings with Sergey Kislyak, the Russian Ambassador to the US at the time. Special counsel Robert Mueller is currently probing Mr Flynn's ties to Russia and Turkey as part of an investigation into whether Trump campaign advisers colluded with the the Kremlin to influence the 2016 election.
Sally Yates, Acting attorney general
Started: January 20, 2017
Fired: January 30, 2017
Length of tenure: 11 days
After nearly three decades at the Justice Department, Ms Yates became acting attorney general as Mr Trump's pick for the role, Jeff Sessions, waited to be confirmed by the Senate. Ms Yates was fired after she instructed DOJ attorneys to not defend the President's executive order on January 27 that barred nationals from seven Muslim-majority countries from entering the country for 90 days. In a letter to the lawyers, she said the order was not defensible in court. The White House said in a statement that Ms Yates "betrayed the Department of Justice."
Join our new commenting forum
Join thought-provoking conversations, follow other Independent readers and see their replies