Donald Trump vs Hillary Clinton: The most lopsided American election race of the modern era begins
Mr Trump has effectively secured the Republican nomination - but can he beat Ms Clinton?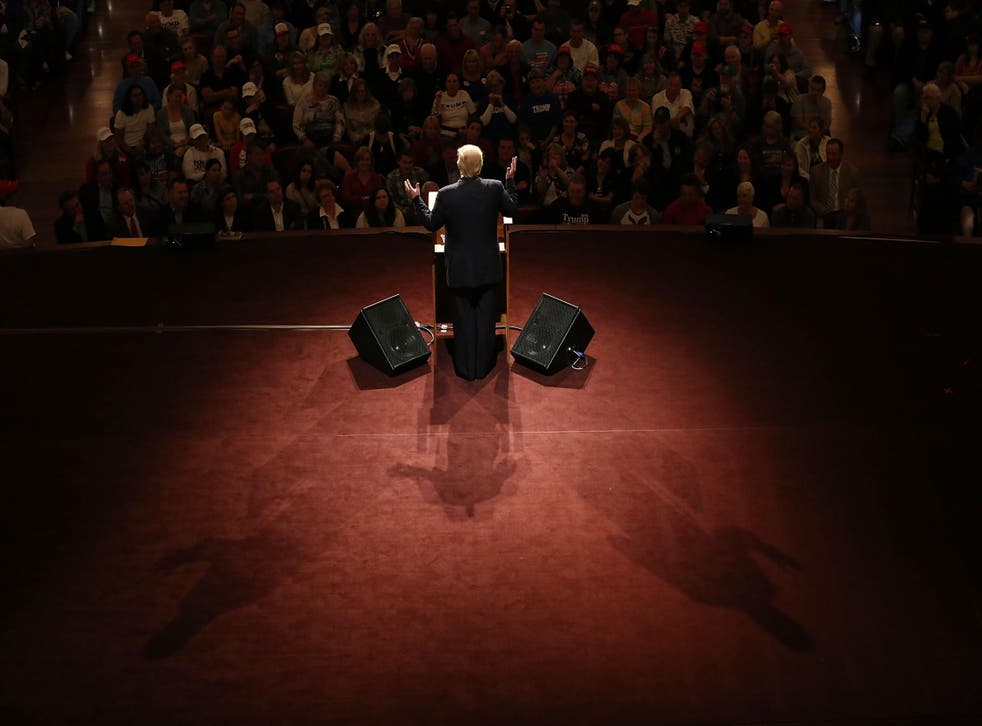 Donald Trump was the runaway winner in the Indiana primary, as expected. Polls, and the demographics of the state, had suggested as much. And as usual during this election, they've been proven right.
Less than three weeks ago, Mr Trump's odds had fallen to 55 per cent. Now, he is as likely to be the Republican nominee as Hillary Clinton is to be the Democratic nominee, with both a 98 per cent favourite in the betting markets.
But the question remains: will he actually become President?
Now that he's wrapped up the nomination, his chances of being America's next president have shot up from 17 per cent to 29 per cent.
But that still makes Hillary Clinton a 69 per cent favourite (Mr Sanders or 'some other Republican' both have a 1 per cent chance).
That means Ms Clinton begins this six-month race more favoured than any other candidate in modern history: more than Mr Obama ever was against John McCain in 2008 or Mitt Romney in 2012, or George Bush was against Al Gore in 2000 and John Kerry in 2004.
Ms Clinton leads Mr Trump by 7-8 points in the 40 or so hypothetical general election polls published in the past six weeks. If she won by such a margin her victory would be at least as convincing as Mr Obama's in 2008.
Donald Trump: What are his actual policies?
Yet a Donald Trump presidency is still a real possibility. A 3-in-10 chance is 1,450 times more likely than Leicester were to win the league this year - and we all know what happened there.
And those percentages will change rapidly if the national polls start to change, or if Mr Trump proves formidable in swing states like Florida – where he performed very strongly in the Republican primary – and across the 'Rust Belt' in places like Pennsylvania, Ohio and Michigan, where 'white and working-class' voters may swing behind him.
Donald Trump's most controversial quotes

Show all 14
We just don't know yet. The next six months are set to become one of the most contentious and aggressive political campaigns in history, between two figures who have each been in the limelight for more than 40 years.
The primaries will drag on for another month (see here for an explanation of why Mr Trump has won, even though he's still short of the 1237 delegates he needs), with California and a few other states effectively wrapping up each race on June 7.
Then the race will turn quiet – in so far as a Mr Trump V Ms Clinton race ever could – until the conventions in late July, which now look increasingly unlikely to be contested.
Attention will be focused on who each candidate chooses to be their running mate, with Mr Trump purportedly short of options. Both will also try and unite their party, and ensure Mr Cruz or Mr Sanders supporters back them in the general election.
August could see fierce protests across the US as Mr Trump holds rallies that will surely be even larger and more fractious than those so far.
And in September and October the race reaches its final stretch, with three presidential debates over a fortnight (beginning on September 26).
America will finally vote on November 8.
Register for free to continue reading
Registration is a free and easy way to support our truly independent journalism
By registering, you will also enjoy limited access to Premium articles, exclusive newsletters, commenting, and virtual events with our leading journalists
Already have an account? sign in
Register for free to continue reading
Registration is a free and easy way to support our truly independent journalism
By registering, you will also enjoy limited access to Premium articles, exclusive newsletters, commenting, and virtual events with our leading journalists
Already have an account? sign in
Join our new commenting forum
Join thought-provoking conversations, follow other Independent readers and see their replies