Trump-Russia investigation: House Intelligence Committee 'cancels all meetings this week'
Several congressional committees are investigating Russia' role in the 2016 election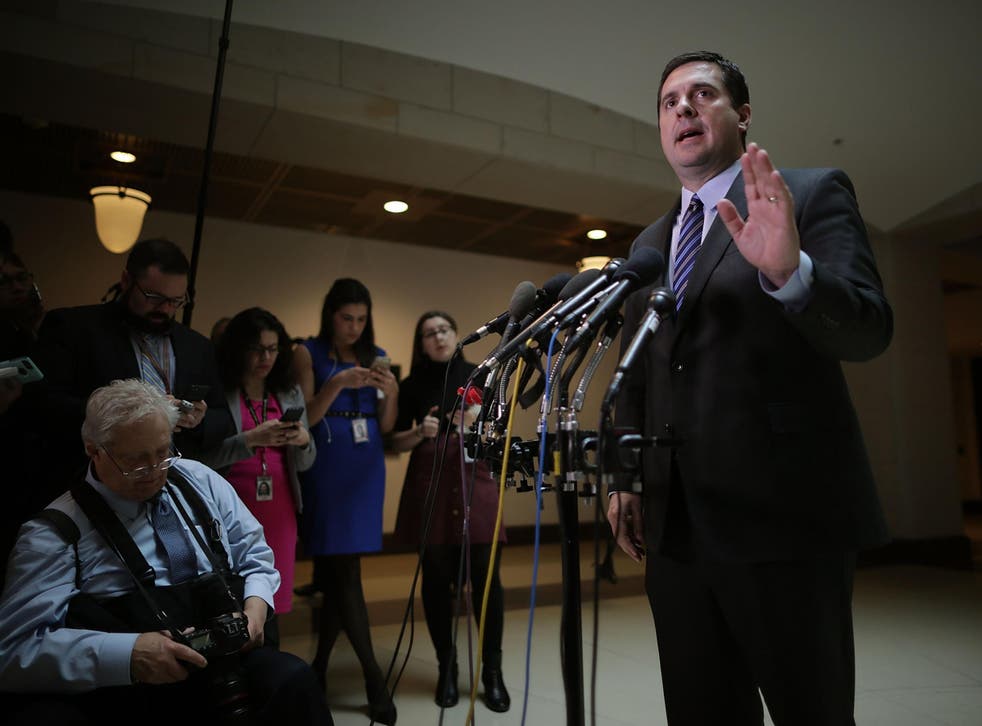 The House Intelligence Committee has cancelled all meetings scheduled for this week, as mounting hostility threatens to wreck its investigation into links between Russia and the Donald Trump campaign.
The move comes amid criticism from Democrats in the wake of chairman Devin Nunes acknowledging he went to the White House grounds to review intelligence reports and meet a secret source behind his claim that communications involving associates of President Donald Trump were caught up in "incidental" surveillance.
The top Democrat on the House Intelligence Committee, Congressman Adam Schiff, as well as the Democratic leaders in the House and Senate, have called on Mr Nunes to recuse himself from the committee's Russia probe. However, Mr Nunes has rebuffed calls to step aside from the investigation.
"It's the same thing as always around this place — a lot of politics, people get heated, but I'm not going to involve myself with that," he said on Tuesday, adding that he would not share his sources with other members of the committee.
Mr Schiff said Mr Nunes' connections to the White House have raised insurmountable public doubts about whether the committee could credibly investigate the president's campaign associates.
"I believe the public cannot have the necessary confidence that matters involving the president's campaign or transition team can be objectively investigated or overseen by the chairman," Mr Schiff said.
The full committee meetings were cancelled over an increasingly tense back-and-forth that intensified over Mr Nunes' decision to cancel a public hearing set for Tuesday, two sources on the committee told CNN.
World news in pictures

Show all 50
House Speaker Paul Ryan continued to express confidence in Mr Nunes, saying on Tuesday that there is no need for the chairman to resign.
Mr Nunes confirmed on Monday that he met with the source at the White House complex, but he denied coordinating with the president's aides.
After reviewing the information last week, Mr Nunes called a news conference to announce that US spy agencies may have inadvertently captured Mr Trump and his associates in routine targeting of foreigners' communications. Mr Trump quickly seized on the statements as at least partial vindication for his assertion that President Barack Obama tapped his phones at Trump Tower — though Mr Nunes, Mr Schiff and FBI Director James Comey have said there is no such evidence.
The Senate intelligence committee is also conducting an investigation into Russia's interference in the election and possible ties with the Trump campaign.
Register for free to continue reading
Registration is a free and easy way to support our truly independent journalism
By registering, you will also enjoy limited access to Premium articles, exclusive newsletters, commenting, and virtual events with our leading journalists
Already have an account? sign in
Register for free to continue reading
Registration is a free and easy way to support our truly independent journalism
By registering, you will also enjoy limited access to Premium articles, exclusive newsletters, commenting, and virtual events with our leading journalists
Already have an account? sign in
Join our new commenting forum
Join thought-provoking conversations, follow other Independent readers and see their replies