TS Ellis: Who is the 'no nonsense' judge running the Paul Manafort trial?
Judge's colleagues describe him as someone who refuses to 'put up with any shenanigans'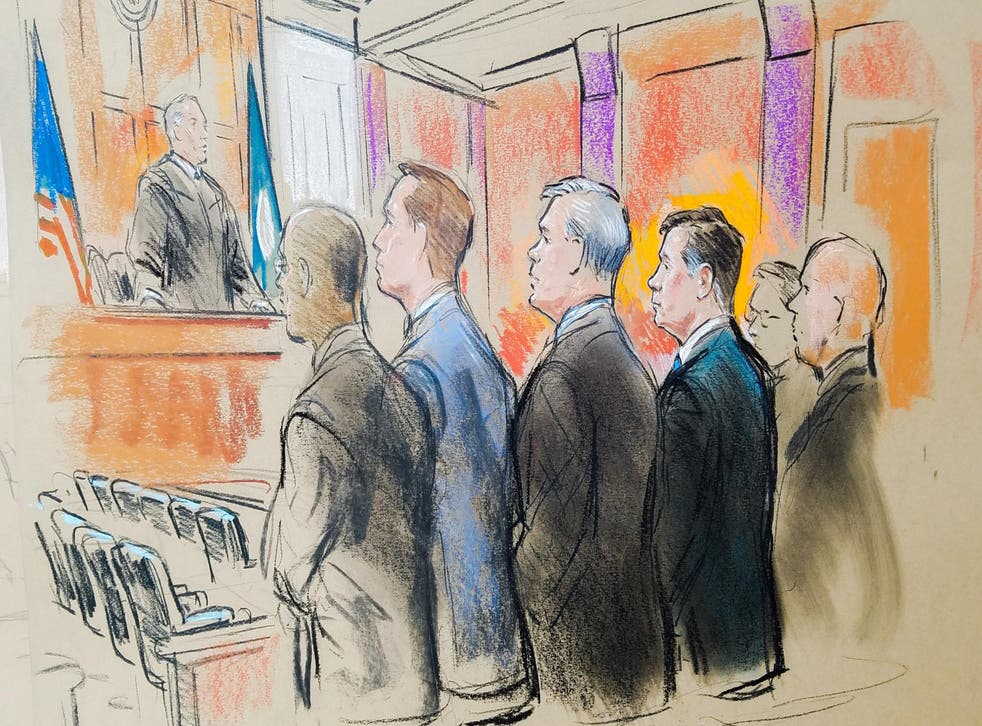 Paul Manafort's defence team kicked off his bank fraud trial this week by describing Donald Trump's former campaign chairman as a political insider with decades of experience working on presidential campaigns. Cue a quick interruption.
TS Ellis III, the veteran judge presiding over the case, cut in: "I take it you plan to offer evidence?". Rather than painting broad strokes of their client's political resume, the defence should provide specific examples of Mr Manafort's contributions, the judge went on to suggest.
For lawyers and colleagues of Mr Ellis III, who have known the US Navy veteran and federal judge in Alexandria, Virginia for decades, such potentially harsh interruptions are considered a part of his standard practice.
"In both working for him and appearing before him, he's a very bright, no nonsense judge who runs a tight court room," David Boelzner, who met Mr Ellis III as a lawyer when the two worked at the Hunton and Williams law firm in 1986, told The Independent. "He expects counsel to be thoroughly prepared, and I think the reputation is that if they're not, there will not be good consequences for the lawyers."
Mr Ellis III had already interrupted the Special Counsel team just moments into their first time speaking to the jury, demanding they "focus on the elements of the offence" instead of highlighting Mr Manafort's luxurious lifestyle. Mr Manafort denies all the charges against him.
By Tuesday, the judge was blocking the Special Counsel from showing photos of Mr Manafort's expenditures.
"It isn't a crime to be profligate in your spending," he has previously said.
The federal judge, who several colleagues described as "sober" and "balanced," brings 31 years of experience in presiding over some of the nation's most high-profile court cases.
In a 2002 case that captured the nation's attention, the judge sentenced John Walker Lindh — who became known as the "American Taliban" — to 20 years in prison on terrorism-related charges, just after the attacks of 11 September 2001.
Paul McNulty, the former chief federal prosecutor in Alexandria, Virginia who was in the courtroom during that case, described Mr Ellis III as a consistent and "strong" judge.
"Judge Ellis has demonstrated enormous capability over the years to manage the most complex cases with intellectual distinction and remarkable consistency," he said in a statement.
Ex-Trump Campaign Chair Manafort's Court Arrival
Mr Ellis III, who holds degrees from Harvard, Oxford and Princeton, is also known to inject "colourful" humour into his court filings, according to colleagues.
"I learned a lot from him about how to write well," Mr Boelzner said. "He's unflappable on the bench. He's a very fine judge, but he will not put up with any shenanigans whatsoever."
Mr Ellis III defended placing Mr Manafort in solitary confinement in an Alexandria jail in court filings, after his lawyers argued the transfer would cause "issues of distance and inconvenience" which "must yield to concerns about [defendant's] safety."
"Defence counsel has not identified any general or specific threat to defendant's safety at the Alexandria Detention Centre," he wrote. "They have not done so, because the professional at the Alexandria Detention Centre are very familiar with housing high-profile defendants including foreign and domestic terrorists, spies and traitors."
He's since offered numerous jokes and one-liners from the bench. "It's been reported to me that lawyers on both sides upon leaving the bench, roll their eyes, communicating to those who are watching them, essentially, 'Why do we have to put up with this idiot judge?'" he said at one point, adding, "Rein in your facial expressions."
He's also warned the jury not to get too excited for the court-provided lunch menu. "I hope you will not hurry to slit your wrists," he said. "There is a positive side. The court will provide your lunch, every day. Don't, however, look for the Baked Alaska. You won't find it. But the menu will be palatable stuff."
And when the jury inquired about bringing in a cake for one of their birthdays, he joked that he "stopped having those."
"My wife is younger and I'm waiting for her to catch up," he said.
Mr Ellis III was appointed by Ronald Reagan in 1987 and identifies as a Republican, according to multiple former colleagues. He was born in Colombia and immigrated to the US with his family shortly after. Before serving as a judge in the district of Alexandria, Virginia, he served for five years in the US Navy and worked in a private practice in Richmond. He also briefly taught law at the College of William and Mary in the early 1980s.
Emily Martin, general counsel for the National Women's Law Centre and a former clerk for the federal judge, described him as a "law-driven judge" in an interview with the Washington Post.
"His political opinions did not line up with mine, but I literally cannot recall an instance where I thought that was an issue," she said. "He's actually had a lot of lefty clerks over the years."
The biggest names involved in the Trump-Russia investigation

Show all 17
The judge has already provided his unique mark to the trial of Mr Manafort, who faces financial fraud charges, which began on Monday. He's granted immunity to five witnesses so far, and confronted the Special Counsel on what he perceives to be one of their long-term goals for the case: finding evidence of wrong-doing against the president.
"You don't really care about Mr Manafort's [alleged] bank fraud," he told the Special Counsel during pre-trial court proceedings in May. "What you really care about is what information Mr Manafort could give you that would reflect on Mr Trump or lead to his prosecution or impeachment. …The vernacular is to 'sing.'"
However, Mr Trump himself has previously described Mr Ellis III as "really something very special."
"He is a respected person," Mr Trump said about the judge during a rally in May.
As Mr Manafort's trial continues, it's clear Mr Ellis III could greatly shape the public narrative, according to Cary Citronberg, a defence lawyer who works in Mr Ellis III's district.
"He's not afraid to use his discretion to help defendants when he believes it's the right thing to do," Mr Citronberg told the Washington Post. "So, if Judge Ellis thinks Mueller is acting improperly or Manafort is being treated unfairly, it's certainly possible he'll use the full weight of his power in potentially unpredictable ways to achieve a just outcome."
Join our new commenting forum
Join thought-provoking conversations, follow other Independent readers and see their replies