US deportation raids under Trump lead to huge rise in arrests of immigrants without criminal records
The rise comes even though immigration agencies in the US have a stated priority to target 'criminal aliens'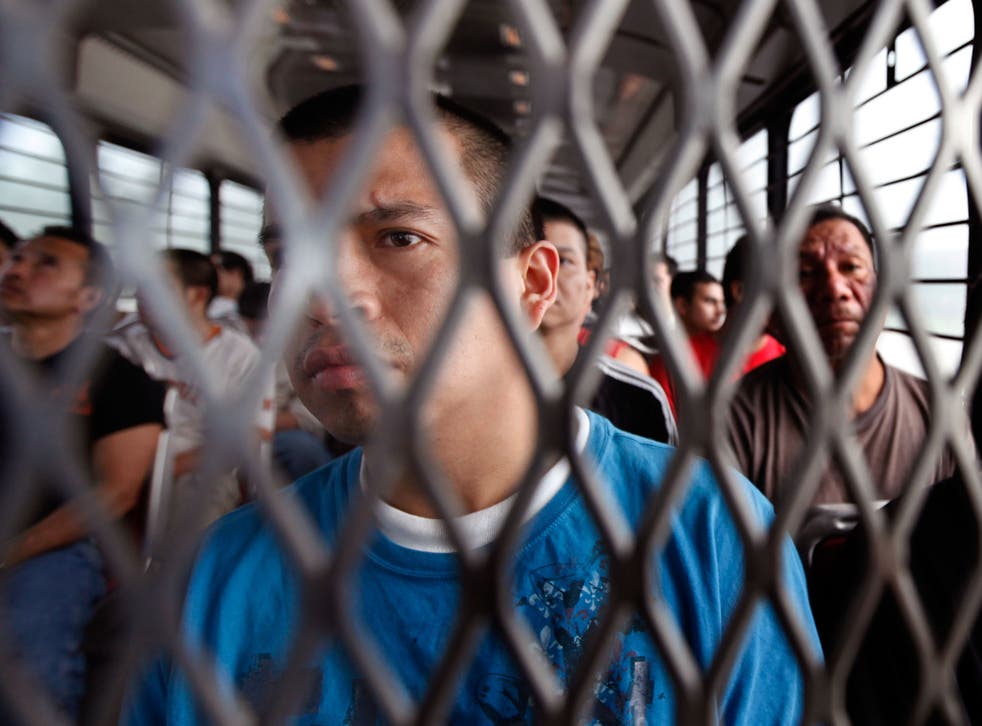 US immigration officers have arrested 650 people in communities across the US in the latest deportation sweep, but the vast majority of those picked up by law enforcement don't have a criminal record — an apparent break from the organization's stated priority to focus on "criminal aliens".
In a crackdown that came close in size to a large-scale sweep earlier this year, Immigrations and Custom Enforcement (ICE) agents arrested 650 people over a four-day span last month, including 38 minors. Of that group, though, 520 had no criminal record, compared to just 170 people who had no criminal records and were arrested in the earlier crackdowns.
ICE says that the targets of the latest sweeps were subject to removal orders by federal judges, however it's not clear how the individuals without criminal records ended up on the targets list, or how many were incidental arrests.
Danielle Bennett, an ICE spokeswoman, told The Independent that non-criminal individuals may have been on the targets list as a part of "determent" efforts, but did not clarify the process by which it is decided to put non-criminal undocumented immigrants on that list under current priorities (it is not legal to cross the border without authorization).
Ms Bennett said that deterring those individuals from coming to the United States illegally is important, as the trip is often dangerous. In addition, spreading the message that current US policy is to deport undocumented immigrants from Central America is important to ICE because people coming to the country without permission often spend their life savings to do so, and risk losing all of that if deported.
Avid Moussavian, the senior policy attorney for the National Immigration Law Centre, told The Independent that the recent raids show that the administration is targeting any and every undocumented immigrant in the country — not just criminal aliens. Policy justifications like determent, she said, only show that the United States government is uninterested in addressing underlying causes that have sparked migration from Central America.
Protestors rally at JFK Airport against Muslim immigration ban

Show all 20
"They are looking for justification for what is essentially a mass detention and deportation plan," Ms Moussavian said. "This is an agency that has demonstrated a willingness to be vindictive and retaliatory."
A statement from ICE announcing the recent deportation raids noted that the operation is the second development as a part of the organisation's Operation Border Guardian/Border Resolve, a program that was developed in response to an increase in families from Central America attempting to illegally cross the US's southern border.
The US has seen a surge in immigrant traffic from Central American countries in recent years, spurred in particular by bloody gang violence in places like El Salvador, Honduras, Guatemala. Those countries have been seen a confluence of unfortunate events that have made life miserable and dangerous for many citizens, including the violence as well as harsh economic desperation. With that backdrop, many have joined an exodus to greener pastures, including in the United States, where they hope they can start a new and safer life.
The situation led to a 23 percent increase in migrants attempting to enter the US in 2016 compared to the prior year, according to government statistics. Those levels of immigrant flow have been called a "refugee crisis" by officials working for United Nations refugee services.
While ICE notes that individuals facing deportation can request that their cases be heard by judges to determine that they face significant danger back home, recent federal policies seem to undercut that mission. Mr Trump's controversial ban on immigration and refugee admissions has essentially halted refugee admission from crisis hot spots around the country, including from Central American countries facing bloody gang violence.
Join our new commenting forum
Join thought-provoking conversations, follow other Independent readers and see their replies