Trump reveals he wants US-North Korea summit to take place in DMZ
The US's top diplomat has said there's 'real opportunity' for the US and North Korea to strike a deal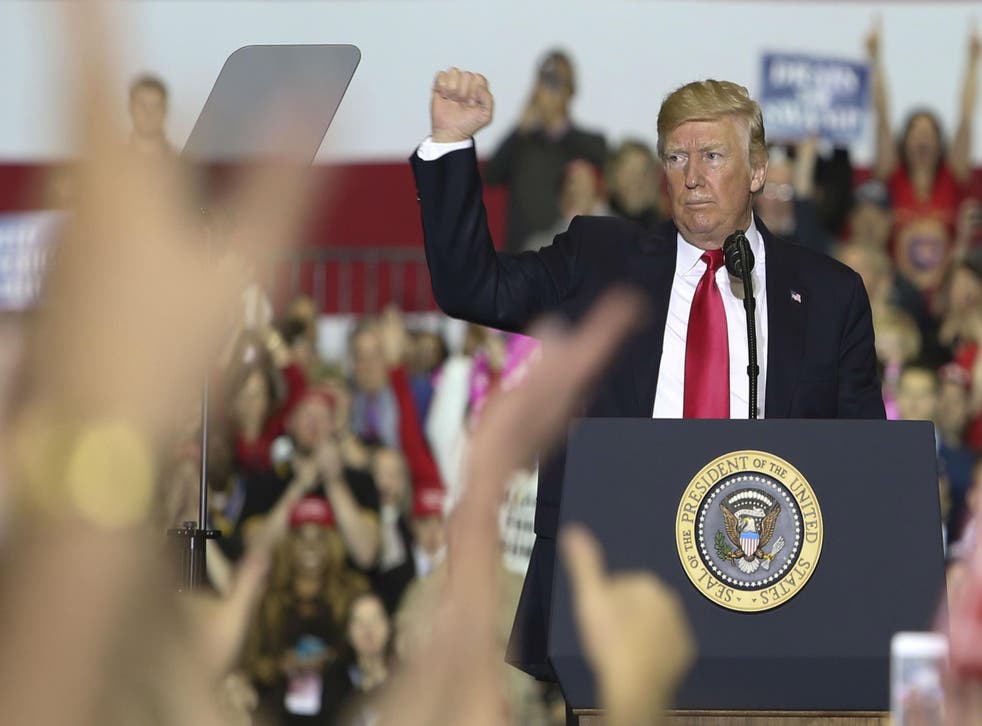 Donald Trump has revealed his preferred location for a anticipated summit with Kim Jong-un would be the so-called Freedom House set in the demilitarised zone between North and South Korea.
The president said last week he had narrowed the site for the meeting to just two or three locations. Reports over the weekend, suggested those were Ulan Bator, capital of Mongolia, and Singapore.
But in a tweet on Monday morning, Mr Trump said he would be minded to hold the meeting at the Peace House on the border of North and South Korea, the same place where Mr Kim made history last week when he met with South Korean president Moon Jae-in, shaking hands and laughing, before holding private talks that resulted in a joint declaration from the two countries.
Donald Trump says he 'believes' North Korea leader Kim Jong Un about peace talks
"Numerous countries are being considered for the MEETING, but would Peace House/Freedom House, on the Border of North & South Korea, be a more Representative, Important and Lasting site than a third party country," he wrote. "Just asking!"
In the aftermath of last Friday's summit during which the 36-year-old became the first North Korean leader to travel south of the border between the two countries, Mr Trump praised the meeting and said he was looking forward to his own.
"I don't think he's playing," Mr Trump said of Mr Kim, speaking to reporters at the beginning of a meeting in the Oval Office with German Chancellor Angela Merkel. "We will, I think, come up with a solution and if we don't we leave the room with great respect and we just keep it going."
He added: "A lot of very positive things happened over the last 24 hours. We'll be setting up a meeting very shortly. We have it broken down to probably two sites now, two or three sites, locations. And hopefully we're going to have great success."
In an interview broadcast over the weekend, the newly confirmed secretary of state Mike Pompeo, said he told Mr Kim he would have to take "irreversible" steps towards shutting his nuclear weapons programme for their to be any deal with Mr Trump. He also said he believed there is "a real opportunity" to strike such a deal.
Mr Pompeo met secretly with the North Korean leader over Easter in order to prepare the ground for anticipated talks with Mr Trump in May. The meeting was highest level between the two countries since 2000, when then secretary of state Madeleine Albright met Kim Jong-il, Mr Kim's father, and was the meeting of Mr Kim and any US official.
North Korea: A road trip on the edge of the Chinese border

Show all 20
Mr Pompeo said Washington was not simply going to take Mr Kim at his word.
"We use the word 'irreversible' with great intention," Mr Pompeo told ABC News. "We are going to require those steps that demonstrate that denuclearisation is going to be achieved."
He said his visit to North Korea had been intended to see if there was an opportunity for an historic shift in relations with the nuclear-armed national after decades of hostility.
He said he believed there was a "a real opportunity" for the North Korean leader and Mr Trump to strike a deal.
Over the weekend, South Korea said that North Korea's main nuclear testing site – Punggye-ri – is to going to be closed as early as the beginning of May.
Presidential spokesman Yoon Young-chan said that Mr Kim had said he "would carry out the closing of the nuclear test site in May".
Mr Pompeo said Mr Kim is "going to have to make a big decision" on giving up nuclear weapons. "Does he want President Trump to continue to place him in the location that he finds himself today? Or is he looking for something... different," he said.
Join our new commenting forum
Join thought-provoking conversations, follow other Independent readers and see their replies