US rhetoric 'primitive and loutish', says Russian official ahead of Rex Tillerson talks
Secretary of State is meeting with counterpart Sergei Lavrov, with a spat over Syria casting a cloud over the meeting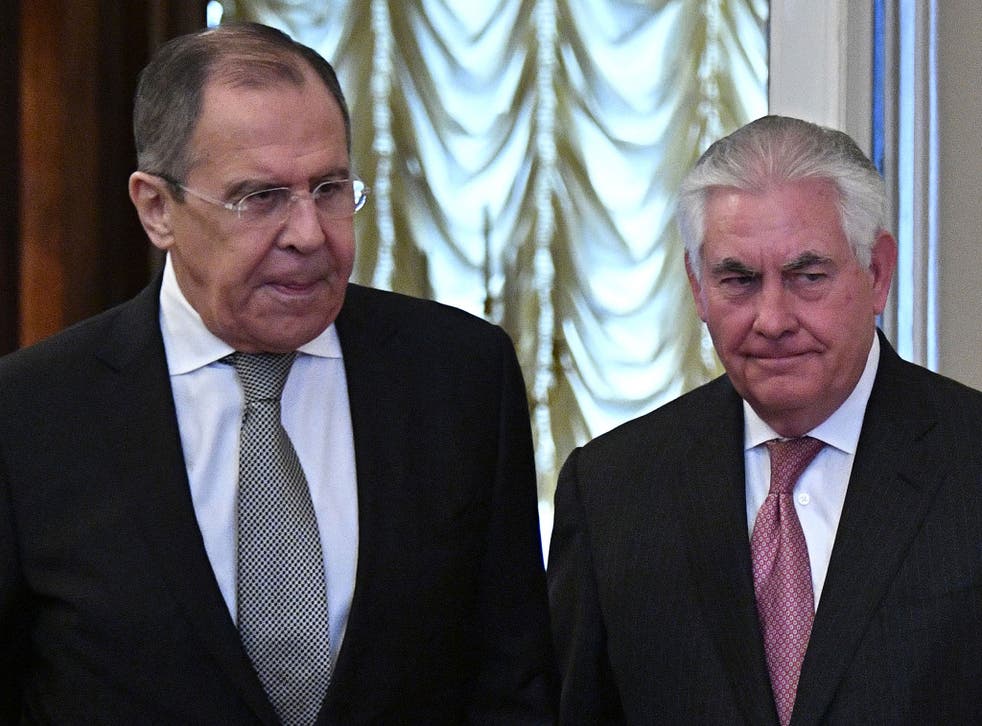 The US position on Syria remains a mystery to Moscow and Washington's rhetoric tends to be "primitive and loutish," Russian Deputy Foreign Minister Sergei Ryabkov has said.
Mr Ryabkov's remarks were released minutes before US Secretary of State Rex Tillerson, the highest level representative of the Trump administration to visit Russia, was set to start talks with his Russian counterpart, Sergei Lavrov.
Mr Ryabkov said that at the talks Russia expected to discuss no-fly zones in Syria, and that North Korea and Ukraine would also be on the agenda.
At the beginning of the meeting between Mr Tillerson and Mr Lavrov, the Russian Foreign Minister said that his country wanted to "know the intentions of the White House" but both he and Mr Tillerson made clear that they wanted an open and frank dialogue about the differences between the two nations.
That amounted to somewhat of a detente after days of escalating rhetoric over Russia's support for Syrian President Bashar al-Assad. At a summit in Italy on Tuesday Mr Tillerson said it was clear "to all of us that the reign of the Assad family is coming to an end" and that the United States "hopes" for a Syria without Mr Assad in power.
"We want to relieve the suffering of the Syrian people. Russia can be a part of that future and play an important role," Mr Tillerson added in remarks to reporters.
"Or Russia can maintain its alliance with this group, which we believe is not going to serve Russia's interests longer term."
Meanwhile Vladimir Putin deepened his support for the Syrian regime, saying that groups opposed to Mr Assad could use "false chemical attacks" blamed on the Syrian President to provoke the US into further strikes. He even appeared to suggest the US may have more attacks planned.
"We have information that a similar provocation is being prepared … in other parts of Syria, including in the southern Damascus suburbs where they are planning to again plant some substance and accuse the Syrian authorities of using [chemical weapons]," Mr Putin said, without offering any proof.
Mr Putin said western and Turkish accusations that Syria's government dropped the nerve agent that killed dozens of civilians in Idlib earlier this month were comparable to the now-discredited claim that Saddam Hussein had stockpiled weapons of mass destruction in Iraq.
World news in pictures

Show all 50
"As a whole, the administration's stance with regard to Syria remains a mystery. Inconsistency is what comes to mind first of all," RIA news agency quoted Mr Rybakov as telling reporters.
"In general, primitiveness and loutishness are very characteristic of the current rhetoric coming out of Washington. We'll hope that this doesn't become the substance of American policy," RIA quoted Mr Ryabkov as saying.
Mr Lavrov told his US opposite number that last week's Tomahawk missile strike on Syrian military targets was a violation of law and that it was important not to allow them to be repeated.
Additional reporting by agencies
Join our new commenting forum
Join thought-provoking conversations, follow other Independent readers and see their replies