US intelligence chief says Russia is still meddling in elections and 'likely' to keep trying
'Frankly, the United States is under attack'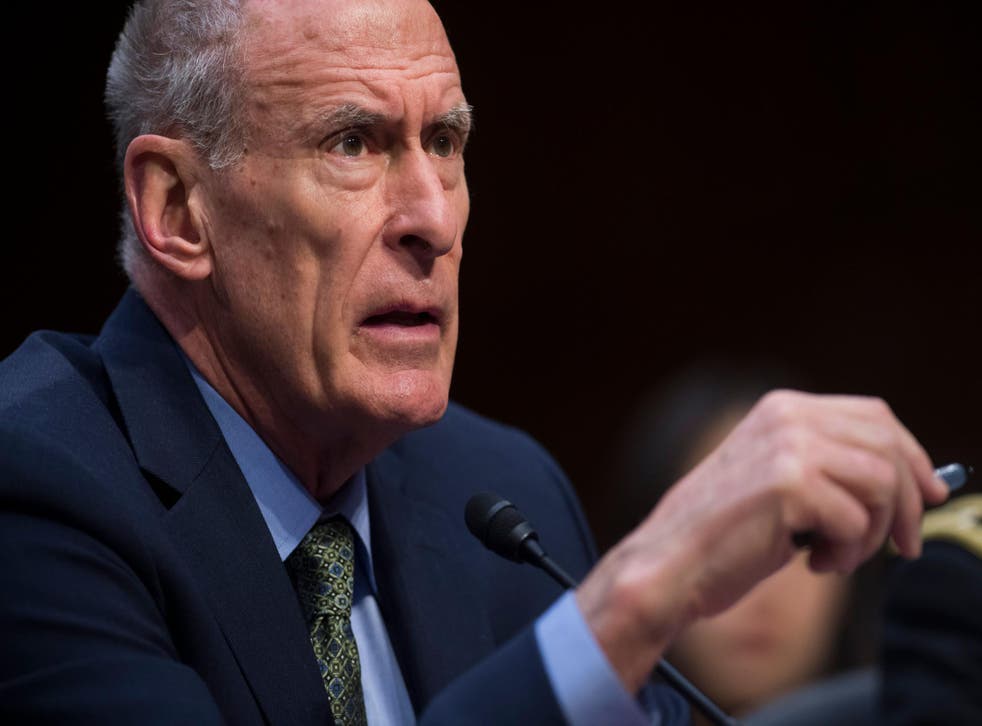 The US Director of National Intelligence says that Russia and other foreign entities are '"likely" to pursue more cyber attacks on American and European elections in an attempt to undermine democracy in coming elections, including the 2018 midterms.
"Persistent and disruptive cyber operations will continue against the United States and our European allies using elections as opportunities to undermine democracy," Dan Coats said Tuesday during an annual Senate Intelligence Committee hearing on threats.
"Frankly, the United States is under attack," Mr Coats said.
Mr Coats said that Russia is the biggest threat, alongside the likes of China, Iran, and North Korea in terms of cyber threats. Terrorist, criminal organisations, and even individuals could also pose a cyber threat.
The director of national intelligence was testifying before the Senate committee alongside FBI Director Christopher Wray, CIA Director Mike Pompeo, National Security Administration Director Adm Mike Rogers, and other officials.
Russia orchestrated a cyber attack on the US 2016 presidential election, targeting the campaign of Hillary Clinton and some of her top staffers. Those efforts included the hacking of Clinton campaign chairman John Podesta's emails, as well as the hacking of the Democratic National Committee (DNC).
World news in pictures

Show all 50
Documents from the DNC's servers were later published online by WikiLeaks, which made the 20,000 files public just days before the 2016 Democratic National Convention. Mr Podestas emails were later made public in batches published on that site in the weeks leading up to Election Day.
Since the election, investigations have been opened by Congress, as well as by the Justice Department. Those investigations have become high profile affairs, with President Donald Trump regularly weighing in on the panels calling them "witch hunts".
One of those investigations, conducted by special counsel Robert Mueller, has indicted at least four individuals who had connections to Mr Trump's 2016 presidential campaign. None of those indictments were directly related to the Trump campaign itself, however outside observers have suggested that the indictments show the Mueller probe is homing on on potential ties between top-level Trump campaign officials and Russia.
Mr Trump, and his White House, have denied allegations that the campaign was involved in Russia's efforts to meddle in the 2016 election.
Join our new commenting forum
Join thought-provoking conversations, follow other Independent readers and see their replies