Women inspired to run for US office by anti-Donald Trump marches
At least 400 female candidates are preparing to run for a variety of local and national government roles
Peter Walker
Wednesday 08 March 2017 15:33 Comments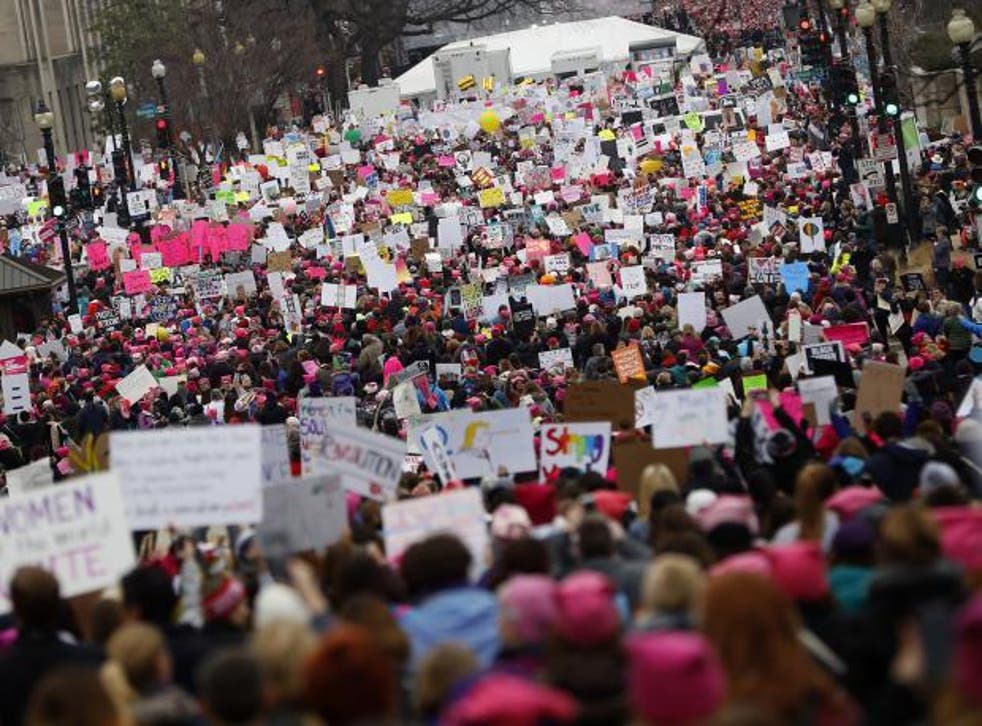 Hundreds of women have been inspired some women to run for public office in the US after marching against Donald Trump.
Alyson Leahy, Charisse Daniels, and Petra DeJesus, told CNN Politics that they are campaigning for government roles because of the billionaire business tycoon's shock election win.
They are just three of at least 400 women in the US who are going through a six-month training programme tailored to create successful politicians.
"I felt that Trump's win was the quintessential example of an unqualified man winning over an incredibly qualified woman," said Ms Leahy. "And the idea that people I knew, that I was related to, voted for that man… it made me sick."
The 30-year-old lifelong liberal, from Wisconsin, said she demonstrated at the March on Washington which inspired her to engage in politics.
The graphic designer, who said she sobbed when Mr Trump won the election, is on the 70-hour training course at Emerge America.
Thousands attend Women's March on Washington

Show all 18
Emerge, which makes no secret of its allegiances to the Democratic Party, claims the US ranks 104th in the world for number of women serving in national legislatures.
The initiative, which has offices across 18 states, claims 400 women are on its course and another 400 alumnae hold an elected office.
Of the 13 women who ran for office after training in Wisconsin, nine won.
Ms Leahy is preparing to run for a seat on the Marathon County Board, which is similar to a local council in the UK.
Round-up: Women's March Protests 2017
Childhood-community liaison officer Ms Daniels, who marched in Madison, Wisconsin, wants to run to be mayor of Watertown.
The 29-year-old, said Mr Trump's victory was an "absolute kick in the gut", adding: "It changed everything."
Ms DeJesus, who is training in Emerge's Los Angeles workshop, is working towards statewide or national office.
The 60-year-old, who is already an attorney with experience working for the San Francisco Public Defender's Office, said: "I know what I want and what my community wants, so I need to do something more."
Emerge Wisconsin executive director Erin Forrest said: "Women are more than half the population and only a quarter of elected officials. That's a problem.
"It's not breaking into the old boys' club, it's creating the new girls' club."
More Muslim-Americans are also running for office in the US because "civil rights are under attack".
New American Leaders Project (NALP) chief executive Sayu Bhojwani, said recently that people from ethnic minority backgrounds were going through her training programmes with a view to running for public elections.
The increase in Islamophobia was prompting a mobilisation, she added.
Register for free to continue reading
Registration is a free and easy way to support our truly independent journalism
By registering, you will also enjoy limited access to Premium articles, exclusive newsletters, commenting, and virtual events with our leading journalists
Already have an account? sign in
Join our new commenting forum
Join thought-provoking conversations, follow other Independent readers and see their replies