Mark Zuckerberg says Elizabeth Warren's policies are an 'existential' threat in leaked Facebook audio
CEO says he does not 'want to have a major lawsuit against our own government' but will 'go to the mat and fight'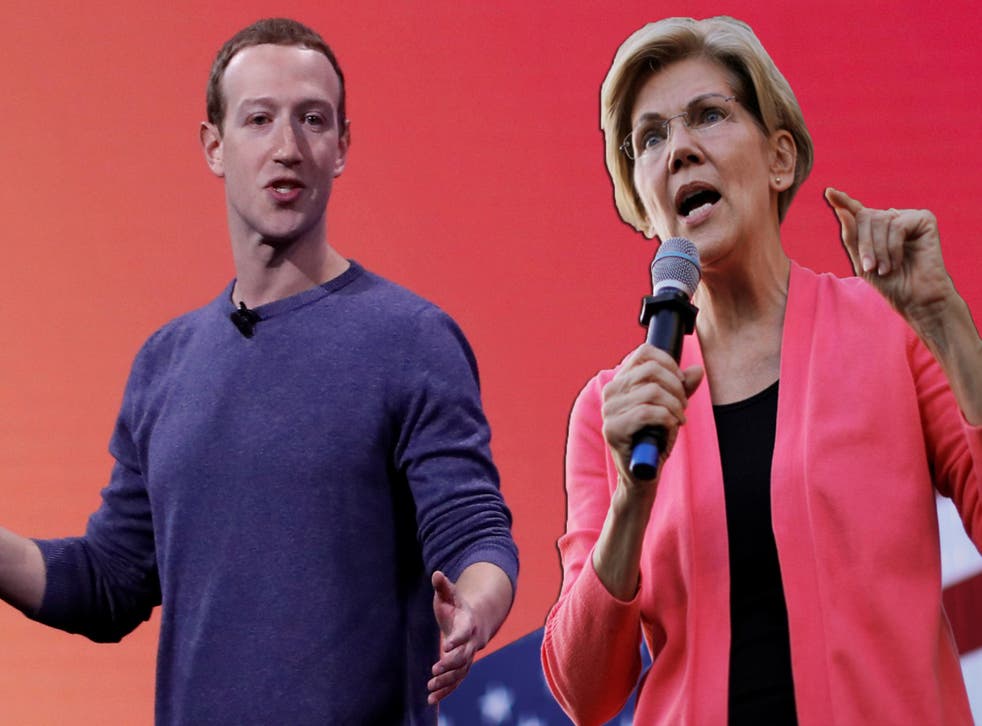 Elizabeth Warren can add Facebook to the list of folks who appear to be scared about her potential presidency, according to leaked audio of company CEO Mark Zuckerburg.
In a recording acquired by The Verge, Mr Zuckerburg can be heard discussing with employees a range of issues facing the company, including their competitors and even the US government.
Mr Zuckerburg addresses the radical plan recently proposed by the Massachusetts senator to break up big tech firms, including Facebook and its many holdings.
"You have someone like Elizabeth Warren who thinks that the right answer is to break up the companies ... if she gets elected president, then I would bet that we will have a legal challenge, and I would bet that we will win the legal challenge," he is heard saying.
"And does that still suck for us? Yeah. I mean, I don't want to have a major lawsuit against our own government. ... But look, at the end of the day, if someone's going to try to threaten something that existential, you go to the mat and you fight."
Shortly after The Verge posted their story of the leaked audio, Ms Warren responded, saying that it would "really 'suck' ... if we don't fix a corrupt system that lets giant companies like Facebook engage in illegal anticompettive practices, stomp on consumer privacy rights, and repeatedly fumble their responsibility to protect our democracy."

Since that July town hall with Facebook employees, the prospects of a Warren presidency appear to have only grown brighter. The Massachusetts senator has shot to within striking distance of the up-until-now formidable Joe Biden in many polls, and in several she is beating the former vice president.
And, in the process, some big-money Democrats have begun to express concerns with what an Elizabeth Warren presidency would mean for the wealthy elite in industries that have long bankrolled Democratic presidential candidates — including, notably, Wall Street.
Some Democratic Wall Street donors have even indicated they would vote for Donald Trump instead of Ms Warren.
Support free-thinking journalism and attend Independent events
"You're in a box because you're a Democrat and you're thinking, 'I want to help the party, but she's going to hurt me, so I'm going to help President Trump,'" one senior private equity executive told CNBC.
Register for free to continue reading
Registration is a free and easy way to support our truly independent journalism
By registering, you will also enjoy limited access to Premium articles, exclusive newsletters, commenting, and virtual events with our leading journalists
Already have an account? sign in
Register for free to continue reading
Registration is a free and easy way to support our truly independent journalism
By registering, you will also enjoy limited access to Premium articles, exclusive newsletters, commenting, and virtual events with our leading journalists
Already have an account? sign in
Join our new commenting forum
Join thought-provoking conversations, follow other Independent readers and see their replies