US Presidential campaign 2016: Donald Trump says he is 'seriously thinking' about White House run
The 68-year-old said 'it can't be Mitt and it can't be Bush'
Andrew Buncombe
Sunday 25 January 2015 17:33 Comments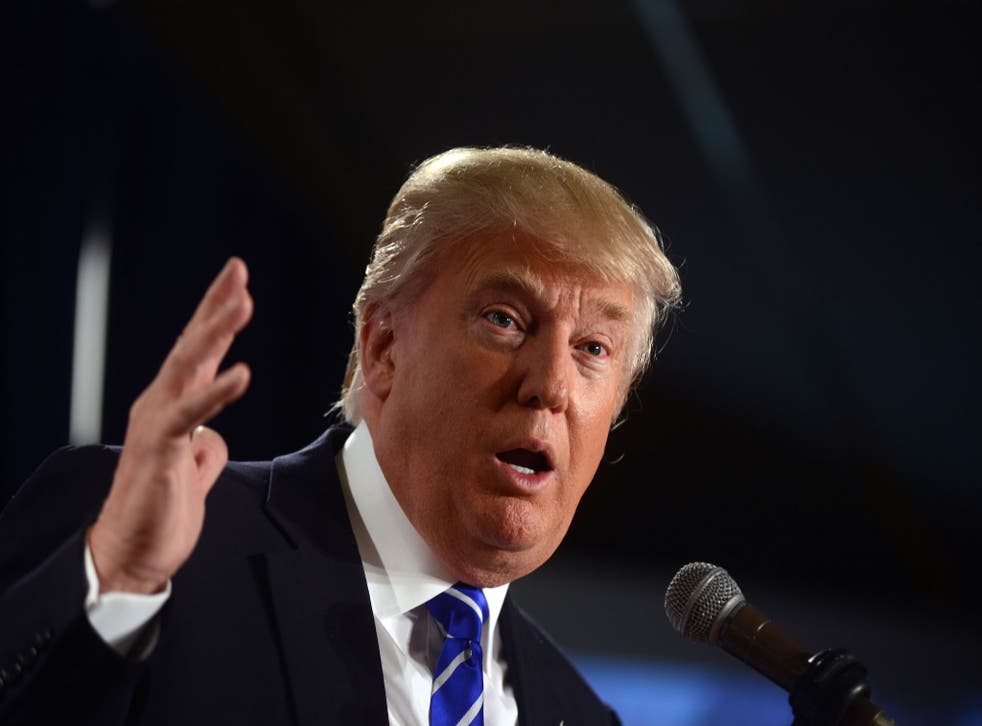 The number of potential Republican candidates for the White House continues to grow and grow with billionaire Donald Trump being the latest to say he may throw his hat into the ring.
Mr Trump, 68, who said he may make a run for the presidency only to decide against it both in 2008 and 2012, said over the weekend he was "seriously thinking" about a campaign. He claimed he was the only person who could run the country.
"I'm the one person who can make this country great again, that's all I know," he told reporters after a speech on Saturday in Iowa, whose primary caucuses kick off the formal presidential election next January. "Nobody else can."
Mr Trump was speaking at a the Iowa Freedom Summit, a gathering organised by Iowa Congressman Steve King and which drew a number of potential 2016 candidates to Des Moines.
Among those who did not attend were presumed front-runners Mitt Romney and Jeb Bush. As it was, Mr Trump claimed neither man could win in 2016.
"It can't be Mitt, because Mitt ran and failed. Mitt had his chance. He should have won and he choked. You don't want to give a choker a second chance," he said, according to CNN. "You can't have Bush. The last thing we need is another Bush."
A number of commentators have said Mr Trump receives more media coverage than his seriousness as a potential candidate deserves. A number have suggested Mr Trump is interested primarily in self publicity. He spent a lot time in previous campaigns trying to prove that President Barack Obama was not born in the US.
And yet the star of his own reality television show, claimed he could address many of the country's most pressing problems.
"If I run for president, and if I win, I would totally succeed in creating jobs, defeating ISIS, and stopping the Islamic terrorists, reducing the budget deficit, securing our southern border, stopping nuclear weapons in Iran and elsewhere," he said.
Among the potential contenders who attended the event were former Texas Governor Rick Perry, former Arkansas Governor Mike Huckabee, Texas Senator Ted Cruz and former Pennsylvania Senator Rick Santorum.
Reuters said that perhaps the warmest reception was given to Wisconsin Governor Scott Walker, who survived a recall attempt over his conservative policies in 2012 and won re-election in November. The news agency said he received a standing ovation when he made clear he is seriously considering a White House run in 2016.
He was withering in his criticism of Mr Obama for not attending a march of world leaders in Paris two weeks ago to show solidarity for the French after attacks there. "We need leaders who will stand with our allies against radical Islamic terrorists," he said.
Mr Trump's comments came after another conservative favourite, Sarah Palin, suggested she may also be open to running for the presidency.
The former governor of Alaska, and running mate of John McCain in an unsuccessful 2008 presidential campaign, said: "When you have a servant's heart, when you know that there is opportunity to do all you can to put yourself forward in the name of offering service, anybody would be interested."
Register for free to continue reading
Registration is a free and easy way to support our truly independent journalism
By registering, you will also enjoy limited access to Premium articles, exclusive newsletters, commenting, and virtual events with our leading journalists
Already have an account? sign in
Join our new commenting forum
Join thought-provoking conversations, follow other Independent readers and see their replies