US prisons: Inmates serving harsh sentences are a lingering legacy of America's crack epidemic
Amnesties offered by President Obama are giving a second chance to offenders jailed for long periods for relatively minor drugs offences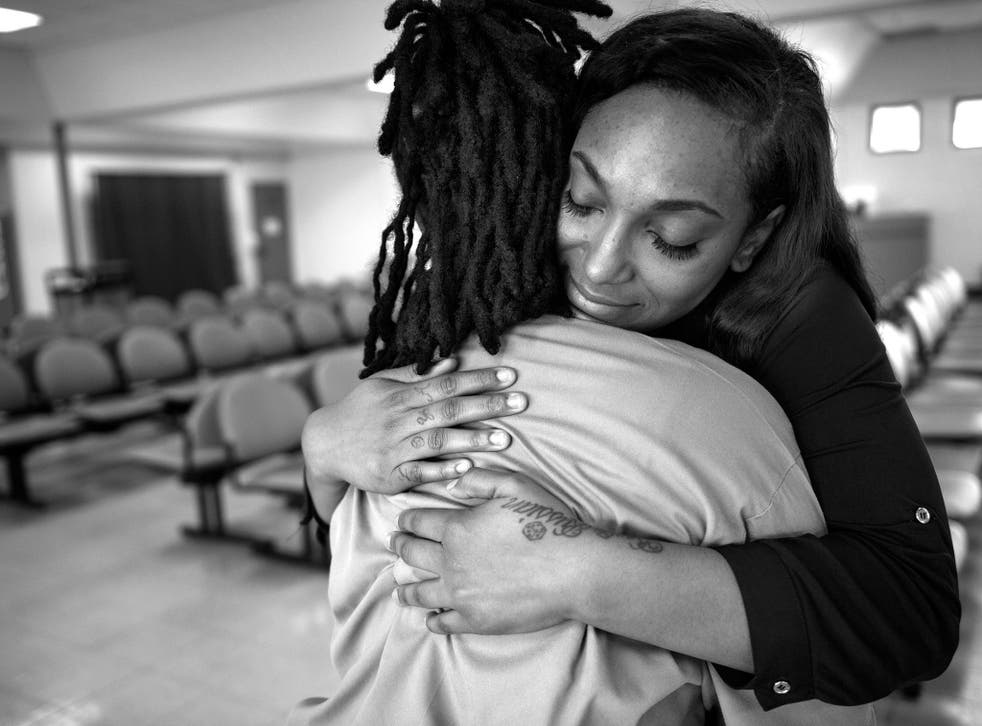 Prisoner 33177-077 struggles to describe the moment in 1999 when a federal judge sentenced her to life in prison after her conviction on a single cocaine offence. She was a first-time, non-violent offender. "I was numb," says Sharanda Jones at the Carswell women's prison in Fort Worth, Texas. "I was thinking about my baby. I thought it can't be real life in prison."
Jones, 47, is one of tens of thousands of inmates who received harsh mandatory minimum sentences for drug offences during the crack-cocaine epidemic, and whose cases are drawing new attention.
President Obama visited a federal prison in Oklahoma on Thursday to promote his plan to overhaul the criminal justice system which, as he says, has seen a "huge spike in incarcerations driven by nonviolent drug offences where the sentencing is completely out of proportion with the crime".
Because of her role as a middleman between a cocaine buyer and supplier, Jones was accused of being part of a "drug conspiracy" and should have known that the powder would be converted to crack – triggering a greater penalty. Her sentence was then made even more severe with a punishment tool introduced at the height of the drug war that allowed judges in certain cases to "enhance" sentences, or make them longer. Jones was hit with a barrage of "enhancements".
Her licence for a concealed weapon amounted to carrying a gun "in furtherance" of a drug conspiracy – enhancement. When she was convicted on one count of seven, prosecutors said her testimony in her defence had been false and therefore an "obstruction of justice" – enhancement. Although she was neither the supplier nor the buyer, prosecutors described her as a leader in a drug ring – enhancement.
By the end, Jones's sentencing had so many enhancements that the federal judge had only one punishment option. She was, in effect, sentenced to die in prison.
She would not receive such a sentence today. Federal sentencing guidelines in similar drug cases have changed, in particular to end disparities in how the courts treat crack cocaine vs powder cocaine. And, following a 2005 Supreme Court decision, judges have much greater discretion when they mete out punishment. In the past decade, they gave lower sentences by an average of one-third the guideline range, according to the US Sentencing Commission.
But a lingering legacy of the crack epidemic are inmates such as Jones. About 100,000 federal inmates – or nearly half – are serving time for drug offences, among them thousands of non-violent offenders sentenced to life without the possibility of parole, according to the American Civil Liberties Union. Most are poor, and four in five are African-American or Hispanic.
In the spring of last year, the then Attorney General Eric Holder – who had called mandatory minimum sentences "draconian" – started an initiative to grant clemency to certain non-violent drug offenders in federal prison. They had to have served at least 10 years of their sentence, have no significant criminal history, and no connection to gangs, cartels or organised crime. They must have demonstrated good conduct in prison. And they also must be inmates who probably would have received a "substantially lower sentence" if convicted of the same offence today.
Jones applied. It has been a halting process, however. Only 89 prisoners of the more than 35,000 who have filed applications have been freed. They include 46 inmates who were granted clemency on Monday by Barack Obama. Jones wasn't among them.
Jones's case began in November 1997 when the Kaufman County Sheriff's Department conducted a large drug sweep in the city of Terrell, about 30 miles east of Dallas, netting more than 100 people, all of them black. Among those arrested was Julie Franklin and her husband, Keith "Baby Jack" Jackson, who agreed to plead guilty and co-operate with the government for a reduced sentence. They told investigators that over several years, they bought about 30kg of powder cocaine each for about $18,000 (£12,000) from Jones, who they said had purchased the cocaine from a drug dealer in Houston.
Two years later, Jones and several others were indicted by a federal grand jury. Jones was charged with six counts of possession with intent to distribute crack cocaine and aiding and abetting, and one count of conspiracy to distribute crack cocaine.
Jones had grown up poor, raised by her grandmother after her mother was left quadriplegic by a car crash. But Jones, who started working when she was 14, had an entrepreneurial streak, opening her own hair salon and a burger joint before starting a Southern-style restaurant in Dallas with a woman from Terrell who was a Dallas police officer. A friend told Jones she could earn thousands more if she "got into the game".
"It was fast money," she says now. "Biggest mistake I ever made."
In 1999 – after days of testimony about drug deals by people nicknamed "Weasel", "Spider", "Baby Jack" and "Kilo", and a dramatic moment when Jones's quadriplegic mother was wheeled into the courtroom, the jury acquitted Jones of all six charges of possession with intent to distribute crack cocaine and aiding and abetting. But they found her guilty of one count of conspiracy to distribute crack cocaine.
Although no drugs were ever found, the US District Judge Jorge Solis determined that Jones was responsible for the distribution of 30kg of cocaine. He arrived at that number based on the testimony of the co-conspirators: the couple who received sentences of seven and eight years, and the Houston dealer, who got 19 and a half years. All have since been released.
The judge determined that Jones knew or should have known that the powder was going to be "rocked up" – or converted to crack. Using a government formula, the prosecutor said that the 30kg of powder was equal to 13.39kg of crack cocaine. He then added 10.528kg of crack cocaine that the prosecutors said had been distributed in Terrell and was linked to Jones's brother.
The judge's calculation made Jones accountable for 23.92kg of crack. That, added to the gun and obstruction enhancements, as well as Jones's role as an "organiser," sealed her sentence under federal rules that assign numbers to offences and enhancements. The final number, 46 , dictated the sentence, leaving the judge no discretion.
"Under the guidelines, that sets a life sentence, mandatory life sentence," Judge Solis said at a hearing in November 1999. "So, Ms Jones, it will be the judgment of the court that you be sentenced to the custody of the US Bureau of Prisons for a term of life imprisonment."
The jurors who found Jones guilty were never told about the life sentence, which came months after the trial. "Life in prison? My God, that is too harsh," said James Siwinski, a retired worker for a glass company. "That is too severe. There's people killing people and getting less time than that. She wasn't an angel. But enough is enough already."
Jones had been a model inmate, taking dozens of classes and mentoring other prisoners, but no amount of good behaviour would get her out. The only option was clemency from the President who, while promising reforms, has yet to grant Jones a release.
Inside Carswell's visiting room one recent afternoon, Jones opened the tattered blue Bible she brought in with her 16 years ago and turned to her daughter, Clenesha Garland. She gently pushed a strand of hair off her daughter's forehead. They read the Bible together when she visits every couple of weeks. They talk on the phone every day.
Ms Garland was eight when her mother was imprisoned. She remembers being confused when her mother seemed to vanish. "Is she dead?" she asked her father after moving to his house. "No, she's in a place like a college," he said. "We'll go see her. But not for a while."
Two years ago, Ms Garland wrote to Mr Obama, pleading for her mother's release. "Being without my mother for over 14 years of my life has been extremely difficult," she wrote. "But the thought she is set to spend the rest of her life in prison as a first-time non-violent offender is absolutely devastating."
After an hour together, the guards told them their time was up. They hugged tightly for the permitted 30 seconds. Jones left the visiting room and entered a side room where a guard was waiting, as she does after every visit. She took off her tan prison uniform, her brown T-shirt, her bra and her underwear, and waited for the guard to search every part of her body. She showed no emotion. After 16 years, she has learnt not to cry.
© The Washington Post
Register for free to continue reading
Registration is a free and easy way to support our truly independent journalism
By registering, you will also enjoy limited access to Premium articles, exclusive newsletters, commenting, and virtual events with our leading journalists
Already have an account? sign in
Register for free to continue reading
Registration is a free and easy way to support our truly independent journalism
By registering, you will also enjoy limited access to Premium articles, exclusive newsletters, commenting, and virtual events with our leading journalists
Already have an account? sign in
Join our new commenting forum
Join thought-provoking conversations, follow other Independent readers and see their replies