US Secretary of State John Kerry will not apologise to Hiroshima victims 70 years after nuclear bomb
The cities of Hiroshima and Nagasaki were decimated, killing 210,000 people, by the Americans in 1945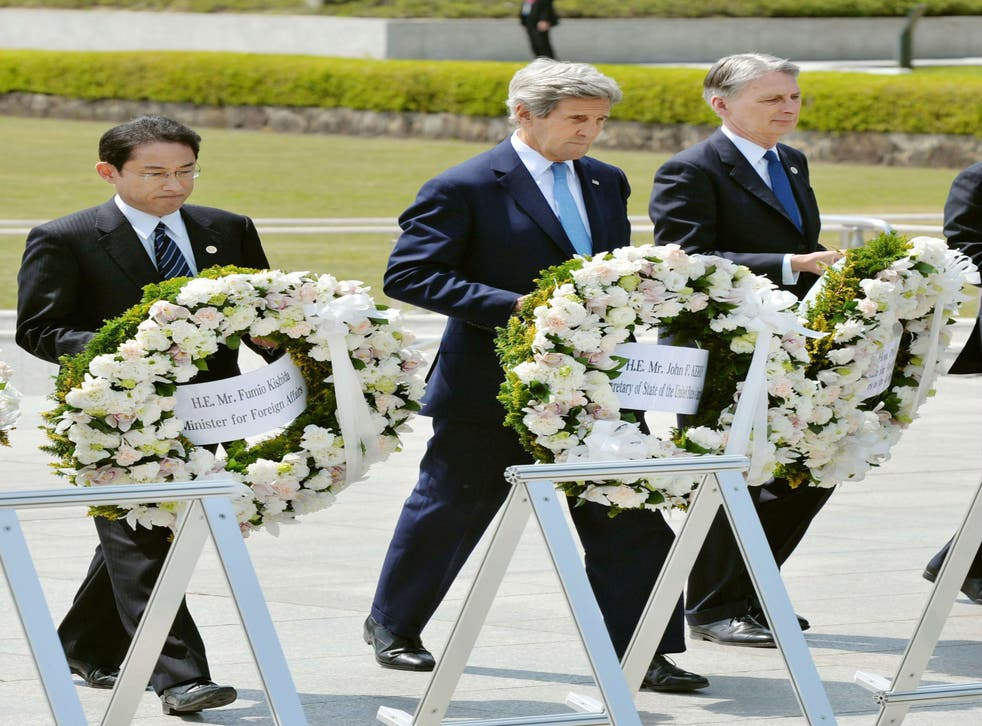 US Secretary of State John Kerry joined other world leaders to commemorate the hundreds of thousands of people who were killed when US forces dropped a nuclear bomb on the Japanese town of Hiroshima in 1945.
However, a senior US official said Mr Kerry would not apologise for the atrocity.
Mr Kerry, the first current Secretary of State to visit the city, laid a wreath on a memorial to victims alongside EU foreign policy head Federica Mogherini and other diplomats at the Peace Memorial Park.
The leaders then moved on to visit the museum and a Second World War memorial.
"It is a stunning display, it is a gut-wrenching display, it tugs at all of your sensibilities as a human being, it reminds everybody of the extraordinary complexity of choices in war and of what war does to people, to communities, to countries, to the world," Mr Kerry said.
The two-day G7 meeting in Japan is to discuss de-nuclearisation and terrorism, taking place in a town that was victim to the world's first use of an atomic weapon in warfare.
Mr Kerry's speech comes one day after a State Department official, Mark Toner, said he would not apologise for the two bombs in Hiroshima and Nagasaki, which killed about 210,000 people, either from direct impact or radiation exposure.
"If you are asking whether the Secretary of State came to Hiroshima to apologise, the answer is no," the official said, as reported by CNN. "If you are asking whether the secretary – and I think all Americans and all Japanese – are filled with sorrow at the tragedies that befell so many of our countrymen, the answer is yes."
The bombs helped to end of the Second World War. Japan had attacked Pearl Harbour in 1941, prompting the US to enter the conflict.
Mr Kerry spoke with Japanese foreign minister Fumio Kishida, and said that the trip "is not about the past; it's about the present and the future."
His meeting with Japanese officials comes after Republican presidential candidate Donald Trump proposed that Japan and South Korea arm themselves with nuclear weapons to fight off North Korea without US aid. He later backtracked on his remarks.
"For us to obtain nuclear weapons is completely inconceivable," said Mr Kishida.
Mr Kerry's trip to Japan, which also includes discussions on Isis, Europe's migrant crisis, tensions in Ukraine and the political chaos in Iraq and Afghanistan, could lay the groundwork for President Barack Obama's visit to Japan in May.
There is speculation about whether Mr Obama will issue a formal apology for the Hiroshima bombing.
Join our new commenting forum
Join thought-provoking conversations, follow other Independent readers and see their replies