US snow latest: 'Arctic surge' could shatter new lows for coldest weather on record
At least 18 people have been killed so far in the cold streak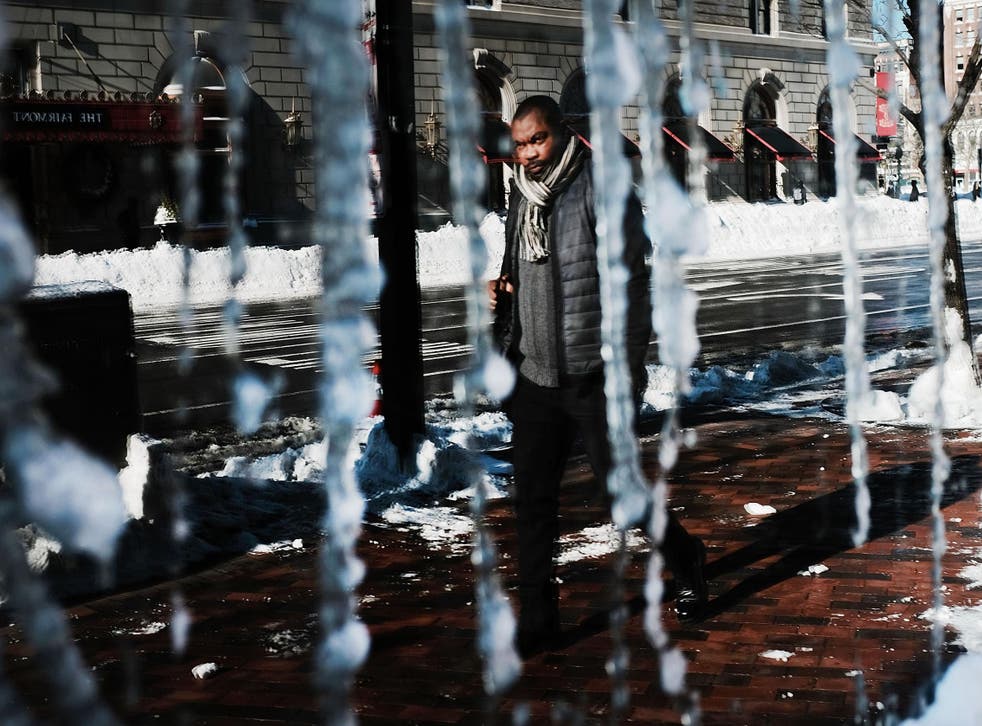 Shivering Americans looking for a break from the cold should not expect one any time soon, experts warned, as temperatures continued to drop moving into the weekend.
Authorities forecast a second cold streak on the back of Winter Storm Grayson, which strengthened at an astonishing rate to become a "bomb cyclone" and wreaked havoc across the East Coast. Now, a so-called "arctic outbreak" could set record low temperatures over the next few days, the National Weather Service (NWS) has warned.
"While conditions have begun to improve across the northeastern US, the arctic surge is already underway accompanied by brisk winds at times," the service warned. "Dangerously low wind chill temperatures are to be expected the next couple of days with some blowing snow possible."
Temperatures across the Upper Midwest, Great Lakes, Appalachians and much of New England were predicted to hover around -12C (10F) – a trend the NWS said could result in record-breaking lows. Even in the generally balmy southern US, temperatures were expected to drop to around -2C.
The NWS had wind chill advisories and warnings in place from Northeast over to Michigan and down to South Carolina on Friday.
Snow falls in Florida as winter storm hits East Coast of America
Despite the frigid forecast, the East Coast was showing signs of life on Friday, after hunkering down for Grayson the day before.
New York's John F Kennedy airport tweeted that service had resumed, but urged travellers to check with their airline before showing up for flights. There were nearly 140 flight cancellations and 130 delays at the airport by Friday afternoon, according to tracking service FlightAware, with hundreds more at other airports across the northeast.
Bradley International Airport in Boston tweeted that they were "open and operating," but still experiencing numerous delays and cancellations due to the weather.
Snow and sub-zero temperatures hit the UK

Show all 13
The cold spell was responsible for at least 18 deaths by Friday afternoon. At least four people were killed in traffic accidents in North Carolina due to treacherous conditions. In Richmond, Virginia, a girl was struck and killed by a pickup truck while sledding down a driveway. Authorities were still looking for a 35-year-old clammer who disappeared during the blizzard in Maine.
A driver slid off an icy road, killing a pedestrian, early on Friday in North Charleston, South Carolina, city officials said. "THE DANGERS ARE REAL," the officials warned in a Twitter message. "Huge patches of ice all over the city. Stay at home."
Police say an employee of the Massachusetts Water Resources Authority died while cleaning up after the winter storm that dumped more than a foot of snow on parts of the state.
Arlington police told WFXT-TV that the employee, who has not been publicly identified, went into cardiac arrest and was found in a snowbank at a facility for the water authority early on Friday.
Canadian snowmobilers rescue moose trapped in snow
Boston experienced record high tides on Thursday, boosted by the winter storm surges. The tide reached a high of 15.16 feet, narrowly breaking the 15.1-foot record set during the Blizzard of 1978. The flooding caused treacherous conditions in some parts of the city, where water covered the streets and then froze. Several streets were closed, and the ferry service was suspended due to "severe weather and ice" in Boston Harbor.
Several areas have already experienced record-breaking temperatures. Harrisburg, Pennsylvania, hit a record daily low of -18 C this week, while Sioux City, Iowa set a record of -33C. Hettinger, North Dakota, became the coldest place in the US on Monday, with a temperature of minus -44C.
A rescue operation was also underway for hundreds of turtles off the Gulf Coast, who were floating aimlessly in the water after being rendered immobile by a "cold stun".
"When the water temperatures drop too much, our resident population of juvenile turtles – some adults, even – are stunned," Florida Coastal Conservancy Volunteer Coordinator Jessica Swindall told local news station WJHG. "[The turtles] can't utilize their muscles at all, so they can't swim, they can't lift their heads to breathe."
Volunteer groups like Ms Swindall's had rescued nearly 200 turtles by Thursday night, and sent them to Gulf World Marine Institute and Park in Panama City for rehabilitation.
Nearly 500 members of the National Guard were activated to assist with the emergency response along the East Coast, including 200 in New York state, authorities have said.
Register for free to continue reading
Registration is a free and easy way to support our truly independent journalism
By registering, you will also enjoy limited access to Premium articles, exclusive newsletters, commenting, and virtual events with our leading journalists
Already have an account? sign in
Register for free to continue reading
Registration is a free and easy way to support our truly independent journalism
By registering, you will also enjoy limited access to Premium articles, exclusive newsletters, commenting, and virtual events with our leading journalists
Already have an account? sign in
Join our new commenting forum
Join thought-provoking conversations, follow other Independent readers and see their replies