US State Department appeals to social media for help in countering terrorism
It went as expected
Rose Troup Buchanan
Saturday 21 February 2015 15:36 Comments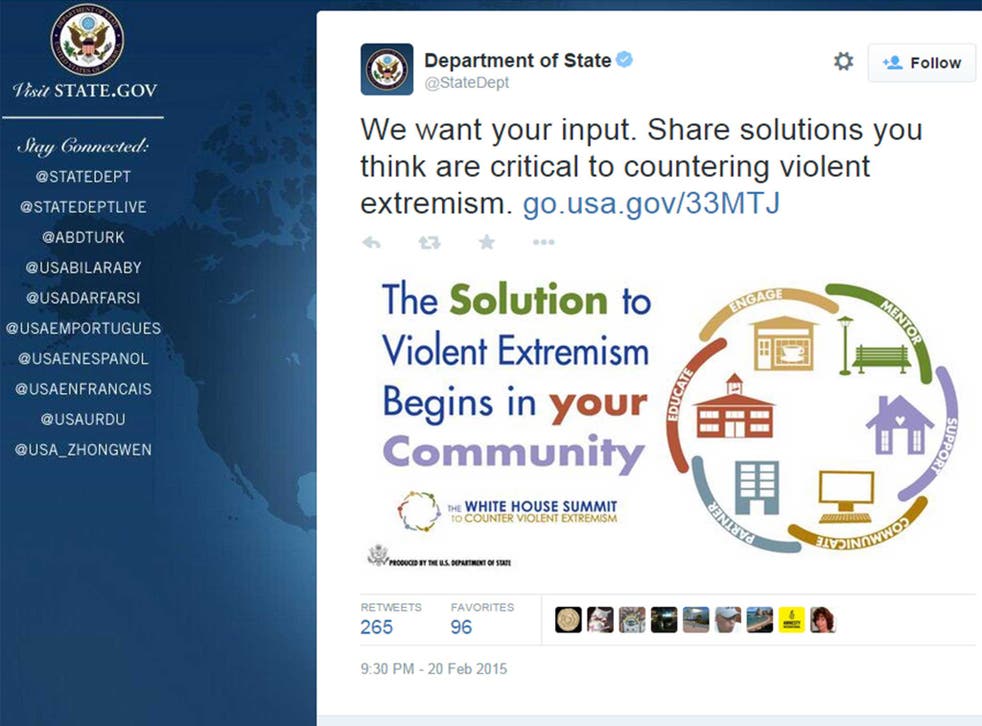 The US State Department appealed to Twitter earlier this week for help in solving the somewhat complex issue of countering violent extremism.
Writing on the social media site, the government department told users: "We want your input. Share solutions you think are critical to countering violent extremism," and then invited them to post feedback.
Shockingly, the general reaction was not all that helpful.
The appeal follows a three-day UN Security Council summit on countering violent extremism, in which Secretary-General Ban Ki Moon warned leaders against discarding their "moral compass" and called for "cool heads and common sense" to combat the problem.
A "common sense" approach which was not in evidence, judging by the reaction on Twitter:
The State Department's appeal amid news that for the first time the majority of Americans support putting troops on the ground as the perception of the threat the west faces from Isis, also known as Islamic State, increases.
Register for free to continue reading
Registration is a free and easy way to support our truly independent journalism
By registering, you will also enjoy limited access to Premium articles, exclusive newsletters, commenting, and virtual events with our leading journalists
Already have an account? sign in
Join our new commenting forum
Join thought-provoking conversations, follow other Independent readers and see their replies