US weather latest: Cold snap expected to last as 90% of country fails to make it above freezing
Sharks died and Niagara Falls froze in the dangerously low temperatures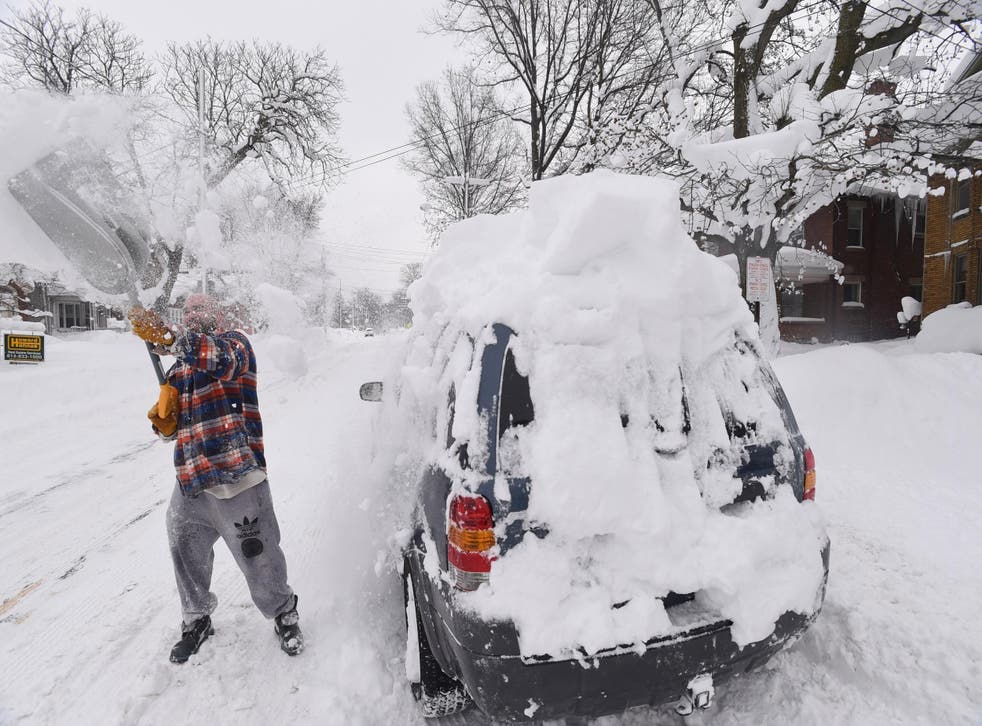 The United States is ushering in 2018 with a cold snap so severe it nearly froze Niagara Falls – and it isn't expected to warm up soon.
On New Years Day, 90 per cent of the country failed to make it above freezing, according to CNN. Temperatures reached lower than 10 degrees Fahrenheit (-12C) at the famous Times Square ball drop in New York. The city's weather is only supposed to get worse from there, with highs of 14(-10C) and 10 and a low of 2(-17C) degrees on Friday and Saturday.
The situation is not much better in the rest of the country. Even in the southern US, where temperatures are usually higher, some areas reached lows of minus 6(-21C) with wind chill. In the Southeast, meanwhile, temperatures are expected to stay 10 to 15 degrees colder than usual for the rest of the week.
Temperatures were expected to increase slightly over the weekend – before another, less brutal cold snap hit on Monday, according to weather service meteorologist Greg Gallina.
The National Weather Service (NWS) issued a wind chill warning from Texas all the way up to Canada, with wind chill warnings in states like Indiana and Missouri. More than 100 million people from Canada to Mexico were under wind chill warnings and advisories on Tuesday, according to CNN.
Snow and sub-zero temperatures hit the UK

Show all 13
A hard freeze warning was in place for much of the South, where the NWS warned of potential for hypothermia and frostbite.
"Exposed pipes and those along exterior walls will have the potential to freeze," the weather service noted.
The temperature reached record lows in some areas, such as Omaha, Nebraska. The mercury dipped to minus fifteen degrees on New Year's Eve – a low not seen in the midwestern city since 1884. That reading also did not include the windchill, which forecasters said dipped down to minus 40 degrees.
Severe weather swamps Pennsylvania city of Erie in 165cms of snow
In Massachusetts, it was so cold that sharks washed up dead on the shoreline – most likely due to cold shock, according to the Atlantic White Shark Conservancy. The conservancy said it had found at least three dead sharks on the shore of Cape Cod Bay in three days.
Visitors were treated to a more pleasant view in upstate New York, where 8-degree temperatures froze the famous Niagara Falls partially to ice. Despite the brutal weather, tourists flocked to the waterfall with cameras in hand.
"It's absolutely beautiful, and I came out here even though I hate the cold," one visitor, Jenn Howe, told the Buffalo News. "Pictures don't do it justice."
Join our new commenting forum
Join thought-provoking conversations, follow other Independent readers and see their replies