US-Cuba relations: Cubans seek change – but not if Uncle Sam takes over
In the first of a series of reports, David Usborne finds citizens are in two minds about restoring US ties
David Usborne
Friday 10 April 2015 06:11 Comments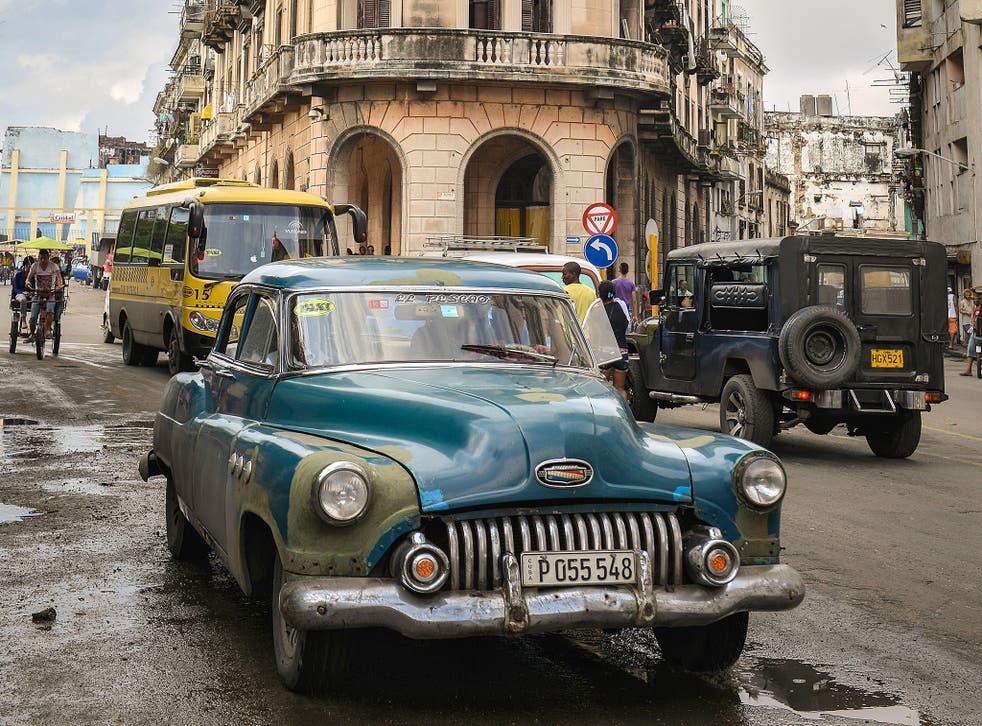 Strolling the scimitar-shaped seaside boulevard in Havana known as the Malecon, Pedro, a native of the city, knows what he doesn't want from the nascent thaw in relations between Cuba and the United States.
"No McDonald's at every corner. That would be sad," he murmurs, gesturing at the beguiling parade of homes and edifices, some crumbling, others newly restored to something like their old glory.
The arrival of Raul Castro at the Summit of the Americas that opens in Panama on Friday, and the possibility of a meeting between him and Barack Obama, may rekindle some of the joy that erupted here last December, when the two leaders vowed to restore diplomatic ties and move to end the long-running US embargo.
Some of that thrill, though, has given way to caution about how quickly change will come – and what it may yield.
That most ordinary Cubans want change here seems unarguable. You see it in their response to the relaxation of laws that once forbade private enterprise. Havana is blossoming with all manner of kerbside businesses, many operating out of people's homes. In Miramar, a residential area west of Havana's commercial centre, people crammed into "Los Dos Chinitos" and "Garage 44" one lunchtime this week. A Chinese takeaway and a pizza parlour, they both serve customers from counters in what used to be garages.
Cuba: in pictures

Show all 7
Even Mr Castro's attendance at the Summit of the Americas will be seen as a step forward. Cuba has hitherto been shunned by the organisation, as it has been by the US for more than five decades.
And results of a rare poll show 80 per cent of Cubans holding a positive view of Mr Obama; only 17 per cent disapprove of the US President. The numbers in the survey, carried out in March by the Miami-based research firm Bendixen & Amandi on behalf of two US-based TV networks and released this week, flip dramatically when it comes to views of Raul Castro and his brother, Fidel, who stood down as President seven years ago after an illness. Almost half (48 per cent) of Cubans have a negative view of Raul Castro, it concludes, while 50 per cent view Fidel negatively.
There is scant sign of any let-up in the daily propaganda bombardment here. Among the many billboards extolling the regime, one, as you arrive in town from the airport, shows a line of smiling ballerinas with the block-lettered slogan "The Revolution is Invincible".
But Cubans such as Pedro, 43, who works for the state helping a European country promote its goods here, wonder. Hasn't the purity of the revolution already been shattered, with private businesses sprouting all around? Won't opening up to the US jeopardise it further? And if that's the case, how sincere is the regime's change of course?
"America may want to go quickly with this, but Cuba will want to go slowly," he predicts. "And Cuba will throw up hurdles in the talks, because they don't want to lose control."
Felipe Pupo, 58, who runs Dos Chinitos with his wife, a third generation Cuban-Chinese, agrees. "I don't think the changes are happening because they want to change," he says, while his family and other employees scurry to meet the meal orders at the counter in their garage.
"They are changing because they have to. There are no jobs for the people and there is no money for them. They have little choice. They have to do this."
It will not be easy to eradicate the anti-US mindset of the regime. This week, the forest of high flagpoles in front of the so-called US Interest Section on the Malecon – a building that may soon become the US embassy again – were flapping with enormous Cuban flags, all the better for blocking the light and reminding Uncle Sam who is in charge here.
When the Cuban military decided this week to buy a new fleet of Peugeot cars as taxis, they rejected a competing, but cheaper, bid from Hyundai of South Korea. The reason, seemingly, was political: South Korea, they believe, is too cosy with the US. France is not.
The talks between Havana and Washington that are already under way do indeed face multiple tripwires – including America seeking compensation for financial assets and landmark buildings seized at the start of the revolution, as well as US demands for Cuba to restore full human rights.
In a January essay, Fidel Castro said no agreement should be reached with the US until it hands back the Guantanamo Bay facility to the island – something that Washington has ruled out.
The process may, however, get a boost in Panama, if, as some media outlets are predicting, Mr Obama announces that he is removing Cuba from the list of countries considered by the US to sponsor terrorism. There were reports that a long-awaited review by the US State Department had recommended just such a move.
It would be a signal gesture, which on its own would help accelerate the easing of restrictions on US-Cuba trade which he has already initiated. That said, the ending of the US embargo entirely can only come with the approval of the US Congress, which for now it seems reluctant to provide.
This is a country deeply uncertain about its future. The most obvious question – what will follow when both Castros are dead? – invariably elicits a who-can-possibly-know look. And it is a country that is divided over what it really wants. The years of one-party oppression, withholding of human rights and economic dysfunction have taken an undoubted toll on people, but many Cubans also nurture a fierce patriotism.
And with that comes an ambivalence about America. They fear that giving – or selling – "the imperialists" even an inch of their country will end with the US taking a mile. That happened here once before.
"Let them come here and they can help us with their money; they can mend this road," says Claribel, who owns a picturesque home in the popular tourist destination of Vinales, about two hours west of here in deep tobacco-growing country. She has already begun renting out three of her rooms to foreign visitors.
"But I think they will then want to buy my house, buy the whole town. This is still my house and my town. I am in charge here. We can't let that happen. Americans cannot be trusted."
Register for free to continue reading
Registration is a free and easy way to support our truly independent journalism
By registering, you will also enjoy limited access to Premium articles, exclusive newsletters, commenting, and virtual events with our leading journalists
Already have an account? sign in
Join our new commenting forum
Join thought-provoking conversations, follow other Independent readers and see their replies