US would '100 per cent' strike Syria again, says Sean Spicer
Earlier Donald Trump told Fox News: 'We're not going into Syria'
Emily Shugerman
New York
Wednesday 12 April 2017 17:02 Comments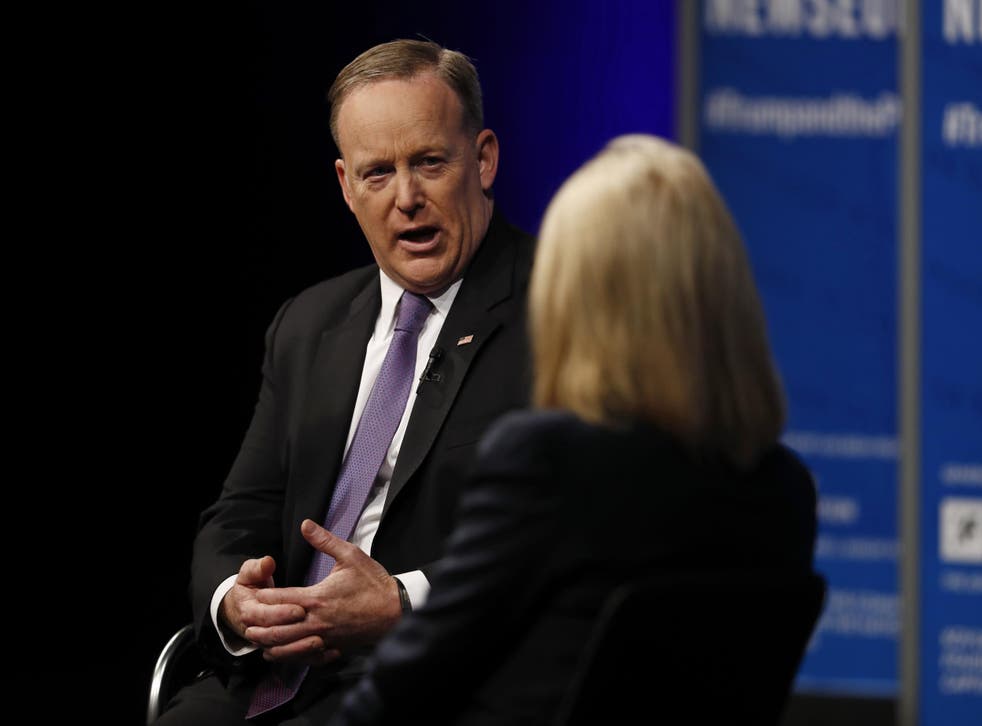 The White House would "100 per cent" strike Syria again, says White House Press Secretary Sean Spicer.
The US would "absolutely" consider taking further military action if the Syrian government continues to use chemical weapons against its citizens, Spicer told reporter Greta Van Susteren on Wednesday.
"The President showed last Thursday night that he will use decisive, proportional and justified action to right wrongs," Mr Spicer said, referring to the US' 6 April air strike on a Syrian military base.
Mr Trump ordered the air strike after a chemical weapons attack — reportedly authorised by the Syrian government — killed 70 people in northern Syria. The President urged the rest of the world to join the United States in "seeking to end the slaughter and bloodshed in Syria and also to end terrorism of all kinds and all types."
The strike was praised by Australia, Japan, and several European and Middle Eastern nations.
On Tuesday night, however, Mr Trump seemed to tell reporter Michael Goodwin that he would not take action in Syria again.
"Our policy is the same — it hasn't changed," he said. "We're not going into Syria."
Mr Spicer attempted to clarify these comments on Wednesday morning, telling Ms Van Susteren the president was referring to sending ground troops into the country — not air strikes.
"Should [the Syrian government] continue to use gas — especially against children and babies — all options remain on the table," Mr Spicer said. He said the White House would "absolutely" consider striking Syria again.
The press secretary's comments echo his previous statement that the US would "definitely consider" further military action in the country. Mr Spicer said on Monday that the White House "can't imagine a stable and peaceful Syria" under current leadership, but would prioritise fighting Isis over forcing regime change.
The air strikes have put Mr Trump on opposite ends of the conflict with Russian President Vladimir Putin, who he previously praised heavily. The Russian government is allied with Syrian President Bashar al-Assad in the civil war, supplying weapons to his government despite international criticism.
The White House accused Russia of obscuring Mr Assad's role in the chemical weapons attack on Tuesday. A four-page document released by the National Security Council accused Russia of "shielding" their ally from international condemnation.
Mr Spicer took a similarly hard line on Wednesday, saying Russia should "live up to its obligations" in controlling the spread of chemical weapons. Russia previously promised to help destroy Syria's chemical weapons arsenal after a 2013 attack.
Mr Spicer urged Russia to ally with the US in their "shared interest"of defeating Isis in the region. He criticised the country for allying with North Korea and Iran in backing the Syrian government.
"If you're Russia, you're really isolating yourself by aligning yourself with Assad," Mr Spicer said.
He did not confirm whether Secretary of State Rex Tillerson, who left for Russia on Tuesday, would meet with Mr Putin during his stay.
Register for free to continue reading
Registration is a free and easy way to support our truly independent journalism
By registering, you will also enjoy limited access to Premium articles, exclusive newsletters, commenting, and virtual events with our leading journalists
Already have an account? sign in
Join our new commenting forum
Join thought-provoking conversations, follow other Independent readers and see their replies