Las Vegas shooting: Why the NRA has gone silent and how it still plans to defeat gun control
The NRA is expected to 'go dark' for days before blaming the massacre on anything but lax gun laws, while raising serious amounts of political lobbying money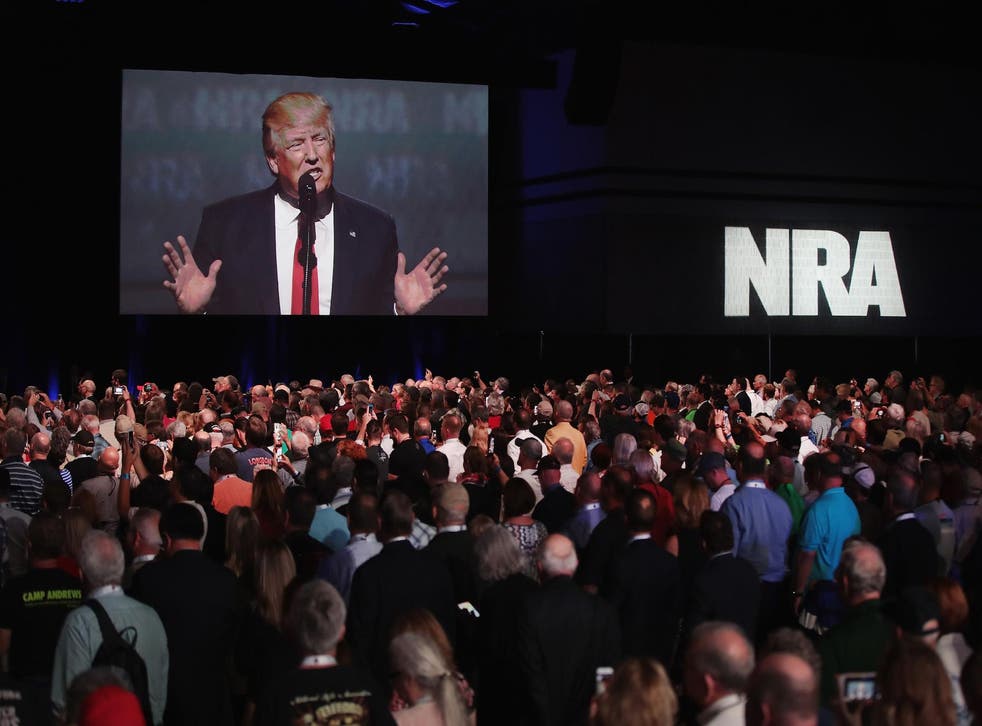 Last week was a busy week for the National Rifle Association.
America's leading pro-firearms group began Monday 25 September by condemning the "hysteria, fake news and fearmongering" of gun control advocates who were "desperately seeking to thwart" the SHARE Act which would make it easier for weapon-owning citizens to buy silencers.
It was a message hammered home throughout the week, with the NRA issuing five tweets about the silencer legislation on Thursday alone.
A busy Friday saw six of the NRA's weekly tally of 31 tweets, plus a retweet announcing: "It's Full Auto Friday! Here's a look at the workhorse M240 machine guns currently in use with the US military."
On Monday, however, after Stephen Paddock killed 59 people using semi-automatic guns that may reportedly have been modified to make them fully automatic, the NRA's Twitter feed fell strangely silent. So did the NRA's Facebook page. Its blog site found space on Friday for a venison pastrami recipe, but had no room on Monday for a comment on the most deadly mass shooting in US history – or anything else.
The NRA, observers said, had reverted to its now-customary tactic of "going dark" after a mass shooting.
Not even Hillary Clinton's statements about the need to "stand up to the NRA" could shake the organisation from its silence. Having spent last week loudly condemning the "hysteria" of those opposing silencer legislation, it remained mute when Ms Clinton asserted: "The crowd fled at the sound of gunshots. Imagine the deaths if the shooter had a silencer, which the NRA wants to make easier to get."
This, said commentators, was not so much out of embarrassment, as a well-established NRA tactic.
After mass shootings, said Josh Horwitz, executive director of the Coalition to Stop Gun Violence, the NRA always delays its response:
"Their plan is to avoid the media until the story passes and then figure out someone else to blame."
This tactic, Mr Horwitz told Politico, had remained largely unchanged in the 28 years he had been monitoring the group.
After the April 2007 Virginia Tech shooting left 33 people dead on a university campus, the NRA took four days to issue a four-paragraph statement insisting: "This is a time for people to mourn, not a time for public policy debates. We will participate in this discussion at an appropriate time."
The group stayed silent for fully a week after the 2012 Sandy Hook Elementary School shooting claimed the lives of 20 children and six adults. Then chief executive Wayne LaPierre held a press conference that some think could now serve as a template for the NRA's response to the Las Vegas shooting.
First, in an echo of the Virginia Tech response, Mr LaPierre turned the NRA's long silence into a criticism of those including President Barack Obama who had responded to the deaths of 20 children by calling for gun control. "While some have tried to exploit tragedy for political gain," said Mr LaPierre, "We have remained respectfully silent."
Then Mr LaPierre listed what he considered to be the many causes of the Sandy Hook shooting. He cited "vicious, violent video games", "blood-soaked slasher films", "a thousand music videos that portray murder as a way of life" – all part of a "dirty little truth the [mainstream] media try their best to conceal".
But there was no mention of easy access to firearms like the semi-automatic rifle used by Sandy Hook killer Adam Lanza.
Las Vegas shooting – in pictures

Show all 15
Instead the way to stop the shootings, said Mr LaPierre, was to have armed guards in every school – a "solution" he had also advocated after Virginia Tech, because: "The only thing that stops a bad guy with a gun is a good guy with a gun."
"With all the foreign aid," he added, "With all the money in the federal budget, we can't afford to put a police officer in every school? I call on Congress to act immediately."
The reference to the foreign aid budget – the bugbear of so many who rail against "political correctness" - may not have been accidental. After the June 2016 massacre at the Pulse gay nightclub in Orlando, the NRA blamed "the Obama administration's political correctness", for what - until Sunday night - had been the worst mass shooting in US history. "It's time for us to admit that radical Islam is a hate crime waiting to happen," said Chris Cox, executive director of the NRA's Institute for Legislative Action. "The only way to defeat them is to destroy them — not destroy the right of law-abiding Americans to defend ourselves."
When the NRA does respond to the Las Vegas shooting, it is likely, judging by past performance, that the rhetoric will be backed by serious amounts of money. After Sandy Hook, the NRA succeeded in raising record amounts for its political lobbying. The 4.3 million-member organisation raised $2.7m (£2m) for its political action committee in January and February 2013, which was reported to have been a 350 per cent increase on the same period after the last mid-term elections.
By 2015 Barack Obama was admitting to the BBC that his attempts to introduce "common sense gun-safety laws" had been "the one area where I feel that I've been most frustrated and most stymied."
During the 2016 presidential election that followed the Pulse nightclub shooting, the NRA broke its record for campaign spending, shelling out at least $36m. Which partly explains why victorious candidate Donald Trump received the most gun lobby funding of any presidential candidate ever.
By October 2016, NBC News was reporting that the NRA had spent a total of $21m helping Mr Trump: $9.6m on adverts and other pro-Trump material and $12m attacking Hillary Clinton.
On Monday, the NRA may have been silent, but the Trump White House wasn't.
Asked about Ms Clinton's gun control remarks, White House press secretary Sarah Huckerbee Sanders went on the offensive.
"It's very easy for Mrs. Clinton to criticise, but I think we need to remember the only person with blood on their hands is that of the shooter," said Ms Huckabee Sanders. "This isn't the time to go after individuals or organisations."
And on Tuesday Mr Trump promised to talk about gun laws "as time goes by", without specifying exactly when that discussion might happen.
To some, the noises coming out of the White House might have sounded a lot like the NRA's previous refrains about not exploiting tragedy for political gain and waiting to participate in public policy discussions at an appropriate time.
Join our new commenting forum
Join thought-provoking conversations, follow other Independent readers and see their replies