Las Vegas shooting survivors condemn YouTube for promoting 'hoax' videos
'When I see my wife fighting for her life with a gunshot wound to her chest, and my daughter was also shot, it's pretty conclusive evidence that it did happen'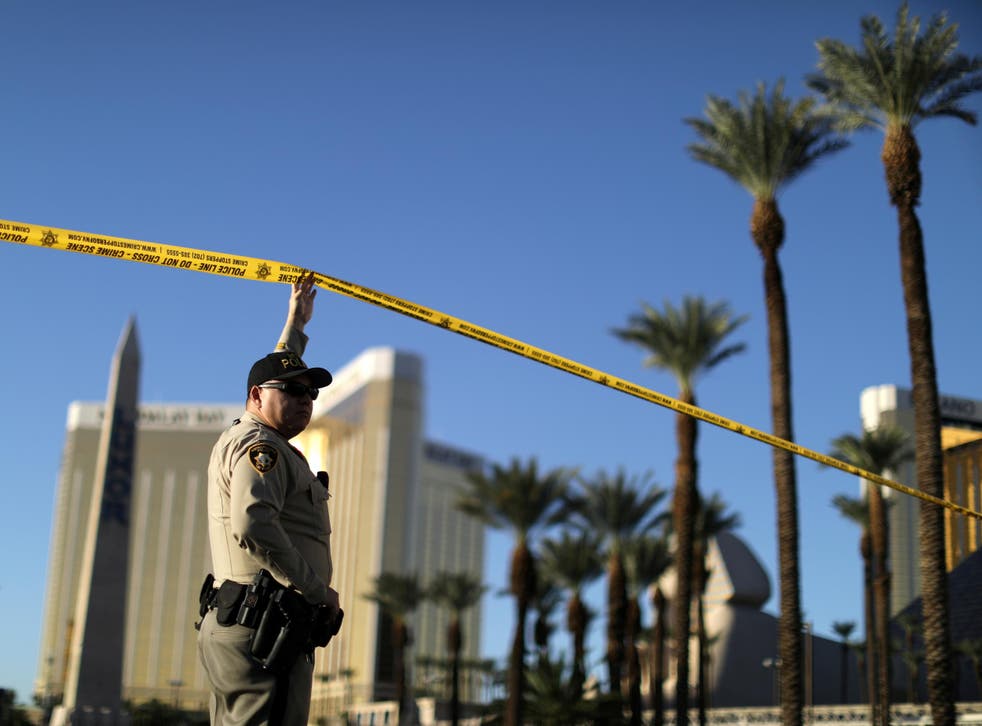 Las Vegas shooting survivors have spoken of their horror at discovering YouTube has been promoting conspiracy theory videos labelling the assault on festival-goers a hoax.
Just days after gunman Stephen Paddock opened fire on the Route 91 Harvest festival, killing 58 people and injuring more than 500 more, hundreds of videos discrediting the events continue to proliferate on the site.
A cursory search for "Las Vegas shooting videos" on the site found one titled "Las Vegas Shooting Conspiracy? Viral Video Challenges Official Story" with 50,000 views on the first page of results.
Another titled "Las Vegas Shooting Narrative Debunked In 3 Videos" has more than 250,000 views and asked: "What is the media hiding?"
Stephen Melanson, whose wife and daughter were shot in the attack, called for YouTube to immediately take down the videos.
"When I see my wife fighting for her life with a gunshot wound to her chest, and my daughter was also shot, it's pretty conclusive evidence that it did happen," he told the Guardian.
"My daughter texted me … 'There is a shooting right in front of us' and another text said, 'Mom is shot.'"
Another survivor, Krista Metz, said: "It's not a conspiracy. It's not a joke. It did happen. I was there...we literally thought we were going to die."​
YouTube is not the only site to be embroiled in controversy. Its parent company Google was also widely condemned after actively promoting blogs and conspiracy sites in the wake of the shooting that misidentified the gunman.
Facebook was also accused of proliferating the spread of fake news in relation to the shooting, despite taking measures in recent months to combat the problem in the wake of the 2016 US election.
It comes just weeks after Prime Minister Theresa May ordered YouTube to remove extremist propaganda from the site within an hour to reduce the danger of it inspiring further atrocities.
Las Vegas shooting – in pictures

Show all 15
Her comments followed a damning report by Labour MP Yvette Cooper that found extremist footage posted by Islamists and neo-Nazis was still on the site despite it being flagged repeatedly to monitors.
One video that had been flagged but was still available on the site was entitled "Adolf Hitler was right", another showed a Muslim man being attacked and Taliban propaganda was also found on the world's second most-viewed website.
YouTube told the Guardian that a number of specific conspiracy videos did not violate its terms and conditions. The website said videos by trusted news publishers were promoted separately under the label "Top News".
The Independent has contacted YouTube for comment.
Register for free to continue reading
Registration is a free and easy way to support our truly independent journalism
By registering, you will also enjoy limited access to Premium articles, exclusive newsletters, commenting, and virtual events with our leading journalists
Already have an account? sign in
Register for free to continue reading
Registration is a free and easy way to support our truly independent journalism
By registering, you will also enjoy limited access to Premium articles, exclusive newsletters, commenting, and virtual events with our leading journalists
Already have an account? sign in
Join our new commenting forum
Join thought-provoking conversations, follow other Independent readers and see their replies