Venezuela crisis: Juan Guaido considers negotiating with Maduro as anti-government protests dwindle
'The persecution has been savage', presidential challenger says from safe house
Anatoly Kurmanaev
Wednesday 22 May 2019 09:10 Comments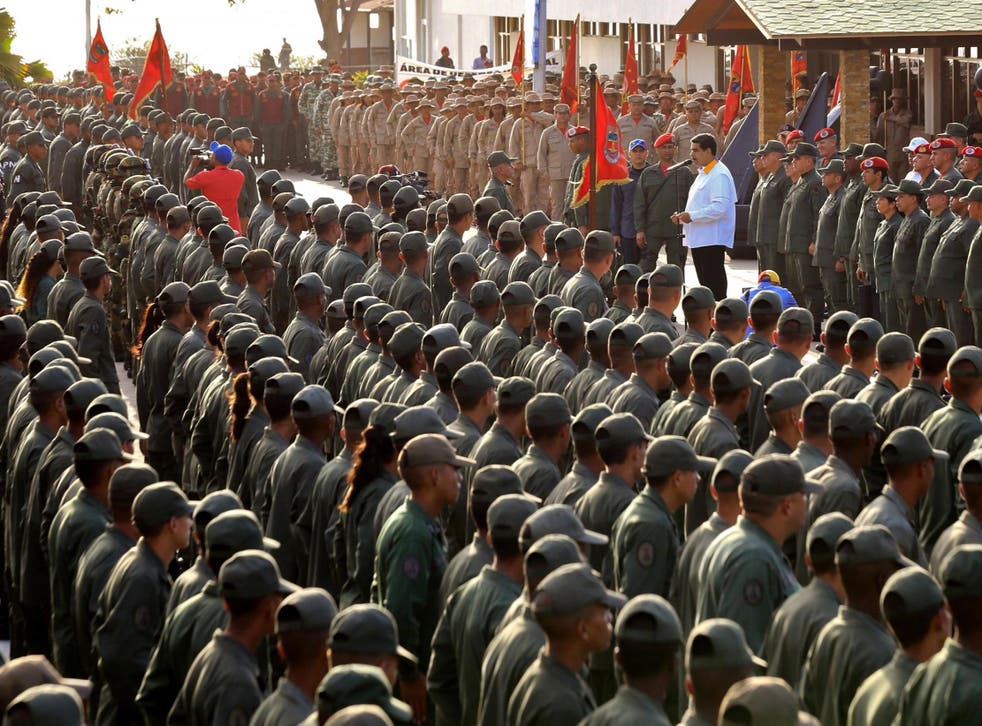 It was a daring gambit: Juan Guaidó, Venezuela's opposition leader, stood by a military base alongside dozens of uniformed officers and political allies, calling for a military uprising against President Nicolás Maduro.
Three weeks later, Mr Guaidó is shuttling among a half-dozen safe houses to escape capture.
Most of the men who stood with him by the base that day, and many of the legislators who support him, are in jail or sheltering in foreign embassies.
Soldiers routinely shut down the National Assembly that Mr Guaidó leads.
And the protests that filled the streets with Mr Guaidó's supporters are dwindling as Venezuelans, struggling with a crumbling economy and shortages of food, gasoline and medication, return to the business of surviving.
Venezuelans seek joy amid the chaos

Show all 24
Weakened and unable to bring the political crisis gripping Venezuela to a quick resolution, Mr Guaidó has been forced to consider negotiations with President Maduro, the man he had promised to remove from power.
Both sides have sent representatives to Norway for talks, a concession Mr Guaidó previously rejected.
In public, Mr Guaidó remains upbeat and unwavering.
At flash rallies around the capital, Caracas, he implores supporters to keep up the protests. But during an interview, he acknowledged that the opposition's capacity to operate is hurting.
"The persecution has been savage," he said in the empty hallway of one of the safe houses he uses.
More than 50 countries — including the United States, Canada and most members of the European Union — recognised Mr Guaidó as the country's legitimate president in January, calling Mr Maduro's re-election for a second term fraudulent.
Since then, several countries that support Mr Guaidó have expressed an openness to other approaches to ending the political paralysis in Venezuela — a big shift from the urgent international calls for Mr Maduro's removal four months ago.
In an interview in April, Elliott Abrams, the Trump administration's special envoy for Venezuela, said that for a democratic transition to work, all Venezuelans should be part of it, including those who remain loyal to Mr Maduro.
"They are part of Venezuela's political scene," he said. "So we're just trying to make it clear that we really want a democratic Venezuela. We're not picking winners."
President Donald Trump has since turned his international focus to Iran, dashing for the time being any hopes that members of the opposition may have had of securing US military support.
Despairing of a quick resolution, Mr Guaidó's European allies have redoubled efforts to secure a negotiated pact between the opposition and the government, moving the main front in Venezuela's political battle to the diplomatic arena, said Félix Seijas, the director of Caracas-based pollster Delphos, which has advised the opposition.
Venezuela: Hundreds of opposition supporters gather outside Carlota Fort for more protests
Last week, envoys from each side travelled to Norway to meet with representatives for preliminary talks, according to officials from both sides.
In a speech to public sector workers Thursday, Mr Guaidó said he had agreed to the talks, but restated: "We will not lend ourselves to false negotiations."
He said the goal remained to remove President Maduro, establish a transitional government and call free and fair elections.
Mr Guaidó also met last week with European diplomats representing the International Contact Group on Venezuela, which has been working to secure new elections in the country.
And, in separate attempts to find common ground on Venezuela with Mr Maduro's biggest backers, Canada's foreign minister travelled to Cuba and US Secretary of State Mike Pompeo went to Russia.
Mr Maduro has also been weakened by Guaidó's uprising attempt.
His intelligence police chief has defected, and the US claims that top officials, including the defence minister and chief justice, were involved in the plot.
US sanctions are ravaging Venezuela's vital oil sector and imports, making it increasingly difficult for Mr Maduro to govern.
The country largely ground to a halt over the weekend because of a lack of fuel — a shortage that President Maduro has blamed the sanctions for.
Six years of recession, however, have made Mr Maduro adept at managing, if not solving, cascading crises.
He is now betting that repression and fatigue will destroy Mr Guaidó's support before sanctions force his government out of power, Mr Seijas said.
Support free-thinking journalism and attend Independent events
"The government feels that the time is in their favour, and they are not necessarily wrong," Mr Seijas said. "Neither side can strong-arm the other, but the government feels this situation is something they can manage and control."
Opposition leaders said they would continue working to remove President Maduro and set up a transitional government from the safe houses and embassies where they have sought shelter.
"The goal now is not to become a political martyr by getting arrested," said Juan Andrés Mejía, a lawmaker from Mr Guaidó's Popular Will Party who went into hiding after the government stripped him of parliamentary immunity last week.
"The goal is to bring about a transitional government. I'm focused now on making sure the work we started doesn't stop."
The New York Times
Register for free to continue reading
Registration is a free and easy way to support our truly independent journalism
By registering, you will also enjoy limited access to Premium articles, exclusive newsletters, commenting, and virtual events with our leading journalists
Already have an account? sign in
Join our new commenting forum
Join thought-provoking conversations, follow other Independent readers and see their replies