Venezuela lets Jamaica pay off its oil debts in food as shortages worsen
Move comes as Venezuelan opposition gets a step closer to ousting Nicolas Maduro from office over economic crisis
Caroline Mortimer
Tuesday 02 August 2016 20:05 Comments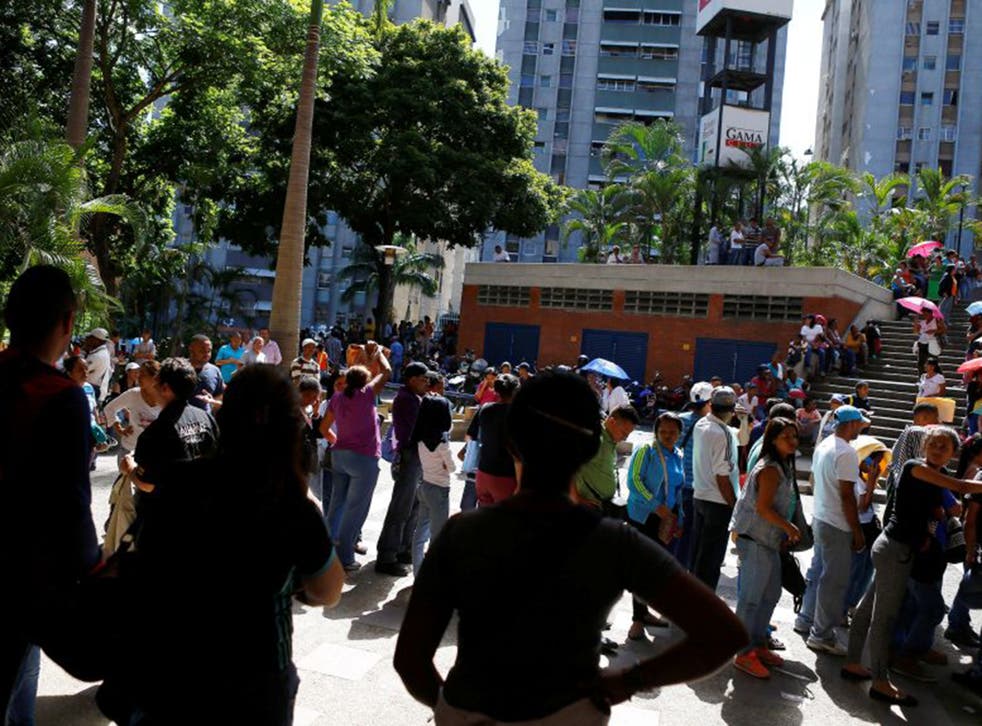 Jamaica has announced it will pay back some of its oil debt to Venezuela in food, medicines and fertiliser as the country's economic crisis continues.
Venezuela is currently suffering from acute shortages of basic foodstuffs and supplies after the collapse in the price of oil exposed years of economic mismanagement by the government.
In a statement to the state news agency, Jamaica Information Service, government minister Ruel Reid said: "This decision is taken primarily to give support in the form of medicine, food and fertiliser".
The agreement is possible due to a 2005 oil for cash deal between Venezuela and 12 Caribbean countries called the Petro-Caribe agreement – which guarantees the country will sell oil at preferential rates to Caribbean countries.
Under the agreement, countries have the option of paying 50 per cent of the price at the time and paying the rest off over a 25 year period.
Around $3m (£2.6m) worth of food will be given to Venezuela to pay off the oil debt which has been accumulating since 2006. A further $1m (£750,000) will be donated by the Ministry of Science, Energy and Technology.
It came as Venezuela is said to be on the brink of economic and political collapse as citizens queue for hours to buy food and basic necessities while inflation runs rampant.
Some have even resorted to crossing the border with Colombia to buy goods they can no longer get at home.
In pictures: Venezuela elections

Show all 10
Meanwhile around 50 zoo animals in the capital Caracas are believed to have starved to death as staff have been forced to dramatically cut their rations.
In June, more than 400 people took to the streets in Caracas chanting "We want food". At least 20 businesses were violently looted and an effigy of President Nicolas Maduro was burnt.
Mr Maduro, who took over from President Hugo Chavez after his death in 2013, blamed the country's collapse on an "economic war" waged by the US.
He has passed several measures aimed at resolving the crisis such as forcing public sector workers to work only two days a week and moving the country into a different timezone to save energy.
But many feel he is not doing enough. A campaign to have him removed from office has passed the first hurdle to call a recall election.
Electoral authorities said on Monday that the campaign had gathered at least one per cent of signatures in each state calling for a recall election.
They will now have three days to gather 4m signatures - or 20 per cent of the population - in order to force the recall election.
In order for the recall to be successful more people have to vote for him to be removed from office that voted him into office in 2013 (51.5 per cent).
Additional reporting by AP
Register for free to continue reading
Registration is a free and easy way to support our truly independent journalism
By registering, you will also enjoy limited access to Premium articles, exclusive newsletters, commenting, and virtual events with our leading journalists
Already have an account? sign in
Join our new commenting forum
Join thought-provoking conversations, follow other Independent readers and see their replies