Venezuela's president accused of crimes against humanity
The president has yet to respond to the allegations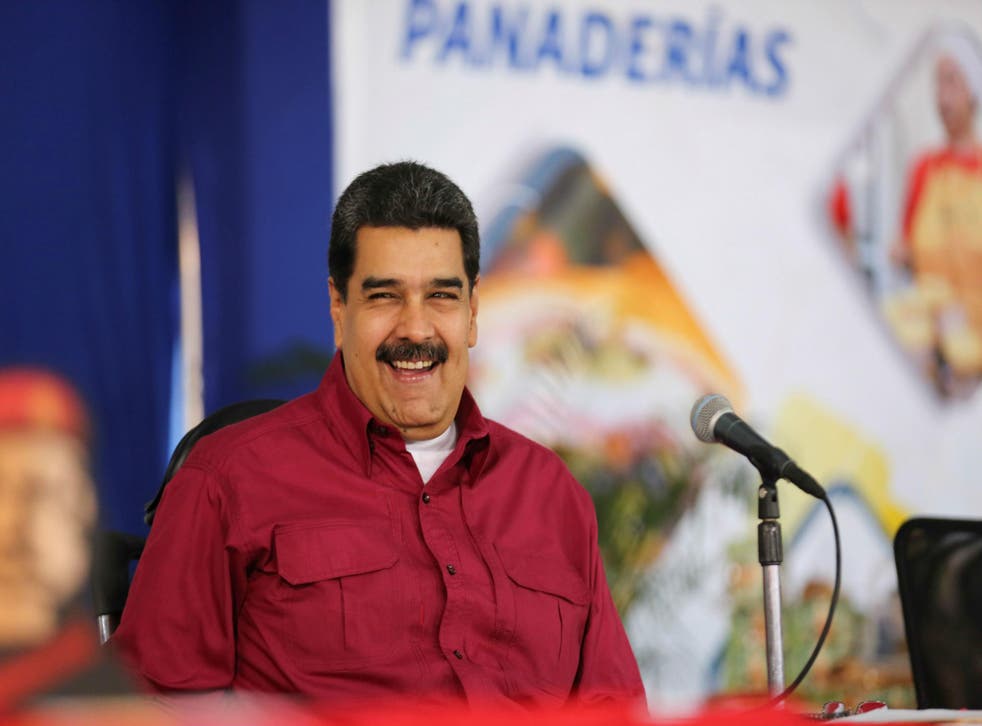 Venezuela's ousted chief prosecutor has called on the International Criminal Court to capture President Nicolas Maduro and charge him over what she claims are crimes against humanity.
Luisa Ortega, who was fired after breaking with the Maduro government earlier this year, appeared at The Hague where she filed a complaint, based on the 8,290 deaths she says took place between 2015 and 2017 at the hands of officials who received instructions from the government.
"[They happened] under the orders of the executive branch, as part of a social cleansing plan carried out by the government," she told reporters.
"Nicolas Maduro and his government should pay for these crimes against humanity just as they must also pay for the hunger, misery and hardship they've inflicted on the Venezuelan people."
She added: "We have been forced to turn to an international organisation, because there is no justice in Venezuela."
According to Reuters, her complaint, which included 1,000 pieces of evidence, also accuses a number of top officials, including Defence Minister Vladimir Padrino and intelligence chief Gustavo Gonzalez of being involved in the alleged abuses.
Donald Trump considers possible military action against Venezuela
Mr Ortega was associated with Mr Maduro, and his predecessor Hugo Chavez, for many years. Yet she broke with him this summer after Mr Maduro pressed ahead with a plan to create powerful legislature called the Constituent Assembly.
The new constitutional assembly can override the traditional National Assembly, which the opposition has controlled since elections in 2015.
The opposition decided to boycott the vote over the assembly, ensuring that it would be filled with allies of Mr Maduro.
In pictures: The crisis in Venezuela

Show all 22
Indeed, the new, 545-member assembly voted to fire Ms Ortega on its first day of operation, accusing her of being a "traitor". Since then, she has fled the country and has toured different countries denouncing the government she once worked with.
Mr Maduro, who was elected in 2013, pushed ahead with the assembly after claiming it was the only way to empower people and bring about peace. More than 120 people died in clashes this summer between protesters seeking to force Mr Maduro to quit and the security forces.
Mr Maduro has faced widespread international criticism and both the US and the EU have imposed fresh sanctions on the country. In turn, he has accused the US of trying to overthrew his government and his supporters have pointed out that some US officials backed a 2002 coup that briefly dislodged Mr Chavex.
Earlier this summer, CIA chief Mike Pompeo suggested the agency was working with other countries in the region - notably Mexico and Colombia - to bring about a change of government. Meanwhile, President Donald Trump has said "we have many options for Venezuela, including a possible military option, if necessary."
Mr Maduro has yet to respond to Ms Ortega's allegations.
Venezuela has ratified the Rome Statute which underpins the ICC, which means chief prosecutor, Fatou Bensouda, does have jurisdiction to investigate allegations of crimes against humanity there if she wishes to.
Register for free to continue reading
Registration is a free and easy way to support our truly independent journalism
By registering, you will also enjoy limited access to Premium articles, exclusive newsletters, commenting, and virtual events with our leading journalists
Already have an account? sign in
Register for free to continue reading
Registration is a free and easy way to support our truly independent journalism
By registering, you will also enjoy limited access to Premium articles, exclusive newsletters, commenting, and virtual events with our leading journalists
Already have an account? sign in
Join our new commenting forum
Join thought-provoking conversations, follow other Independent readers and see their replies