Venezuela's president advises malnourished citizens to breed rabbits and eat them
The country is facing food shortages and soaring inflation 
Andrew Buncombe
New York
Thursday 14 September 2017 21:52 Comments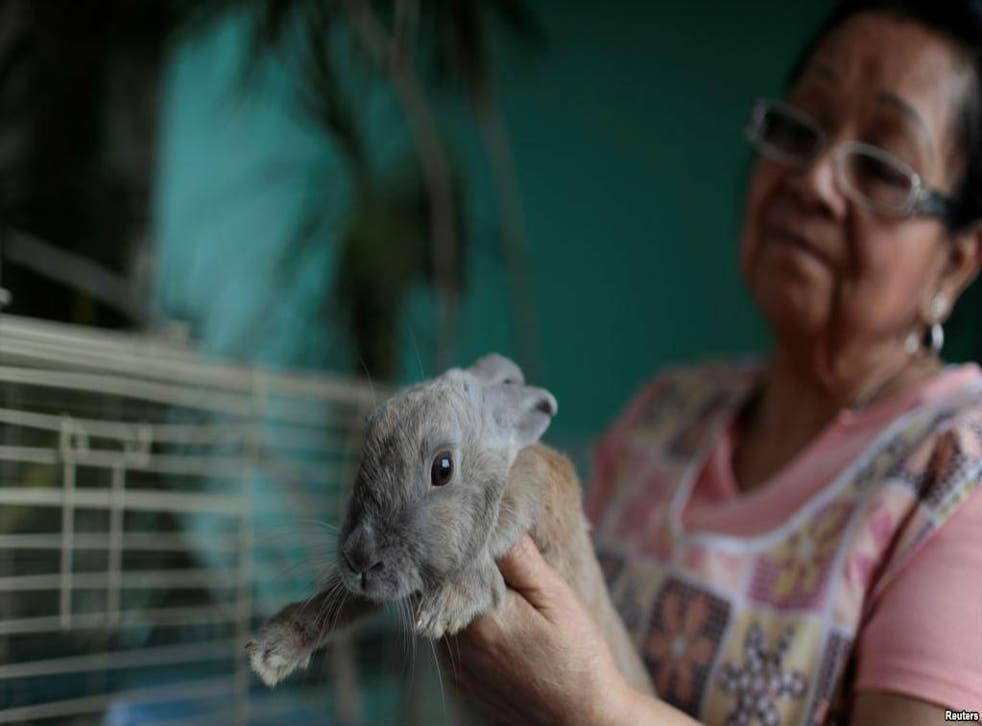 Venezuela's government has launched a scheme to encouage people to breed rabbits and eat them as a way of countering frequently chronic food shortages and growing child malnutrition.
The government of Nicolas Maduro said the so-called Rabbit Plan would help boost food availability. Officials have also shown citizens how to grow food on the roofs and balconies of their homes.
Reuters said Mr Maduro's adversaries dismissed the idea as nonsensical, insisting the real problem is a failed model of oil-financed socialism that was unable to survive after crude markets collapsed.
Donald Trump considers possible military action against Venezuela
Mr Maduro said US sanctions on him and more than 20 of his officials have exacerbated the crisis. The Trump administration also recently banned US banks from buying newly-issued bonds from Venezuela's government and the state-run oil company, PDVSA. Mr Trump has also suggested a "military solution" for dealing with Venezuala.
"There is a cultural problem because we have been taught that rabbits are cute pets," said Urban Agriculture Minister Freddy Bernal said during a televised broadcast with Mr Maduro this week, according to the news agency.
"A rabbit is not a pet; it's two-and-a-half kilos of meat that is high in protein, with no cholesterol."
In pictures: The crisis in Venezuela

Show all 22
Mr Maduro's critics mocked the idea.
"Are you serious," asked Henrique Capriles, a state governor and two-time opposition presidential candidate in a video to response to Mr Bernal.
"You want people to start raising rabbits to solve the problem of hunger in our country?"
While eating rabbits may be common in some countries in the world, it is not so in Venezuela. But amid soaring inflation and shortages of certain basic foodstuffs, people have been looking for alternatives.
Earlier this year, the Catholic charity Caritas said child malnutrition in parts of Venezuela was now at the level of a humanitarian crisis
"We are extremely worried," said Janeth Márquez, director of Caritas Venezuela, "which is why we are going public with this series of reports. We have been monitoring levels of malnutrition and providing assistance to under-fives since October across four states: Distrito Capital, Vargas, Miranda and Zulia."
He added: "Our results clearly show that general levels of malnutrition are rising and acute malnutrition in children has crossed the crisis threshold. If we don't respond soon, it will become very difficult for these children ever to get back onto their nutritional growth curve."

Register for free to continue reading
Registration is a free and easy way to support our truly independent journalism
By registering, you will also enjoy limited access to Premium articles, exclusive newsletters, commenting, and virtual events with our leading journalists
Already have an account? sign in
Join our new commenting forum
Join thought-provoking conversations, follow other Independent readers and see their replies