Venezuela turmoil as Nicolas Maduro stays defiant following electoral defeat
President vows to block 'the counter-revolutionary right'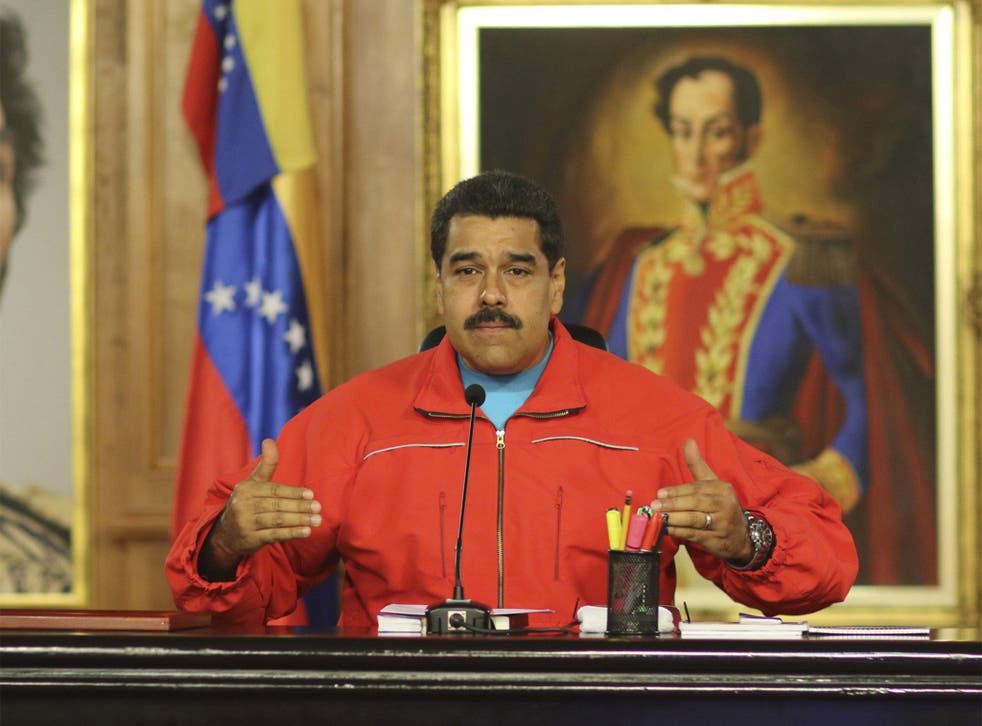 A defiant President Nicolas Maduro said he would give no quarter to the Venezuelan opposition in spite of his own party's crushing defeat in last weekend's mid-term parliamentary elections.
Mr Maduro vowed to block "the counter-revolutionary right" from taking over the country. "We won't let it," he said.
The outburst came as electoral authorities gave final confirmation that the coalition of opposition parties had not only pushed the ruling party into the minority in the national assembly for the first time since 1999 but had, after final results came in, secured a two-thirds majority that, in theory, will allow it to pass laws without the President's support, replace his ministers and potentially move to replace him.
World news in pictures

Show all 50
With the new assembly not to be sworn in until January, the opposition will push quickly for the release of some of its own leaders who have been jailed by Mr Maduro, most particularly Leopoldo Lopez, who was convicted in August of inciting violence and murder stemming from anti-government protests in the spring of 2014 which led to more than 40 deaths.
Mr Maduro, who was narrowly elected to the presidency after Hugo Chavez's death in 2013 and whose term runs until 2019, made his remarks in his weekly television show which was broadcast from Mr Chavez's tomb on Tuesday evening. It is on the edge of a slum in Caracas that once was filled with loyal "Chavistas" but where support for the socialists has also seeped away.
Opposition leaders, who will face their own problems maintaining unity and delivering on the message of hope offered on the trail, insisted that the government acknowledge the repudiation delivered by the voters and begin urgently to change economic course as the country faces deepening economic chaos – with inflation at an estimated 200 per cent and severe shortages of food and other basics.
"We're just a few weeks away from a very serious problem in terms of food," Democratic Unity coalition leader Jesus Torrealba told a news conference. "We urge the government to start working."
The Maduro government seems instead to be digging in, a stance that could spell a period of political struggle and inaction on the economy. To shore up the socialist "revolution", the government has already moved to force most of the Supreme Court justices to resign so that Mr Maduro can appoint new ones whose terms will extend beyond the life of the new assembly.
As part of its propaganda burst the government tweeted images of Vladimir Lenin and Joseph Stalin and told supporters to "stop whining" about the election outcome. When a Russian visitor appeared on the set of the TV show on Tuesday, Mr Maduro blurted "viva Trotsky" and "viva Lenin".
Join our new commenting forum
Join thought-provoking conversations, follow other Independent readers and see their replies