Venezuelan opposition urges people to take to the streets over 'coup'
The Government has blocked a referendum demanding the removal of President Nicolas Maduro
Hannah Dreier
Caracas
Saturday 22 October 2016 23:06 Comments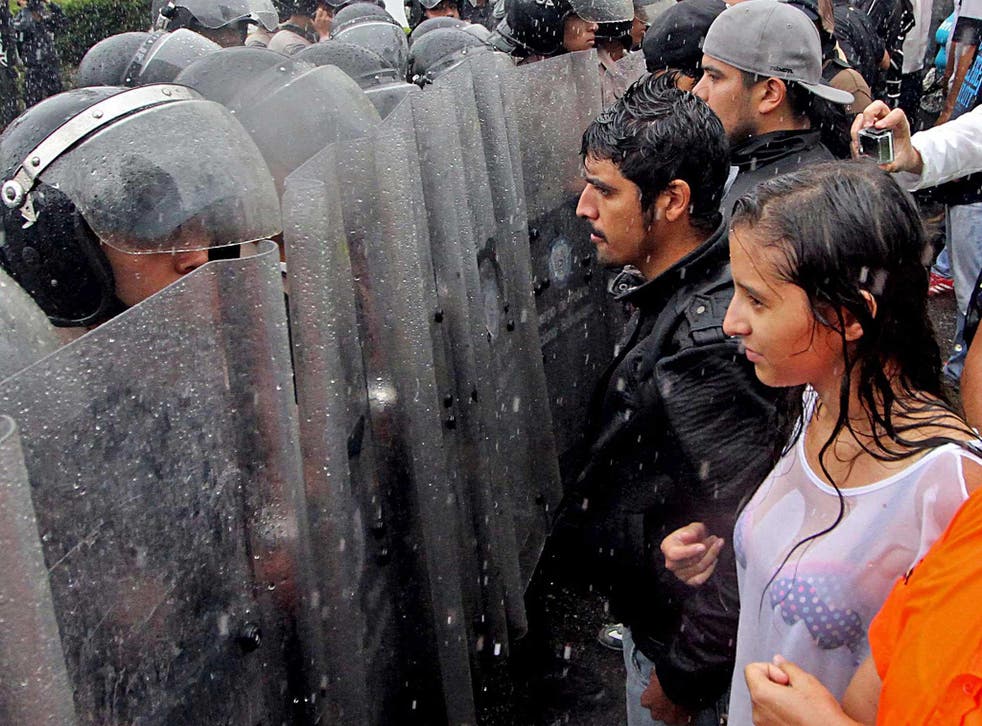 Opposition leaders in Venezuela are calling on supporters to take to the streets in protest after a move to challenge the country's deeply unpopular president was blocked.
The socialist government, led by President Nicolas Maduro, stands accused of "absolute authoritarianism" after closing off the last legal avenue open to an increasingly restless opposition.
A ruling on Thursday halted growing attempts to make Mr Maduro face a recall referendum. The 'coup', as it's being described, took place just days before the opposition was due to begin collecting signatures – 20 per cent of registered voters need to sign to force a vote to oust the President.
Fears are the controversial move, which has been roundly condemned, could plunge the already unstable nation into civil unrest. A series of marches have been organised and hundreds of university students took to the streets of Caracas, the capital, on Friday to protest. Street demonstrations have been muted since a 2014 crackdown on weeks-long protests left dozens dead.
Meanwhile, a leading government figure is calling for the arrest of high-profile government critics. .
Mr Maduro, the political heir of late President Hugo Chávez, has overseen Venezuela's downward spiral into severe economic crisis and rampant violence. Polls have suggested that the socialist leader would be heavily deefated in a recall vote.
"What we saw was a coup," said former presidential candidate Henrique Capriles, who had been the leading champion of the recall effort. "We'll remain peaceful, but we will not be taken for fools. We must defend our country."
International condemnation was swift. Twelve western nations, including the US and even leftist leaning governments such as Chile and Uruguay, said the suspension of the referendum, along with travel restrictions which have been imposed on eight opposition leaders, affected the prospect of finding a peaceful solution to the nation's crisis.
The socialists won power nearly two decades ago with the election of the popular former President Hugo Chavez, and for years enjoyed easy election victories. But with the economy in free fall, polls show most Venezuelans have turned against the party. In response, the administration has become increasingly autocratic. Critical television stations have been closed and several leading opposition activists have been imprisoned. The country's supreme court, packed with government supporters, has endorsed decree powers for Maduro and said he can ignore Congress. The move followed a landslide victory for the opposition in legislative elections.
Polls suggest 80 per cent of voters wanted Maduro gone this year. Other local elections have also been postponed with no reasons given for the delay. Critics have accused the socialist party of simply putting off elections indefinitely.
In response, in a televised address, Mr Maduro urged calm. "I call on everyone to remain peaceful, to engage in dialogue, respect law and order and not to do anything crazy," he said.
Amid rising tensions, former Spanish Prime Minister Jose Luis Zapatero, who has been attempting to mediate dialogue between the two sides, is in Caracas and expected to meet with representatives of the opposition and the government.
That timing of the recall referendum ban is crucial. A successful vote to oust Mr Maduro this year would have triggered a presidential election and given the opposition a good shot at winning power. If he is voted out in 2017, though, his vice president will finish the presidential term, leaving the socialists in charge.
AP
Register for free to continue reading
Registration is a free and easy way to support our truly independent journalism
By registering, you will also enjoy limited access to Premium articles, exclusive newsletters, commenting, and virtual events with our leading journalists
Already have an account? sign in
Join our new commenting forum
Join thought-provoking conversations, follow other Independent readers and see their replies