Victoria Martens: Suspect 'tried to flee by jumping off balcony' after rape and murder of 10-year-old girl
Burning body of Albuquerque girl was found dismembered and covered with a blanket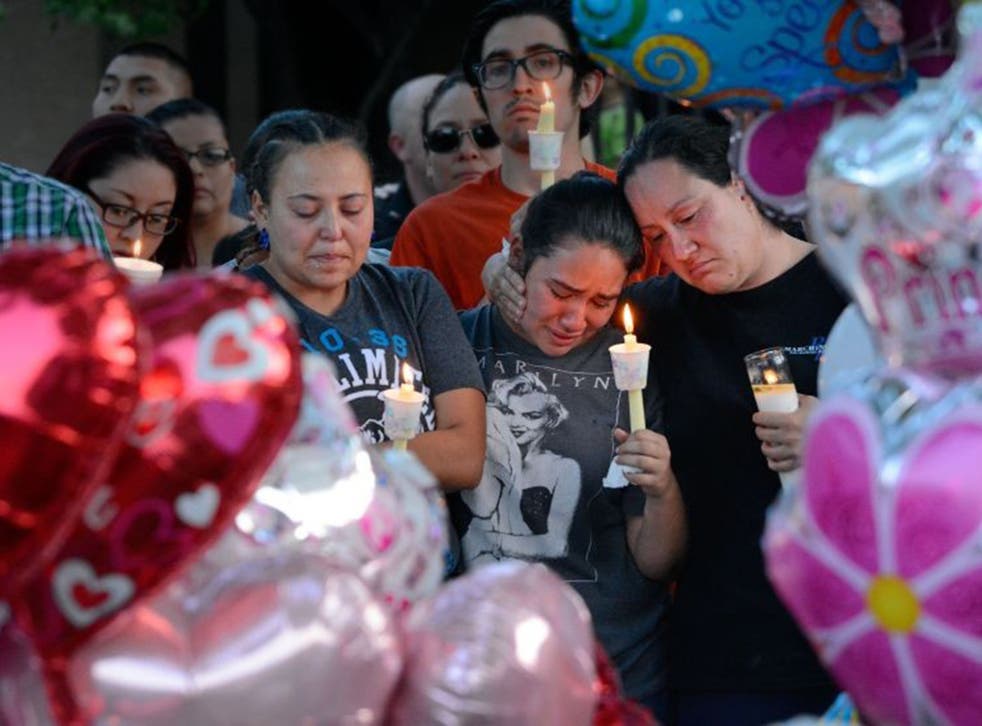 US police have said they witnessed an unnamed adult attempting to flee from the balcony of an apartment where a 10-year-old with injected with methampthamines, raped and murdered.
The burning body of Victoria Martens was found partly dismembered and covered with a blanket in a bathtub at an apartment in Albuquerque, New Mexico on Wednesday morning.
According to a police report seen by CNN, officers arrived at the scene following a noise disturbance call and found two adults with minor injuries and a third adult attempting to escape.
Her mother, Michelle Martens, was arrested on suspicion of child abuse resulting in death, kidnap and tampering with evidence along with her boyfriend Fabian Gonzales and his cousin Jessica Kelley who both face additional charges of rape.
Martens reportedly told police Gonzales had injected her daughter with meth to "calm her down" before raping and strangling her. Kelley allegedly participated in the rape before stabbing Victoria.
Gonzales has denied harming Victoria saying it was Kelley who raped and stabbed her.
When police entered the apartment it was filled with smoke and Victoria's body was found in a burning blanket.
She had no pulse, her left leg was almost completely cut off and both arms were missing.
World news in pictures

Show all 50
Victoria's 10th birthday party was due to be held later that day.
Martens and Gonzales appeared in court on Thursday and bail has been set at $1million each (£750,000).
Kelley appeared in court via video link on Saturday to face charges of kidnapping, sexual penetration of a minor and child abuse resulting in death.
Judge Chris Schultz described the level of depravity involved in the case as "unfathomable" and said: "I've been involved in the criminal law for over 30 years and this is the most inhumane case I think I've come across".
Tributes have continued to pour in for the little girl. A makeshift shrine of flowers, candles and stuff toys appeared by a tree outside the apartment complex shortly after the news of her death broke.
On Sunday, a special birthday party for Victoria will be held in the local Mariosa Park.
Over 2,000 people have clicked attending on Facebook event which asks guests to wear purple, which was Victoria's favourite colour, and to bring bubbles which they will "send to Heaven".
Local businesses have donated food and drink to the event, city officials said there will be free shuttles to the park and the Mayor of Albuquerque, Richard J. Berry will address the crowd.
Additional reporting by AP