Video shows enormous crack in the ground in northern Mexico
Investigators are now trying to understand what caused the crevice
Kashmira Gander
Friday 22 August 2014 16:37 Comments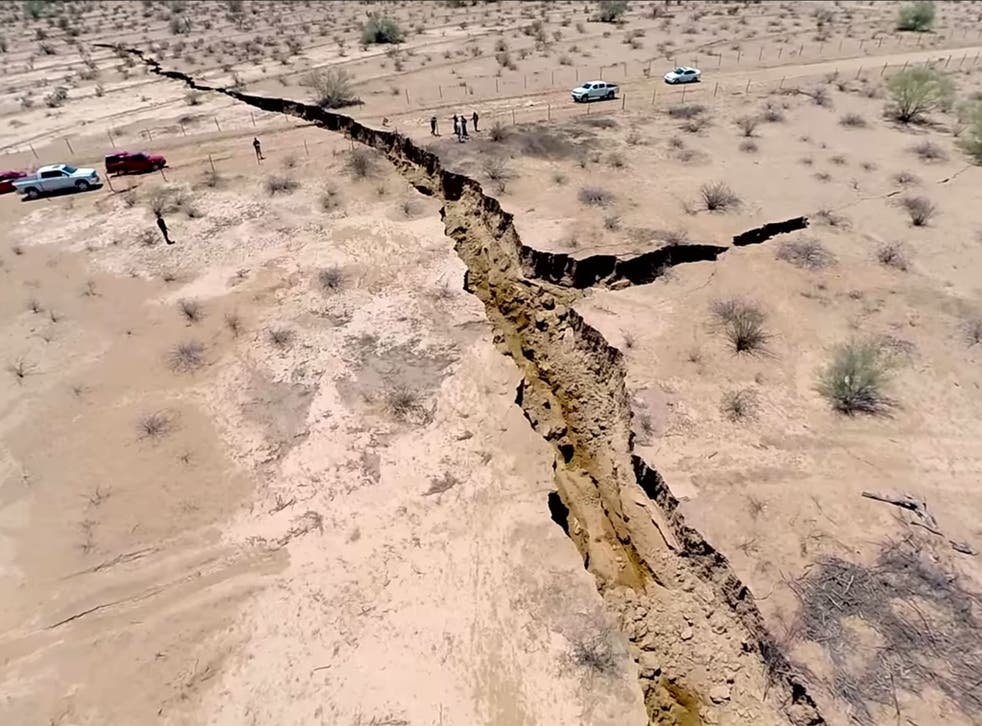 Incredible footage has emerged showing a 26ft (8m) deep crack in the in the farmland of northwest Mexico, which stretches for over a kilometre.
The crevice which appeared last week, has disconnected Highway 26 between Hermosillo and the coast, Sky News reported.
Drivers, including farm workers, have been forced to navigate around the colossal trench.
The video showcasing the crack that in some parts is 16ft (5m) wide, was shot using a camera attached to a drone device.
It shows vehicles stopped beside the crack, while a green tractor drives away from the scene. People below the drone appear to be discussing the situation.
Geological investigators are now assessing what caused the crack, according to El Imparcial newspaper.
The civil protection unit believes the fissure may have been caused by an earthquake which hit last Sunday. But another investigation by geologists at the University of Sonora found that farmers in the area had built up a levee stream to contain rainwater which had begun to leak.
Experts believe that this may have caused an underground stream to develop, which soften the earth above it until it collapsed.
Register for free to continue reading
Registration is a free and easy way to support our truly independent journalism
By registering, you will also enjoy limited access to Premium articles, exclusive newsletters, commenting, and virtual events with our leading journalists
Already have an account? sign in
Join our new commenting forum
Join thought-provoking conversations, follow other Independent readers and see their replies