Vladimir Putin in plea to American public as US and Russia falter over Syria resolution
Urgent talks between Russia and US to take place in Geneva
David Usborne
,
Adam Withnall
Thursday 12 September 2013 14:30 Comments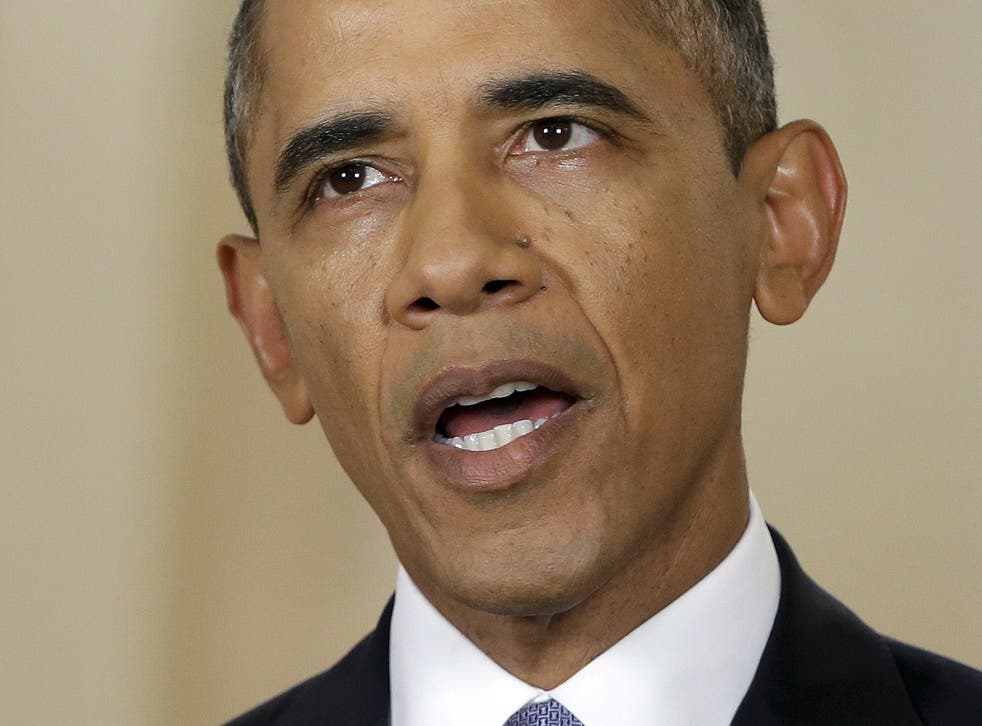 Vladimir Putin has made a personal appeal to the American people, calling for caution when dealing with Syria and warning that a military strike would "unleash a new wave of terrorism".
Writing an opinion piece for The New York Times, the Russian president drew attention to previous Western military interventions in the Middle East, when he said "force proved ineffective and pointless".
Russia still does not accept that the blame for the Damascus chemical weapons attack should fall on dictator Bashar al-Assad's government, but Mr Putin did admit "no one doubts that poison gas was used in Syria". He added that there was "every reason to believe" the rebels committed the 21 August atrocities in an attempt to force international intervention.
The article appeared not long after the public address from Mr Obama saying plans for military strikes would be put on hold, and Mr Putin referred to the "statements of President Obama" in describing the seizure of Assad's chemical weapons as "a new opportunity to avoid military action [which] has emerged in the past few days".
He said that diplomacy wrought by the UN, an organisation stemming from a time when the US and Russia "defeated the Nazis together", was the only way to protect international law.
Finally, the Russian leader warned America that strikes on Syria would "increase violence and unleash a new wave of terrorism". He said it was not in the US's "long-term interest" to keep using the "language of force", and that doing so would ultimately just lead other countries to seek protection through armament.
The article appeared as a diplomatic plan to force Syria to give up its chemical weapons and avert an attack from America was already in jeopardy on Wednesday, with Russia and the United States far apart on how it should be implemented.
The trouble emerged even within hours of President Barack Obama announcing in a primetime national broadcast to the American public that he was prepared to put his plans to punish Syria with military strikes on hold to give the latest diplomatic initiative championed by Moscow earlier this week time to work.
Urgent talks on Thursday between Secretary of State John Kerry and his Russian counterpart Sergei Lavrov in Geneva are set to be tough with Moscow already balking at a French-sponsored draft resolution at the United Nations indicating that force could yet be used against Syria if it fails to comply.
Mr Obama's speech renewed his insistence – in direct disagreement with Mr Putin – that the Syrian regime was responsible for the gas attack that killed over 1,400 people.
He said the US military remained ready to launch strikes at any time should he give the order but said he had asked Congress to delay voting to give him authorisation in light of Russia's proposal, which had "the potential to remove the threat of chemical weapons without the use of force".
An instant CNN poll said that 61 per cent of Americans favoured the dual track approach outlined by the president. Moreover more than two thirds said they were very or somewhat positive about his speech.
But some on Capitol Hill expressed concern that Russia was trying to stall US action only. "Put me down as sceptic," Senator John McCain, who has been a hawk on striking Syria, said, adding that the rebels in the country are feeling abandoned. "I feel very badly for my friends in the Free Syrian Army today," he said.
Sources at the UN said diplomats from Britain, France and the United States were still working to revise the initial French draft. At issue in particular is whether to retain a reference in the draft to Chapter VII of the UN Charter that would allow for the eventual use of force against Syria if doesn't comply with all its demands. But to do so could invite vetoes from Russia and China, halting all further progress.
No vote in New York is likely, certainly until after the meeting in Geneva between Kerry and Lavrov and probably not until UN inspectors who visited Syria after the gas attacks have released their final report. Officials say that is tentatively expected to appear at the start of next week.
The French text would give Syria 15 days to give a full inventory of its chemical weapons capacity and invite UN inspectors in to verify it. The process of securing and eventually destroying the weapons would begin thereafter. Other elements to it that may cause Russian dyspepsia include an explicit condemnation of the regime and a promise to bring those responsible for the gas attacks to the International Criminal Court.
There were warnings about the sheer difficulty of corralling all the weapons in the middle of a civil war, including from former weapons inspectors who were similarly tasked with destroying Saddam Hussein's arsenal in the nineties. Syria "has one of the biggest chemical weapons programmes in the region and even in the world," Dieter Rothbacher explained to Reuters. "There are calculations that to secure them up to 75,000 ground troops are needed. It took us three years to destroy that stuff under UN supervision in Iraq."
The Free Syrian Army said it was dismayed by Mr Obama's decision to put off attacks. "We believe the regime is just buying more time, is just trying to fool the international community, is just trying to get out of this situation," said a spokesman, Loay al-Mikdad.
UN Inspectors doubt Russian plan can work
Russia has described its plan for the handover of Syria's chemical weapons into international control as "effective, clear and concrete", but critics say this vastly underestimates the challenges of such a complex and sensitive operation.
Firstly, it is unclear exactly how many weapons sites exist and where they are. The regime is likely to have moved weapons during the past three years to keep them from rebel hands, meaning international inspectors would be forced to rely on the Assad government to find them. Even if it did surrender such information, exactly how the facilities would be secured amid the civil war, and how the weapons would be destroyed safely, is unclear. Former UN weapons inspector Hans Blix has said the plan would be extremely difficult "with a raging war all around".
Former UN inspectors who were sent to find and destroy Saddam Hussein's arsenal in Iraq in the early 1990s are also alarmed by the plan. Syria "has one of the biggest chemical weapons programmes in the region and even in the world," Dieter Rothbacher, a former UN inspector, said. "There are calculations that to secure them up to 75,000 ground troops are needed. It took us three years to destroy that stuff under UN supervision in Iraq."
Syria did not sign the 1997 Chemical Weapons Convention, through which the UN destroyed chemical weapons with success.
Joe Kavanagh
Register for free to continue reading
Registration is a free and easy way to support our truly independent journalism
By registering, you will also enjoy limited access to Premium articles, exclusive newsletters, commenting, and virtual events with our leading journalists
Already have an account? sign in
Join our new commenting forum
Join thought-provoking conversations, follow other Independent readers and see their replies